Session Information
Session Type: Poster Session D
Session Time: 9:00AM-11:00AM
Background/Purpose: Delay in diagnosis of Axial Spondyloarthritis (axSpA) remains a significant unmet need and can be partially attributed to lack of timely rheumatology referral. Current referral strategies advocate formal patient referral by non-rheumatologists, and this may be difficult given busy primary care practices and lack of awareness among non-rheumatologists of axSpA. In the ongoing Finding Axial Spondyloarthritis Study (FaxSpA), we are reaching out directly to patients by distributing online screening tool (A-tool) that we developed via electronic patient portal and Facebook. With increasing use of social media and patient participation in electronic medical record (EMR), we believe this may be a feasible approach for screening.
Methods: FaxSpA is a prospective study to evaluate the effectiveness of A-tool in identification of axSpA. A-tool contains 3 item prescreen followed by a clinical questionnaire that includes high yield axSpA features with good sensitivity and specificity. A-tool is distributed via Facebook to individuals in our geographic area and via MyChart to patients ages 18 to 65 with chronic back pain in EMR problem list. MyChart is the patient communication portal in EPIC EMR. Patients fulfilling pre-specified criteria on A-tool are contacted over the phone to confirm eligibility and then invited for clinical evaluation, labs (CRP, HLA B27) and imaging (x-ray and MRI of SI joints). Patients with diagnosed axSpA, spine surgery and age > 65 are excluded. We also collect and store blood samples for future translational biomarker research. SPSS v25 software was used for descriptive statistics and independent t-tests.  
Results: Between 4/2019 and 4/2020, 634 subjects completed the survey. Average age (44.3±13.4) was not different for MyChart vs. Facebook groups. Persistent back pain for more than 3 months was reported by 593 (94%); 495 (78%) had gradual onset back pain and 547 (86%) had back pain that started before age 45. Of 634 subjects, 428 passed pre-screen (62% vs. 74% in MyChart vs. Facebook, p=0.002). A-tool was positive in 268 (40% vs. 45% in MyChart vs. Facebook, p=0.20). Out of 268 subjects, an attempt was made to reach 256 by phone and email to confirm their eligibility and schedule a research visit. We were unable to reach 90 subjects (35%), despite multiple attempts. Sixty seven subjects (26%) were deemed ineligible after a telephone interview (15 due to history of previous surgery, 20 due to alternative explanation for their back pain, 18 due to no longer meeting criteria for pre-screen or A-tool, 14 for other reason). Another 38 subjects (15%) were either unable to come or no longer interested in the study when contacted over the phone. So far, 50 patients have been seen in the study.
Conclusion: Using electronic patient portal and social media is a feasible and efficient strategy to screen for patients with suspected axSpA. The gap between the number of patients found eligible on A-tool and those who actually came for a visit may convey that there is need to improve awareness and education about axSpA among patients. It will be interesting to evaluate the effectiveness of A-tool based referral strategy in identifying axSpA.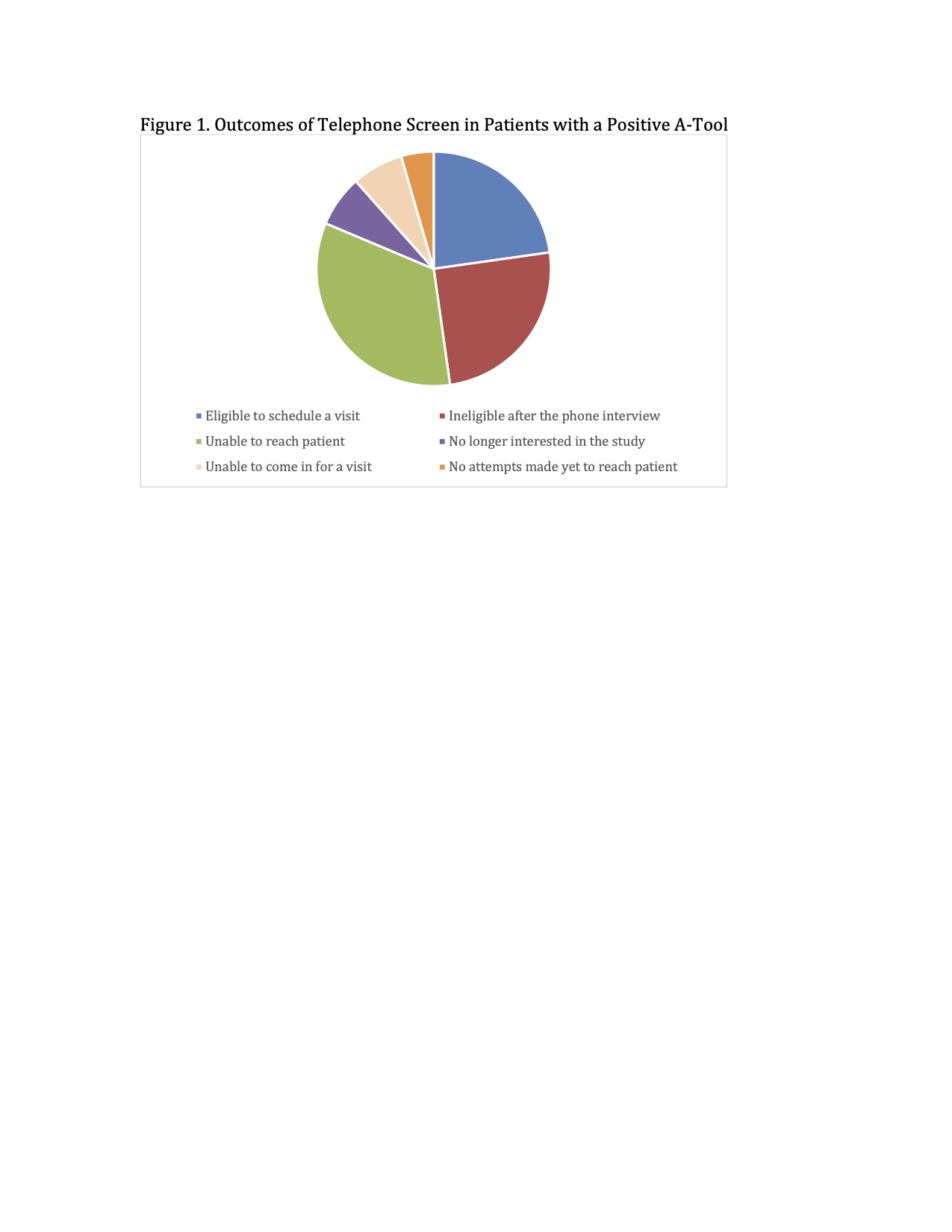 ---
Disclosure: Y. Afinogenova, None; S. Alexander, None; A. Haims, pfizer, 9; A. Danve, Novartis, 1, 2, Abbvie, 5, Medscape, 5, Peerview, 8.
To cite this abstract in AMA style:
Afinogenova Y, Alexander S, Haims A, Danve A. Use of Facebook and Electronic Patient Portal to Identify Axial Spondyloarthritis in Patients with Chronic Back Pain [abstract].
Arthritis Rheumatol.
2020; 72 (suppl 10). https://acrabstracts.org/abstract/use-of-facebook-and-electronic-patient-portal-to-identify-axial-spondyloarthritis-in-patients-with-chronic-back-pain/. Accessed December 9, 2022.
« Back to ACR Convergence 2020
ACR Meeting Abstracts - https://acrabstracts.org/abstract/use-of-facebook-and-electronic-patient-portal-to-identify-axial-spondyloarthritis-in-patients-with-chronic-back-pain/