Session Information
Session Type: Poster Session C
Session Time: 1:00PM-3:00PM
Background/Purpose: Cognitive behavioral therapy (CBT) is considered a gold-standard treatment with demonstrated level 1A evidence for management of fibromyalgia (FM). Acceptance and Commitment Therapy (ACT), a form of CBT, has been validated for the management of FM and is becoming increasingly prominent. However, usage of these therapies has been limited due to their lack of scalability. Self-guided digital behavioral therapies have been developed to address scalability and access issues, though some have had low engagement due to poor usability. A user-centered, engaging digital treatment designed for FM patients has the potential to be clinically impactful on a broad scale.
An investigational smartphone-based self-guided digital ACT application for FM (FM-ACT) has been developed. In this study, the authors evaluated FM-ACT usability and acceptability as well as participant preference for FM-ACT compared to medications.
Methods: A decentralized clinical trial (REACT-FM: NCT05011162) is currently ongoing to assess the efficacy, safety, and usability of FM-ACT. FM participants received 12 weeks of FM-ACT therapy, consisting of 8 chapters of structured skill building lessons, mindfulness practices, and activities to encourage paced exercise and behavior change.
Application ease of use, interface, and overall satisfaction were evaluated via the mHealth App Usability Questionnaire (MAUQ E and I) at the end of the 12-week treatment. Participants' rating of the relevance and value of each FM-ACT chapter were also assessed on a 0-10 scale. Treatment preference of FM-ACT over medications was evaluated for participants who currently or previously used FDA approved pharmacological treatments for FM.
Results: Forty participants completed the 12-week FM-ACT program at the time of analysis (Table 1). 84% and 88% of participants reported positive ratings on FM-ACT in the MAUQ domains of 'Ease of Use' and 'Interface and Satisfaction', respectively (Fig 1A). The highest rated MAUQ questions were 'adequate information on progress' (S8), and 'easy to learn' (S2), while the lowest rated question was 'comfortable to use in social setting' (S9) (Fig 2B). On average, participants reported FM-ACT chapters as both relevant (8.3/10) and worthwhile (8.4/10) (Fig 2A). Approximately 90% of participants who had used FDA-approved fibromyalgia medications preferred the FM-ACT application or combination FM-ACT and pharmacotherapy compared to pharmacotherapy alone (Fig 2B).
Conclusion: A positive user experience plays an important role in driving acceptance and engagement with digital therapeutic applications. This study demonstrated high usability and satisfaction of FM-ACT. Study limitations include small cohort size and the potential impact of missing data from participants who prematurely terminated the study.
The findings support FM-ACT's usability and satisfaction profile for a scalable solution to deliver behavioral therapy for FM management.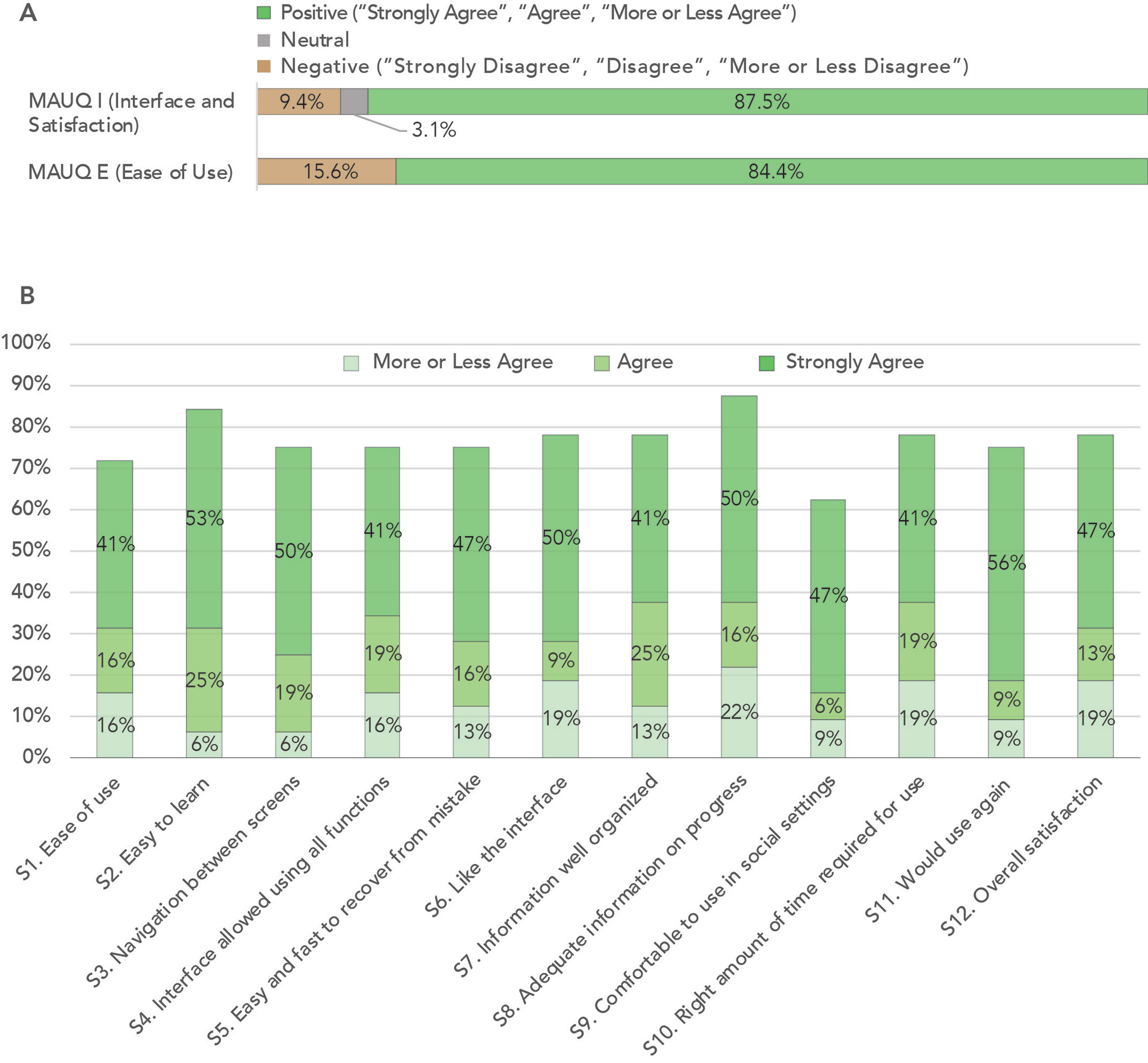 ---
Disclosures: N. Mitchell, Swing Therapeutics; Y. Dai, Swing Therapeutics; M. Rosenbluth, Swing Therapeutics; A. Kraus, Swing Therapeutics; M. Avila, Swing Therapeutics; A. Morey, Swing Therapeutics; M. Gendreau, Swing Therapeutics; N. Vega, Swing Therapeutics; Z. Ghalib, Swing Therapeutics; B. Keefe, Swing Therapeutics.
To cite this abstract in AMA style:
Mitchell N, Dai Y, Rosenbluth M, Kraus A, Avila M, Morey A, Gendreau M, Vega N, Ghalib Z, Keefe B. Usability and Acceptability of a Digital Behavioral Therapy for the Management of Fibromyalgia [abstract].
Arthritis Rheumatol.
2022; 74 (suppl 9). https://acrabstracts.org/abstract/usability-and-acceptability-of-a-digital-behavioral-therapy-for-the-management-of-fibromyalgia/. Accessed .
« Back to ACR Convergence 2022
ACR Meeting Abstracts - https://acrabstracts.org/abstract/usability-and-acceptability-of-a-digital-behavioral-therapy-for-the-management-of-fibromyalgia/