Session Information
Session Type: ACR Poster Session B
Session Time: 9:00AM-11:00AM
Background/Purpose:  Previous work in rheumatoid arthritis (RA) on bone erosion(s) using ultrasound (US) focused mostly on small joints of the fingers and toes. We aim to gain further insight into US-detected bone erosion(s) by including a larger number of joints and studying them in relation to US inflammatory joint findings.    
Methods:  36 joints and 60 joint recesses were scanned per patient (table 1). At each joint recess scanned, US power Doppler (PD) and grey-scale (GS) joint inflammation were graded semi-quantitatively (0-3) and these scores were summed to obtain a combined US (CUS) score, while bone erosion(s) was scored dichotomously (1=yes/0=no). As US findings for different joints in the same patient may not be independent, Generalized Estimating Equations (GEE) analysis was used to compare mean PD, GS and CUS scores between (a) joint recesses scanned with bone erosion(s) detected and (b) joint recesses scanned without bone erosion(s) detected. Means and 95% CIs were estimated using GEE with robust Huber-White variance estimates.
Results:  1080 joints and 1800 joint recesses were scanned in 30 RA patients all of whom fulfilled the 1987 and/or 2010 RA classification criteria. The patients' baseline characteristics were: mean age, 61.7 years; 93.3% female; 76.7% Chinese; mean (SD) disease duration, 70.3 (61.2) months; mean (SD) DAS28, 3.58 (1.20). 144/1080 (13.3%) joints and 189/1800 (10.5%) joint recesses scanned exhibited bone erosion(s), respectively. Figure 1 shows the frequency distribution of US-detected bone erosion(s) at the joint sites. Of the 144 joints with bone erosion(s), the 5 joints most frequently encountered were: wrist, n=49 (34.0%); first MTPJ, n=19 (13.2%); thumb IPJ, n=13 (9.0%); second MCPJ, n=11 (7.6%) and third MCPJ, n=11 (7.6%).  Comparing joint recesses scanned with bone erosion(s) detected versus those scanned with no bone erosion(s) detected, mean (95% CI) PD, GS and CUS scores were 0.36 (0.21, 0.50) vs. 0.013 (0.002, 0.024), 1.77 (1.54, 2.00) vs. 0.47 (0.40, 0.55), and 2.13 (1.78, 2.47) vs. 0.49 (0.41, 0.57), respectively. P-values were all <0.001.
Conclusion: From the literature, second and fifth MCPJ and fifth MTPJ were recommended US target joints in RA. In our study cohort, other than the second MCPJ, the wrist, first MTPJ, thumb IPJ and third MCPJ were among the 5 joints most commonly affected by bone erosion(s). Joint sites with bone erosion(s) were more likely to exhibit greater joint inflammation severity seen on both PD and GS US. Sonographers assessing structural joint damage should pay particular attention to these joints when scanning for bone erosions in RA.
Table 1. Joints and joint recesses scanned

Bilateral elbow joints

Bilateral wrist joints

Bilateral first to fifth MCPJs, thumb IPJs, second to fifth PIPJs

Bilateral ankle joints

Bilateral

first to fifth MTPJs

Joint recesses

scanned

1) Humeroradial

2) Posterior    

     fossa

1) Radiocarpal, intercarpal       

     (dorsal)

2) Distal radioulnar (dorsal)

1) Dorsal

2) Volar

1) Anterior

     tibiotalar

1) Dorsal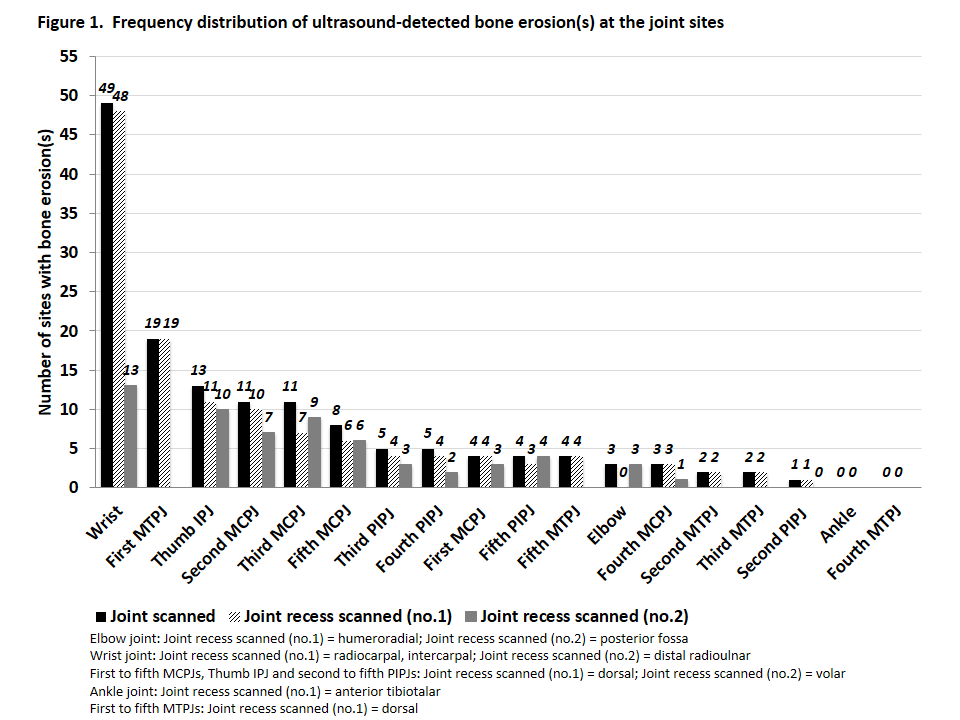 ---
Disclosure: Y. K. Tan, None; H. Li, None; J. C. Allen Jr, None; J. Thumboo, None.
To cite this abstract in AMA style:
Tan YK, Li H, Allen Jr JC, Thumboo J. Ultrasound-Detected Joint Erosions in Rheumatoid Arthritis: What Every Sonographer Should Know [abstract].
Arthritis Rheumatol.
2018; 70 (suppl 10). https://acrabstracts.org/abstract/ultrasound-detected-joint-erosions-in-rheumatoid-arthritis-what-every-sonographer-should-know/. Accessed January 25, 2022.
« Back to 2018 ACR/ARHP Annual Meeting
ACR Meeting Abstracts - https://acrabstracts.org/abstract/ultrasound-detected-joint-erosions-in-rheumatoid-arthritis-what-every-sonographer-should-know/