Session Information
Session Type: Poster Session B
Session Time: 9:00AM-11:00AM
Background/Purpose: B-cell hyperactivity (1) is a hallmark of the disordered immunity of SLE, arising in the context of a complex array of innate and adaptive mediators. A phase 2 study (NCT03978520) in SLE of upadacitinib (UPA, Janus kinase inhibitor) administered alone or in combination (ABBV-599) with elsubrutinib (a Bruton's tyrosine kinase inhibitor). found significant improvement in disease activity, as measured by SLE Responder Index-4 (SRI-4) and BILAG-Based Combined Lupus Assessment, (BICLA) at weeks 24 and 48.
This analysis evaluates response to UPA and ABBV-599 of immunologic pathways associated with SLE pathogenesis.
Methods: Patients with SLE (n = 205) were randomized to placebo (PBO; n = 75), UPA 30 mg once daily (n = 62), or ABBV-599 (n = 68). At screening, patients were stratified by immunosuppressant use (Yes/No), corticosteroid dose ( > 10-mg prednisone or not), IFN score (High/Low), and SLE Disease Activity Index 2000 score. Changes in biomarkers between treatment vs PBO were evaluated with a repeated mixed-linear model, with the Benjamini–Hochberg method used to correct for multiple testing. Total IgG and IgM and anti-dsDNA IgG were measured from serum using a commercially available immunoturbidimetric assay and enzyme linked immunosorbent assay. B-cell subsets and immune cell counts were identified using flow cytometry. Plasma samples were collected for proteomic analyses and assessed with a proximity-extension immunoassay.
Results: Flow cytometry analyses revealed an increase in absolute number of B cells in the peripheral blood of patients treated with UPA or ABBV-599, while the percentage of plasmablasts and plasma cells were reduced, corresponding to a decrease in total IgG and anti-dsDNA antibodies. Reduction in B-cell activation proteins in plasma such as CD72, CD22 and CD79b suggests a direct impact of UPA and ABBV-599 on B cells (Figure 1). The observed increase in total peripheral B cells could be explained by the marked reduction in chemokines induced by UPA or ABBV-599 including CXCL9, CXCL10, CCL3 and CCL21 (Figure 2). These effects were similar with UPA and ABBV-599, suggesting that the main impact on B cell and plasma cell activating pathways was due to activity of UPA.
Conclusion: These results suggest an association between clinical benefit seen with UPA and an impact on pathogenic B cells involved in SLE, with biomarker effects of both UPA and ABBV-599 apparently driven by UPA. These findings are consistent with our previous analysis in this population that showed treatment with UPA or ABBV-599 significantly reduced the IFN gene scores compared with PBO at weeks 4 and 24. (2)
Szelinski F, et al. Curr Opin Rheumatol. 2022;34(2):125-132. DOI: 10.1097/BOR.0000000000000865
Gaudreau M-C, et al. Abstract 4002. Presented at European Congress of Rheumatology (EULAR), 31 May–3 June 2023, Milan, Italy.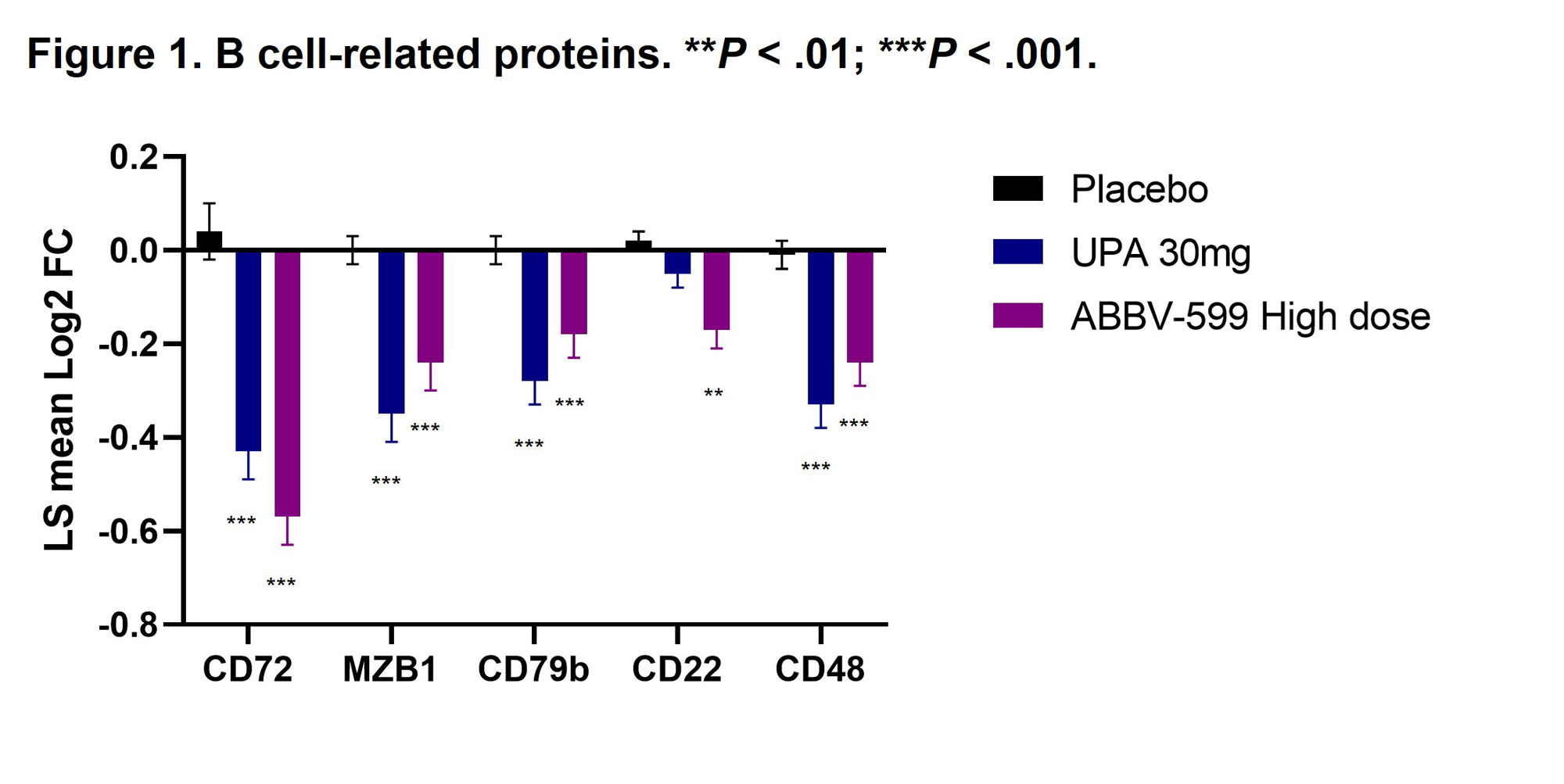 ---
Disclosures: M. Gaudreau: AbbVie, 3, 11; J. Fann: AbbVie, 3, 11; A. Friedman: AbbVie, 3, 11; T. Sornasse: AbbVie, 3, 11; J. Merrill: AbbVie, 2, Alexion, 2, Alumis, 2, Amgen, 2, AstraZeneca, 2, 5, Aurinia, 2, Bristol Myers Squibb, 2, 5, EMD Serono, 2, Genentech, 2, Gilead, 2, GlaxoSmithKline, 2, 5, Lilly, 2, Merck, 2, Pfizer, 2, Provention, 2, Remegen, 2, Sanofi, 2, UCB Pharma, 2, Zenas, 2.
To cite this abstract in AMA style:
Gaudreau M, Fann J, Friedman A, Sornasse T, Merrill J. Treatment with Upadacitinib in Patients with Systemic Lupus Erythematosus Results in the Inhibition of B-Cell–related Biomarkers: Analysis of the M19-130 (SLEek) Phase 2 Study [abstract].
Arthritis Rheumatol.
2023; 75 (suppl 9). https://acrabstracts.org/abstract/treatment-with-upadacitinib-in-patients-with-systemic-lupus-erythematosus-results-in-the-inhibition-of-b-cell-related-biomarkers-analysis-of-the-m19-130-sleek-phase-2-study/. Accessed .
« Back to ACR Convergence 2023
ACR Meeting Abstracts - https://acrabstracts.org/abstract/treatment-with-upadacitinib-in-patients-with-systemic-lupus-erythematosus-results-in-the-inhibition-of-b-cell-related-biomarkers-analysis-of-the-m19-130-sleek-phase-2-study/