Session Information
Session Type: Abstract Submissions (ACR)
·        Background/Purpose: Osteoarthritis (OA) is commonly envisioned as a gradual, relentlessly progressive process of "wear and tear" leading to eventual joint failure.  As we see the tidemark (TM) between hyaline and calcified cartilage, we read a different message. 
·         Methods:  We studied the femoral condyles and tibial plateaux of 18 elderly body donors for evidence of tidemark duplication. We used 62 specimens representing at least 2 specimens per donor. Specimens were photographed, sampled, radiographed, decalcified using 10% formic acid, processed and embedded in paraffin, sectioned then stained with H&E, Safranine O and Mallory Aniline Blue. They were graded using the OARSI 2005 6 point-grading system (G0-G6). When two lesions existed in the same specimen, each lesion was individually graded. A TM number was recorded for each graded lesion. A Spearman correlation between the lesion grade and the number of tidemarks was determined using Graphpad Prizm software.
·         Results: TM number correlated significantly with OA histological grade (r=0.81, p<0.0001). Thirty three of the 62 specimens had 2 lesions generating 95 grades. Twelve grades were without visible TM (1 G5, 7 G6 and 4 technical issues) and were excluded from the study. Of the 83 remaining grades, 17 were G0 and had 1 TM, 27 were G1 and had 1 or 2 TMs, 22 were G2 and had 2 or 3 TMs, 9 were G3 and had 1, 2 or 3 TMs, and 8 were G4 and had 3 or 5 TMs.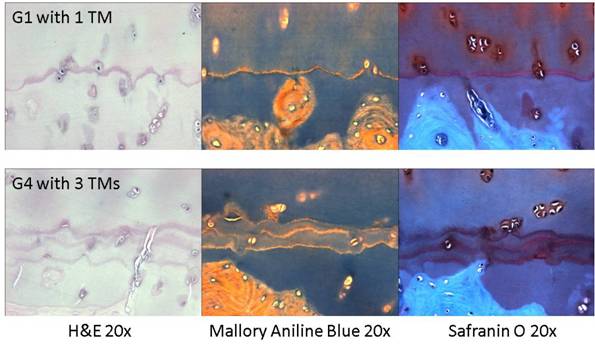 ·         Conclusion: The number of TMs correlated highly with the OARSI histological grade, suggesting that the TM number is a reflection of the OA disease stage. Since the TMs were distinct, we believe that duplication represents the legacy of abrupt, sequential changes leading to regional calcification of deep hyaline cartilage. The calcification buries the previous tidemark and causes the tidemark formation process to begin anew at a higher level.  The most probable precipitating event would be a change in joint loading such as that resulting from a focal microfracture of subchondral bone.
---
Disclosure:
M. P. Roudier,
None;
P. A. Manner,
None;
P. A. Simkin,
None.
« Back to 2013 ACR/ARHP Annual Meeting
ACR Meeting Abstracts - https://acrabstracts.org/abstract/tidemark-duplication-in-osteoarthritis-evidence-of-incremental-progression/