Session Information
Session Type: Poster Session (Sunday)
Session Time: 9:00AM-11:00AM
Background/Purpose: ACPA positive individuals with musculoskeletal symptoms are at increased risk of developing RA. In such individuals, ACPA are conventionally identified on the basis of a positive serum IgG anti-CCP2 antibody (Ab) test.
Third-generation anti-CCP (CCP3) tests (Inova Diagnostic) have been recently introduced and their diagnostic value has been evaluated in patients with early and established RA.
The value of anti-CCP3 for predicting progression to RA in at-risk individuals is less understood. Consequently, the main aims of the study were:
to determine the prevalence of anti-CCP3 Ab in anti-CCP2 positive at-risk individuals and the agreement between the 2 tests;
to investigate the association between anti-CCP3 Ab and progression to RA;
to explore the stability of anti-CCP3 Ab status over time.
Methods: Anti-CCP3 Ab were tested on stored serum samples obtained from 337 anti-CCP2 positive (BioRad, USA) at-risk individuals without synovitis from the Leeds CCP study.
Anti-CCP2 and anti-CCP3 tests positivity threshold was >2.99 IU/ml and >20 units, respectively. Anti-CCP2 and anti-CCP3 Ab were considered low titre (LT) or high titre (HT) if < or > than 3 times the positivity threshold, respectively.
Only subjects with at least one follow-up visit were included in the progression analysis (n=308). Sequential samples were tested for CCP3 in 132 individuals.
Results: Anti-CCP3 Ab tended to be either negative (138/337; 40.9%) or HT positive (180/337; 53.4%), with a few subjects showing a LT (19/337; 5.6%). In contrast, for anti-CCP2, more LT were observed (101/337; 30%). The Cohen's k agreement between anti-CCP2 and anti-CPP3 test was 0.22 (0.17-0.26) (p< 0.001) (Table 1). Eighty-three/308 subjects (27%) developed arthritis (median follow up 273 days, min 3 – max 3402), 73 of whom fulfilled 2010 ACR/EULAR classification criteria for RA. The proportions of patients progressing to arthritis (ever) according to anti-CPP2 and anti-CPP3 Ab status are illustrated in Table 2. The rate of progression of LT and HT anti-CCP2, when anti-CCP3 was negative, fell from 6.5% to 2.7%, and from 45.6% to 9.4%, respectively. Progression in anti-CCP2 HT increased from 35.6% to 44.8%, when anti-CCP3 was positive. The hazard ratio for HT anti-CCP2 and HT anti-CPP3 Ab was 4.9 (CI 2.1-11.2) and 6.9 (CI 3.1-15.0) (p< 0.001), respectively. The ROC curves for anti-CCP2 and anti-CCP3 tests are shown in Figure 1.
At baseline, 33/132 (25%) individuals who had CCP3 tested at ≥1 timepoint for sequential samples were anti-CCP3 negative and 99/132 (75%) were anti-CCP3 positive (5 LT, 94 HT). The anti-CCP3 Ab titer remained stable in 125/132 (94.7%) individuals, in 559/575 (97.6%) sequential samples (mean follow-up 551 days ±623.53).
Conclusion: The distributions of anti-CCP2 and anti-CCP3 assays differed and their agreement was poor.
Our results suggest a potential value of anti-CCP3 antibodies in improving prediction of clinical arthritis in both LT and HT CCP2 positive at-risk subjects.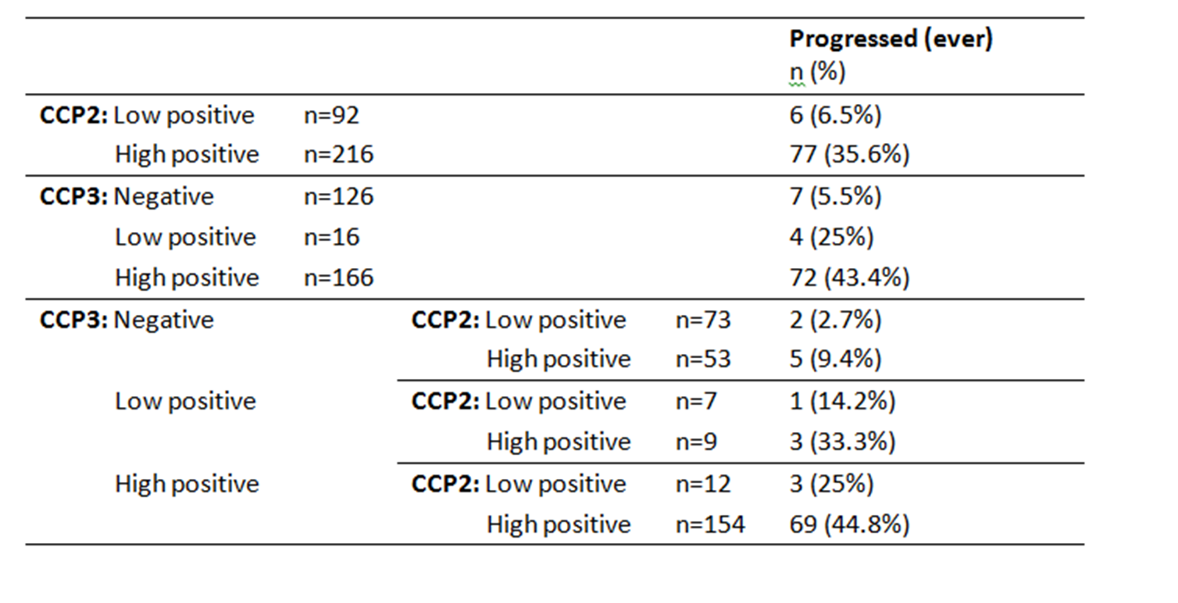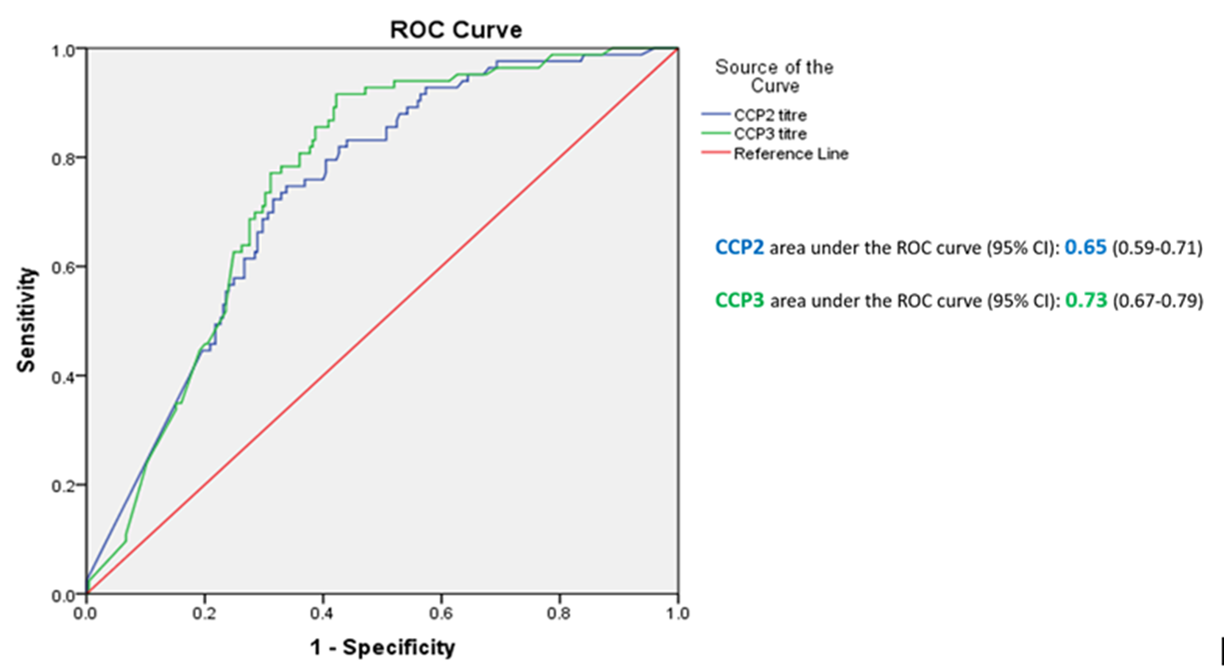 ---
Disclosure: A. Di Matteo, None; K. Mankia, None; L. Duquenne, None; L. Garcia-Montoya, None; D. Corscadden, None; K. Mbara, None; J. Nam, None; M. Mahler, Inova Diagnostics, 3; P. Emery, AbbVie, 2, 5, 9, BMS, 2, 5, Bristol-Myers Squibb, 2, 5, 9, Gilead, 5, Lilly, 2, 5, 9, MSD, 2, 5, 9, Novartis, 2, 5, 9, Pfizer, 2, 5, 9, Roche, 2, 5, 9, Samsung, 2, 5, 9, Samsung Bioepis Co., Ltd., 2, Sandoz, 2, 5, 9, UCB, 2, 5, 9.
To cite this abstract in AMA style:
Di Matteo A, Mankia K, Duquenne L, Garcia-Montoya L, Corscadden D, Mbara K, Nam J, Mahler M, Emery P. Third Generation Anti-cyclic Citrullinated Peptide Antibodies Improve Prediction of Clinical Arthritis in Second Generation Anti-cyclic Citrullinated Peptide Positive Subjects at Risk of Rheumatoid Arthritis [abstract].
Arthritis Rheumatol.
2019; 71 (suppl 10). https://acrabstracts.org/abstract/third-generation-anti-cyclic-citrullinated-peptide-antibodies-improve-prediction-of-clinical-arthritis-in-second-generation-anti-cyclic-citrullinated-peptide-positive-subjects-at-risk-of-rheumatoid-ar/. Accessed .
« Back to 2019 ACR/ARP Annual Meeting
ACR Meeting Abstracts - https://acrabstracts.org/abstract/third-generation-anti-cyclic-citrullinated-peptide-antibodies-improve-prediction-of-clinical-arthritis-in-second-generation-anti-cyclic-citrullinated-peptide-positive-subjects-at-risk-of-rheumatoid-ar/