Session Information
Session Type: Poster Session C
Session Time: 9:00AM-11:00AM
Background/Purpose: Chronic kidney disease (CKD) is a common comorbidity of rheumatoid arthritis (RA) affecting 10-20% of patients. However, the influence of the longitudinal RA disease activity on the long-term prognosis of kidney function has not been thoroughly evaluated.
Methods: We conducted a longitudinal study using the prospective CorEvitas RA registry and included patients with eGFR ≧60 mL/min/1.73 m2 at baseline for whom kidney function was recorded at least twice from 2001 to 2022. The primary outcome was eGFR change from the baseline visit; secondary outcome was development of CKD G3b or worse (eGFR < 45 mL/min/1.73 m2 for more than 3 months). The category of time-averaged Clinical Disease Activity Index (CDAI) until each visit was an exposure of interest. We used all visit data in primary analyses, and data only from patient visits where time-averaged CDAI was stable in one category from the baseline were used in secondary analyses. Multivariable mixed-effect random intercept and slope model with the interaction term of time and time-averaged CDAI was used to evaluate the association between CDAI categories and changes in the slope of eGFR. We adjusted for baseline variables including age, sex, race, eGFR, RF/CCP, and secondary Sjogren's syndrome. Body mass index, smoking status, modified Health Assessment Questionnaire, C-reactive protein, comorbidities, and the use of medications (non-steroidal anti-inflammatory drugs, glucocorticoids, and each of disease-modifying antirheumatic drugs) were included as time-varying covariates. Kaplan-Meier curves and multivariable Cox proportional hazard models were used to evaluate the hazard ratio (HR) of time-averaged CDAI categories for the development of CKD G3b or worse renal function. We adjusted for baseline covariates in the survival analyses.
Results: We included 31,129 patients with 234,973 visits in the analyses. The mean (standard deviation) age was 57.3 (12.9) years, and 23,758 (76.3%) were female with a median follow-up of 3.5 years. The mean baseline eGFR was 90.2 ml/min/1.73 m2 (Table 1). The mixed-effect model showed that the annual eGFR decline was -0.855 mL/min/1.73 m2 in RA remission. Patients with low, moderate, and high disease activity had additional -0.070, -0.150, and -0.168 ml/min/1.73 m2 declines annually vs. patients in remission. Secondary analyses revealed larger differences in the eGFR slopes between time-averaged CDAI categories (Table 2). Kaplan-Meier curve showed RA patients with higher disease activity developed more CKD G3b (Figure 1). Adjusted HRs (95%CI) were 1.12 (0.77-1.63) in low, 1.47 (1.00-2.20) in moderate, and 1.84 (1.11-3.05) in high disease activity patients for CKDG3b.
Conclusion: After adjusting for potential confounders, RA patients with higher disease activity had a larger decline in eGFR and developed clinically significant CKD more frequently. This study suggests that controlling the disease activity of RA may potentially improve renal prognosis.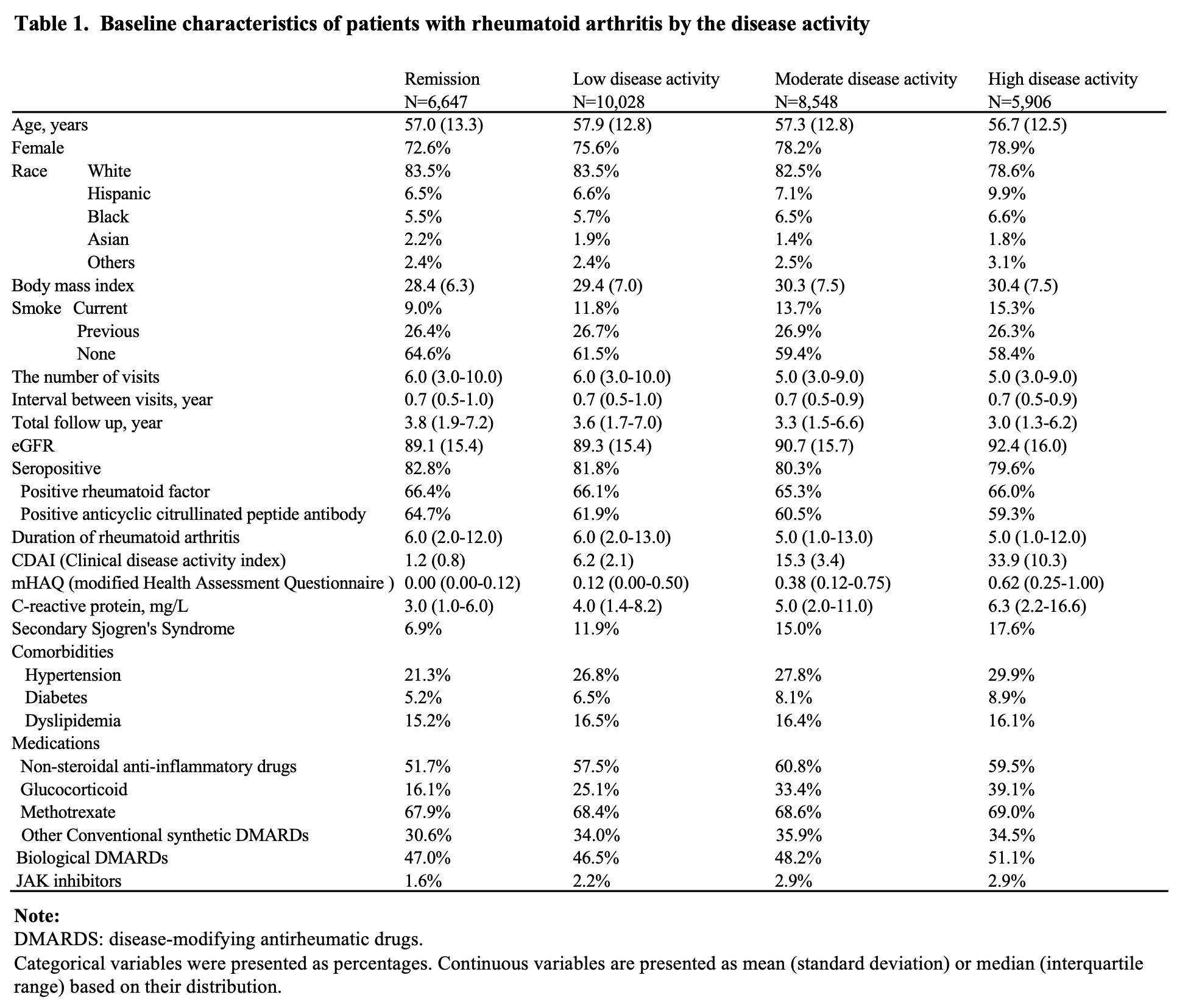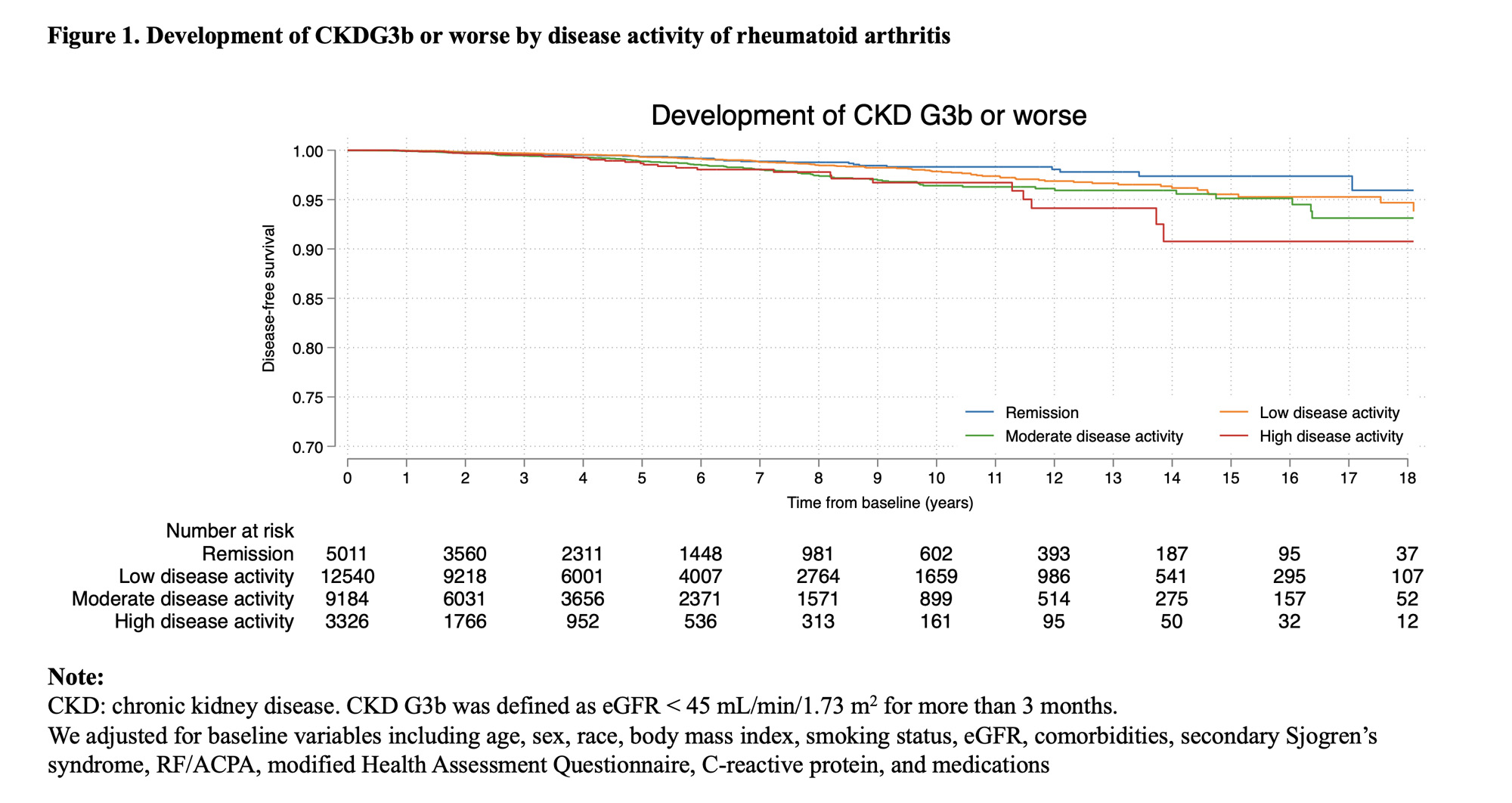 ---
Disclosures: S. Fukui: None; W. Winkelmayer: Akebia, 2, Ardelyx, 2, AstraZeneca, 1, Bayer, 1, 2, Boehringer-Ingelheim, 1, GlaxoSmithKlein(GSK), 1, 6, Merck/MSD, 1, 2, Pharmacosmos, 6, Unicycive, 2, Zydus, 1, 2; S. Tedeschi: Novartis, 2; J. Marrugo: None; H. Guan: None; L. Harrold: AbbVie, 2, Bristol-Myers Squibb(BMS), 2, 6, Pfizer, 2; H. Litman: CorEvitas, 3, 12, Shareholder; T. Shinozaki: None; D. Solomon: CorEvitas, 5, Janssen, 5, Moderna, 5, Novartis, 5.
To cite this abstract in AMA style:
Fukui S, Winkelmayer W, Tedeschi S, Marrugo J, Guan H, Harrold L, Litman H, Shinozaki T, Solomon D. The Relationship Between Disease Activity of Rheumatoid Arthritis and Kidney Function [abstract].
Arthritis Rheumatol.
2023; 75 (suppl 9). https://acrabstracts.org/abstract/the-relationship-between-disease-activity-of-rheumatoid-arthritis-and-kidney-function/. Accessed .
« Back to ACR Convergence 2023
ACR Meeting Abstracts - https://acrabstracts.org/abstract/the-relationship-between-disease-activity-of-rheumatoid-arthritis-and-kidney-function/