Session Information
Session Type: Poster Session C
Session Time: 8:30AM-10:30AM
Background/Purpose: We have developed a multidisciplinary unit for patients in treatment with biological therapies (BT) with the collaboration of Dermatology (Der), Gastroenterology (GE), Rheumatology (Rheu), Ophthalmology (Oft), Endocrinology , M Preventive, Nursing and Pharmacy. Diseases: rheumatoid arthritis (RA), spondyloarthritis (SpA), psoriatic arthritis (PsA), inflammatory bowel disease (IBD) and psoriasis (Ps). Patients collaborate in the management of the unit.
Objective: To check the changes that the new model can offer in accessibility, efficiency effectiveness, and quality of life, as well as delving into the concept of multidisciplinarity.
Methods: Unit began in January 2019 and results of 2020 have been compared with 2019. Indicators: number of patients attended, patients starting BT, patients from another health area, proportion of patients who need to be attended by more than a specialty, proportion of patients in clinical remission, percentage of patients admitted to hospital or emergency room for any cause, annual cost of BT per patient, proportion of patients on biosimilar, EuroQol, hospital scale of depression and anxiety (HAD), labor productivity questionnaire (WPAI).
Results: In 2020, 8,156 medical consultations, 11,014 nursing consultations, 2,311 pharmaceutical care and 4,093 treatments were carried out in the day hospital. 2020 and (2019) indicators: Accessibility: 2,940 (2,280) patients, patients starting BT: 145 (140); BT patients: Rheu 1011 (868), digestive 640 (652), dermatology 210 (211); patients from another healthcare area: Rheu 43.8% (40.1%), GE 46.6% (41.9%), Der 30.8% (25.0%). The effectiveness results are shown in the attached table. Efficiency: average annual cost BT, RA € 5,747 (€ 6,371), SpA € 5,757 (€ 6,371), PsA € 6,331 (€ 6,895), IBD € 7,977 (€ 8,693), Ps 6,945 € (€ 7,210); Patients on biosimilar treatment, RA 55.2% (55.7%), SpA 38.0% (28.4%), PsA 34.7% (31.9%), EII 57.3% (48, 9%), Ps 25.9% (13.6%). Quality of life: Median EuroQol (IQR): Rheu: 75 (60-85) vs 70 (50-80) in 2019; GE 80 (60-86) vs 75 (69-80) in 2019; Der 80 (70-90) vs 77.5 (67.5-90.0) in 2019. Median HAD (IQR): Rheu 13 (-22) vs 11 (6-18) in 2019; GE 8 (5-16) vs 9 (7-10) in 2019; Der 6 (3-7) vs 5.5 (4-11) in 2019. WPAI hours / week, mean (SD): Rheu 3.9 (11.1) vs 4.3 (11.6); GE 3.9 (10.5) vs 2.7 (6.9), Der 0 vs 0.8 (2.1). Multidisciplinariety in 2020: Reu 23.3%, GE 20.5%, Der 46.8%, Oft 24.6%.
Conclusion: We observed an improvement in the quality of care in our multidisciplinary unit for patients treated with biological therapies with their collaboration in the management. Noteworthy was the improvement in the effectiveness of BT, measured by the percentage of patients in clinical remission and the decrease in patients admitted to hospital or to the emergency room. However, the improvement in the quality of life with the instruments used is not so evident. We need to deepen the analysis of the indicators used and the procedures of our model to confirm this improvement.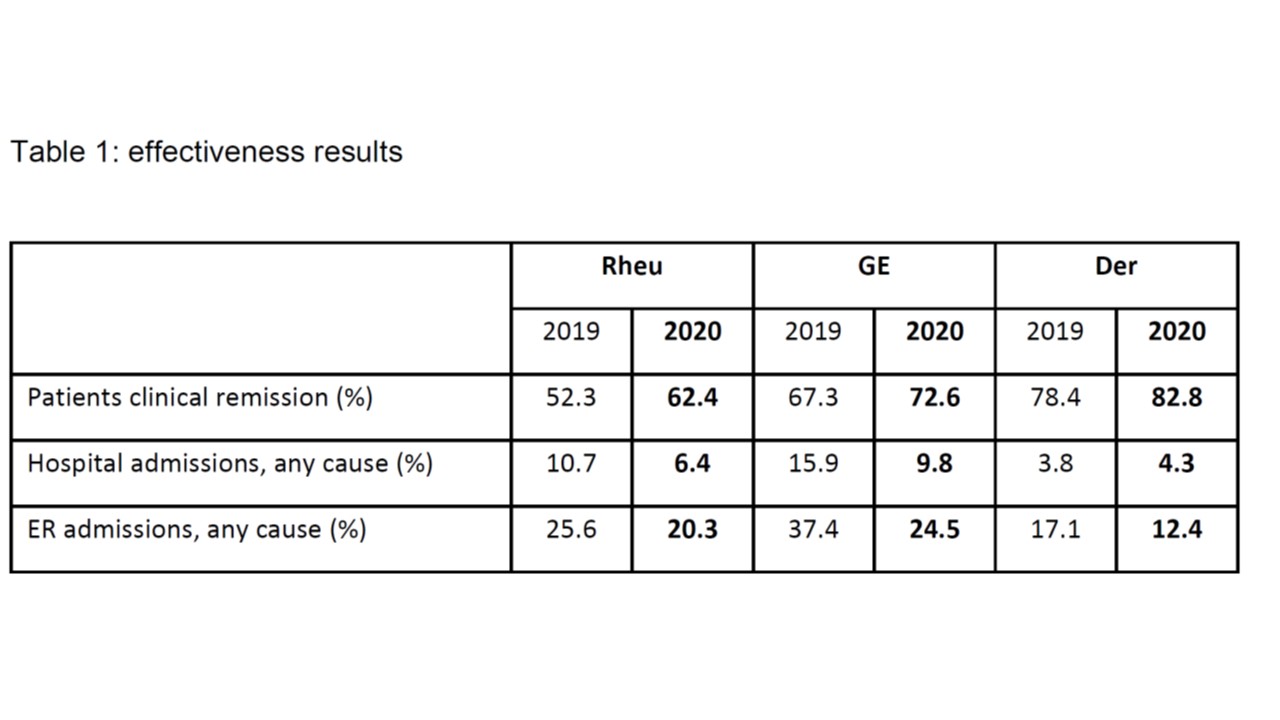 ---
Disclosures: C. González, None; L. Menchén-Viso, None; O. Baniandres-Rodriguez, None; C. Lobo-Rodríguez, None; A. Herranz-Alonso, None; I. Marín-Jiménez, None; J. Nieto, None; L. Ibares-Frias, None; I. Monteagudo, None; E. Chamorro de Vega, None; J. Torresano-Bruno, None; A. Lopez-Esteban, None; A. Ais-Larisgoitia, None; P. Morales de los Ríos Luna, None; a. Lopez-Calleja, None; S. Garcia de San Jose, None; J. Alvaro-Gracia, None.
To cite this abstract in AMA style:
González C, Menchén-Viso L, Baniandres-Rodriguez O, Lobo-Rodríguez C, Herranz-Alonso A, Marín-Jiménez I, Nieto J, Ibares-Frias L, Monteagudo I, Chamorro de Vega E, Torresano-Bruno J, Lopez-Esteban A, Ais-Larisgoitia A, Morales de los Ríos Luna P, Lopez-Calleja a, Garcia de San Jose S, Alvaro-Gracia J. The Multidisciplinary Approach with Patient Collaboration Improve the Clinical Effectiveness of the Intervention [abstract].
Arthritis Rheumatol.
2021; 73 (suppl 9). https://acrabstracts.org/abstract/the-multidisciplinary-approach-with-patient-collaboration-improve-the-clinical-effectiveness-of-the-intervention/. Accessed June 2, 2023.
« Back to ACR Convergence 2021
ACR Meeting Abstracts - https://acrabstracts.org/abstract/the-multidisciplinary-approach-with-patient-collaboration-improve-the-clinical-effectiveness-of-the-intervention/