Session Information
Session Type: ACR Poster Session A
Session Time: 9:00AM-11:00AM
Background/Purpose: Rheumatology practices are expanding to include non-physician healthcare providers, such as nurse practitioners and physician assistants (NP/PAs). To date, there has not existed a structured curriculum for NP/PAs for the acquisition of rheumatology knowledge. The Association of Rheumatology Health Professionals (ARHP), a division of the American College of Rheumatology (ACR), charged a task force (TF) to recommend ways to facilitate the preparation of NP/PAs to work in a rheumatology practice setting.
Methods: The TF, consisting of private practice and academic rheumatologists, NPs and PAs, including those in adult and pediatric settings, assimilated information from many sources and resources to develop mechanisms for NP/PAs to acquire rheumatology knowledge. Through face-to-face and webinar meetings, the TF designed a Rheumatology Curriculum Outline (RCO), incorporating stakeholder's feedback, to provide a framework for the training of NP/PAs new to rheumatology practice.
Results: The core competencies, from the Accreditation Council for Graduate Medical Education (ACGME) Core Competencies, Nurse Practitioner Core Competencies, and Competencies for the Physician Assistant Profession, of patient care, medical knowledge, systems-based learning, practice-based learning and improvement, professionalism, and interpersonal and communication skills, served as a framework for the RCO creation. (Table 1) Informed by stakeholder's feedback, a NP/PA RCO was developed, endorsed by the ACR Board of Directors and is ready for use by community-based and academic rheumatology practices, whether pediatric or adult, who desire to add a NP/PA to their practice. The RCO includes a Rheumatology Toolbox for Suggested Learning Activities and Assessments to facilitate the development of a robust learning environment for the NP/PA new to rheumatology practice.  The Toolbox is an amalgam of resources that were identified by the task force as important and useful for the development and experience of the early NP/PA rheumatology provider.  Foundational knowledge, skills and attitudes embodied in the RCO are generally believed to be attainable within one year for NP/PAs. Realizing the needs of individual practices vary, foundational and aspirational expectations are included in the RCO, allowing for flexibility in the application of the RCO to specific practice settings.
Conclusion: The ACR/ARHP NP/PA Rheumatology Curriculum Outline is a valuable tool to facilitate efficient and effective training of a NP/PA new to rheumatology and incorporate him/her proficiently as a patient care provider. Increasing the number of NP/PAs trained in rheumatology assists in closing the workforce gap, thus providing access to care for more persons with rheumatic disease.
Table 1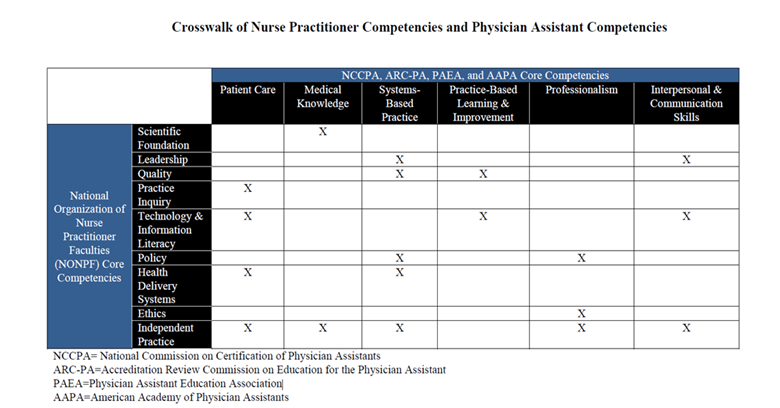 ---
Disclosure: B. J. Smith, None; M. B. Bolster, None; B. Slusher, None; C. A. Stamatos, None; J. Scott, None; H. Benham, None; S. Kazi, None; E. A. Schlenk, None; D. Schaffer, None; V. Majithia, None; C. Brown Jr, None; J. M. Von Feldt, None; J. Flood, None; D. Haag, None; K. Smarr, None.
To cite this abstract in AMA style:
Smith BJ, Bolster MB, Slusher B, Stamatos CA, Scott J, Benham H, Kazi S, Schlenk EA, Schaffer D, Majithia V, Brown Jr C, Von Feldt JM, Flood J, Haag D, Smarr K. The Creation of a Structured Curriculum Outline for the Expansion of a Rheumatology Practice to Include Nurse Practitioners and Physician Assistants [abstract].
Arthritis Rheumatol.
2017; 69 (suppl 10). https://acrabstracts.org/abstract/the-creation-of-a-structured-curriculum-outline-for-the-expansion-of-a-rheumatology-practice-to-include-nurse-practitioners-and-physician-assistants/. Accessed December 1, 2022.
« Back to 2017 ACR/ARHP Annual Meeting
ACR Meeting Abstracts - https://acrabstracts.org/abstract/the-creation-of-a-structured-curriculum-outline-for-the-expansion-of-a-rheumatology-practice-to-include-nurse-practitioners-and-physician-assistants/