Session Information
Session Type: Abstract Submissions (ARHP)
Background/Purpose : Recruitment and adherence are important and challenging factors that can determine the success of a clinical trial. Mind body therapies are an emerging and controversial field; therefore, recruiting people to these types of trials can be difficult. The primary objective of this study was to compare the costs and effectiveness of recruitment strategies employed in a clinical trial of older adults with knee osteoarthritis (KOA). We also sought to determine which recruitment strategies provided the most adherent participants. The aim of these analyses was to identify successful strategies to improve recruitment for future studies.  
Methods:  We assessed recruitment strategies, cost, and adherence from a clinical trial of Tai Chi and physical therapy among older adults with KOA in the Boston area. All participants met ACR criteria for symptomatic KOA and were recruited between Dec. 2010 and May 2013. Recruitment strategies included: 1) clinical referrals, 2) other referrals (studies, staff, and class members), 3) electronic ads (Patientslikeme, Facebook, Clinicalconnections, clinicaltrials.gov, Craigslist, employee newsletter) and 4) paper ads (local newspapers, flyers). Costs were calculated by adding printing, posting, and personnel expenses. We calculated the percent of participants screened (# screened/prescreen), randomized (# randomized/screen), and able to complete their 12-week evaluation (# 12 week/randomized). We also calculated the yield (# randomized/ total prescreened), cost per randomized participant as well as median adherence to class schedule (# classes attended/total classes).
Results:  1195 people were phone prescreened, 282 were screened in person (mean age 59.7 years) and of these 72% were randomized; the cost per randomized participant was $178.43 (See Table). Sixteen participants were randomized who did not report recruitment source. Paper ads resulted in the highest number of prescreens and randomized participants. Clinical referrals and the senior expo generated the lowest number randomized. The yields for paper, electronic, and other referrals were highest. Clinical referrals resulted in the lowest yield. With the exception of clinical referrals, adherence was high for all recruitment methods as measured by attendance (>79%) and completion of a 12-week evaluation (>76%). Cost per participant was $253.51 for paper and $7.62 for electronic ads. There were no costs associated with referral methods.
Conclusion:  Electronic ads are an effective tool in this older population and had minimal cost.  Their effectiveness is likely to further increase with time.  Paper ads still play a prominent role in effective recruitment.  There were no costs associated with clinical referrals but this strategy was not the most effective given the low yield.  Additional educational material for clinicians may encourage more referrals.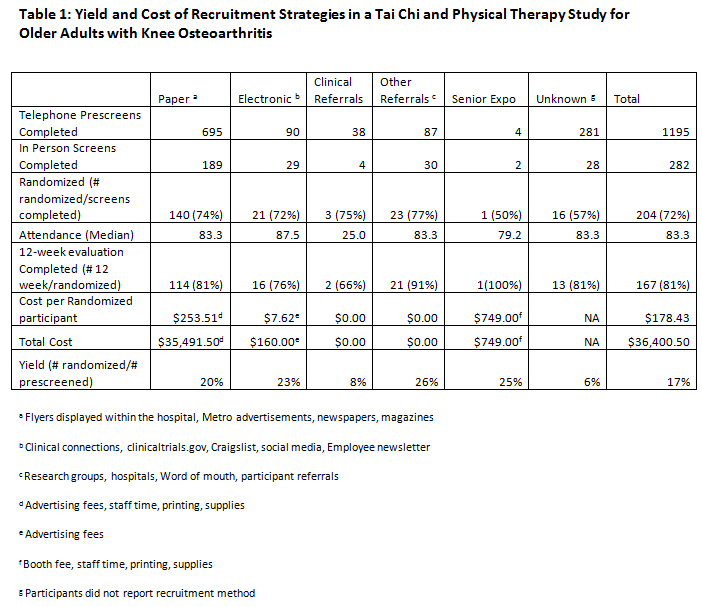 ---
Disclosure:
J. V. Goldsmith,
None;
L. L. Price,
None;
J. B. Driban,
None;
W. F. Harvey,
None;
C. Wang,
None.
« Back to 2014 ACR/ARHP Annual Meeting
ACR Meeting Abstracts - https://acrabstracts.org/abstract/the-cost-and-effectiveness-of-various-recruitment-strategies-in-a-mind-body-clinical-trial-among-older-adults-with-knee-osteoarthritis/