Session Information
Session Type: Abstract Submissions (ACR)
Background/Purpose: Talin has been known as a cytoskeletal protein, which, by binding to integrin beta-subunit, enhances the inside-out signaling from intracellular to extracellular of integrins, cell adhesion, cell migration, and causes chronic inflammation and angiogenesis. Last ACR meeting, we reported plasma talin was expressed predominantly in rheumatoid arthritis (RA) patients and it could be a candidate marker for the diagnosis and monitoring RA treatment. In this paper, we investigated the intracellular talin expression in RA patients.
Methods: RA was diagnosed as the 2010 Rheumatoid Arthritis Classification Criteria. Peripheral blood mononuclear cells (PBMC) were obtained from 42 RA patients, 20 SLE patients, and 31 normal healthy controls (NC)). PBMC was lysed with the lysis buffer, incubated with calpain1, and electrophoresed on SDS-PAGE gels. Membranes were blotted with anti-talin antibody H-18 that recognizes the N-terminus of the calpain1 fragment of talin or TA205 that reacts with its C-terminus. Talin fusion protein with GST (glutathione-S-transferase) was expressed using pGEX vector fused with talin cDNA.
Results: Western Blot analysis showed that the N-terminal 32kDa and the C-terminal 15kDa of calpain1 fragment of talin (32kDa and 15kDa short-talin, respectively) was expressed predominantly in RA patients [85.7% (36/42), 83.3% (35/42)] compared with NC [0% (0/31), 0% (0/31)] and SLE patients [25.0% (5/20), 30.0% (6/20)] (Fig.1, Fig.2). PBMC obtained from a NC was incubated with each of 4 RA patient PBMCs, lysed with the lysis buffer, incubated with calpain1, and were electrophoresed on a SDS-PAGE gel. Membrane was blotted with H-18. As a result, the wild-type calpain1 fragment (47kDa) of talin was degraded into 32kDa short-talin after incubating with each RA patient PBMC. Moreover, GST-talin fusion protein was cleaved into the short-talin after incubating with RA patient PBMC lysate, but was not cleaved with NC PBMC lysate. Surprisingly, Western Blot analysis using H-18 also showed predominant expression of the 32kDa short-talin in RA patient plasma.
Conclusion: Our findings suggest that the intracellular talin in RA patients is cleaved into short-talin and expressed predominantly in RA patient PBMC and plasma (Fig.3). This short-talin might be related to the pathogenesis of RA.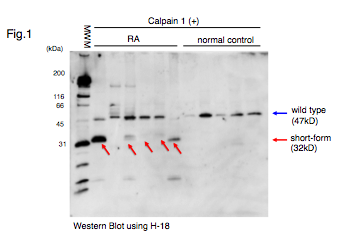 ---
Disclosure:
K. Tsuzaka,
None;
M. Takao,
None;
N. Shinozaki,
None;
J. Nishida,
None.
« Back to 2012 ACR/ARHP Annual Meeting
ACR Meeting Abstracts - https://acrabstracts.org/abstract/talin-is-cleaved-and-expressed-as-a-short-form-in-patients-with-rheumatoid-arthritis/