Session Information
Session Type: ACR Concurrent Abstract Session
Session Time: 2:30PM-4:00PM
Background/Purpose: Secukinumab provided significant and sustained improvement in the signs and symptoms of ankylosing spondylitis (AS) over 2 years in the MEASURE 3 study, which evaluated the highest dose of secukinumab tested to date in spondyloarthritis (NCT02008916).1,2 Here we report longer term final efficacy and safety results for secukinumab from this 3-year study.
Methods: 226 patients (pts) were randomized to intravenous (IV) secukinumab 10 mg/kg (baseline, Weeks (Wks) 2 and 4) followed by subcutaneous (SC) secukinumab 300 or 150 mg every 4 wks (IV→300/150 mg), or matched placebo (PBO). At Wk 16, PBO pts were re-randomized to SC secukinumab 300 or 150 mg. Analysis at Wk 156 included pts initially randomized to secukinumab and those who switched from PBO to secukinumab at Wk 16 (Any secukinumab 300 mg, N = 113 and Any secukinumab 150 mg, N = 110). Outcome measures at Wk 156 included ASAS20 and 40, hsCRP, ASAS5/6, BASDAI, ASAS partial remission (PR) and ASDAS-CRP inactive disease. Analyses stratified by anti-TNFα status (anti–TNFα-naïve and anti-TNFα inadequate response [IR]) were pre-specified. Data are reported as observed. Safety analyses included all pts who received ≥1 dose of secukinumab.
Results: 80.5% (91/113; Any secukinumab 300 mg) and 80.9% (89/110; Any secukinumab 150 mg) pts completed 156 wks of treatment. Clinical responses with secukinumab were sustained through Wk 156 (Table). At Week 156, response rates on more stringent clinical endpoints (e.g. ASAS40, ASAS PR) were higher with the 300 mg dose, particularly in anti–TNF-IR pts. The safety profile of both secukinumab doses was similar through Wk 156 (mean exposure: 980.3 days [300 mg] and 990.8 days [150 mg]). Exposure-adjusted incidence rates for Candida infections and serious infections/infestations were 0.7 and 0.7 per 100 patient-years, respectively, in the combined group of secukinumab doses over the entire treatment period. No cases of inflammatory bowel disease, including Crohn's disease or ulcerative colitis, were reported, and no deaths occurred in the study.
Conclusion: Secukinumab (300 and 150 mg) provided sustained improvements through 3 years in the signs and symptoms of active AS. Secukinumab was well-tolerated with a safety profile consistent with previous reports.1,2
References:
1. Pavelka K, et al. Arthritis Res Ther. 2017;19: 285 doi: 10.1186/s13075-017-1490-y.
2. Pavelka K, et al. Arthritis Rheumatol. 2017;69.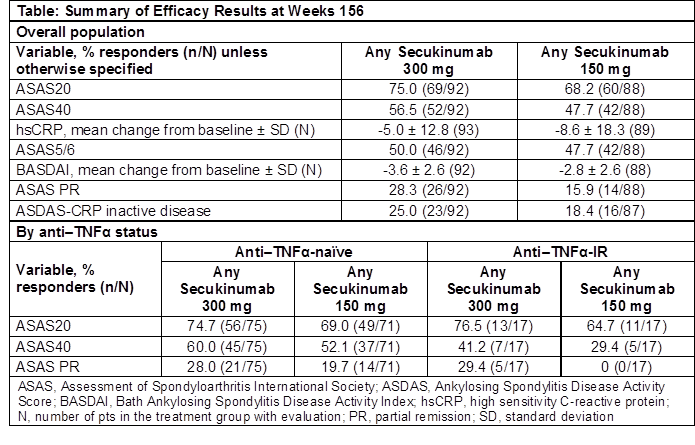 ---
Disclosure: A. J. Kivitz, AbbVie, Pfizer, Genentech, UCB, Sanofi/Regeneron and Celgene, 5,: Celgene, Pfizer, Sanofi/Regeneron, Horizon and Merck, 8; K. Pavelka, MSD, AbbVie, Roche, UCB, Amgen, Hospira, Egis, Pfizer, Medac, BMS, 8; E. Dokoupilova, None; R. Blanco, AbbVie, MSD, and Roche, 2,AbbVie, Pfizer, Roche, Bristol-Myers, Janssen, and MSD, 2, 8; M. Maradiaga, None; H. Tahir, Novartis, Eli Lilly, and AbbVie, 8; Y. Wang, Novartis, 3; B. Porter, Novartis, 1, 3; A. Stefanska, Novartis, 1, 3; S. Rohrer, Novartis, 1, 3; H. Richards, Novartis, 1, 3.
To cite this abstract in AMA style:
Kivitz AJ, Pavelka K, Dokoupilova E, Blanco R, Maradiaga M, Tahir H, Wang Y, Porter B, Stefanska A, Rohrer S, Richards H. Sustained Improvements in Signs and Symptoms of Active Ankylosing Spondylitis and Reassuring Safety with Secukinumab 300mg: 3-Year Results from a Phase 3 Study [abstract].
Arthritis Rheumatol.
2018; 70 (suppl 9). https://acrabstracts.org/abstract/sustained-improvements-in-signs-and-symptoms-of-active-ankylosing-spondylitis-and-reassuring-safety-with-secukinumab-300mg-3-year-results-from-a-phase-3-study/. Accessed January 30, 2023.
« Back to 2018 ACR/ARHP Annual Meeting
ACR Meeting Abstracts - https://acrabstracts.org/abstract/sustained-improvements-in-signs-and-symptoms-of-active-ankylosing-spondylitis-and-reassuring-safety-with-secukinumab-300mg-3-year-results-from-a-phase-3-study/