Session Information
Session Type: Poster Session (Sunday)
Session Time: 9:00AM-11:00AM
Background/Purpose: Gain-of-function mutations in TMEM173 encoding STING (Stimulator of Interferon Genes) underlie a novel type I INF termed SAVI syndrome. It is characterized by a vasculopathy that can affect skin, lungs and joints and can simulate Juvenile Idiopathic Arthritis (JIA).
Objectives: to describe a detailed cohort of patients with SAVI syndrome and highlight the similarity of the phenotype with JIA.
Methods: 3 patients diagnosed with SAVI syndrome from the Hospital Universitari Vall d'Hebron were recruited. Written informed parental consent was obtained for the use of clinical data and pictures reported. Detailed clinical data is described.
Results: Patient 1, an 11-year-old boy, was identified to carry a de novo c.461A >G mutation in TMEM173. He presented at 1st month of life with bronchial infection and skin vasculitis lesions in acral zones and arthritis. Fever was not reported. High-resolution computed tomography (HRCT) of the lungs identified a nonspecific interstitial pneumonia (NSIP) and a lung biopsy (LB) showed lymphoid hyperplasia. Rheumatoid factor (RF), ACPA antibodies and antinuclear antibodies (ANA) were also positive. Immunosuppressive (IS) treatments were given without any response (table 1). At the age of 6 years Ruxolitinib (RX) with an improvement of skin disease and lung function and the arthritis was well controlled.   Patient 2, a 17-year-old girl, was identified to carry a de novo c.463G >A mutation in TMEM173. She presented at the age of 3 with a severe polyarthritis. No fever, skin or respiratory symptoms were reported at the beginning of the disease. Lab tests were positive for RF and ACPA antibodies. She was diagnosed with pJIA and few months later she reported dyspnoea. HRCT showed NSIP and lymphoid interstitial pneumopathy was found at the LB. RX was initiated at the age of 17 years but fibrosis was established and she has been included to lung transplant (LT).   Patient 3, a 29-year-old man, was recently diagnosed with a de novo c.463G >A mutation in TMEM173. He presented at the age of 7 years with polyarthritis. Lab test was positive for RF, ACPA, and ANA. With the diagnosis of pJIA he received IS treatments with no response. Due to recurrent bronchial infections a HRCT was performed showing an ILD and NSIP. SAVI syndrome was suspected and genetic test was performed with positive result. RX was initiated but compliance was not good. He is also being evaluated for LT.
Conclusion: SAVI syndrome is a rare monogenic autoinflammatory disease with few cases reported in the literature. Patient 2 and 3, in contrast with patient 1, had a different mutation (table 1), also severe articular and lung manifestations with no skin involvement. Furthermore, lab tests were positive for RF and ACPA and were misdiagnosed as JIA so genetic test was performed later in the follow-up. Being aware of the distinct phenotype of the disease could help the clinicians reassess the patients with these presentations that not respond well to conventional treatments. 

TABLE 1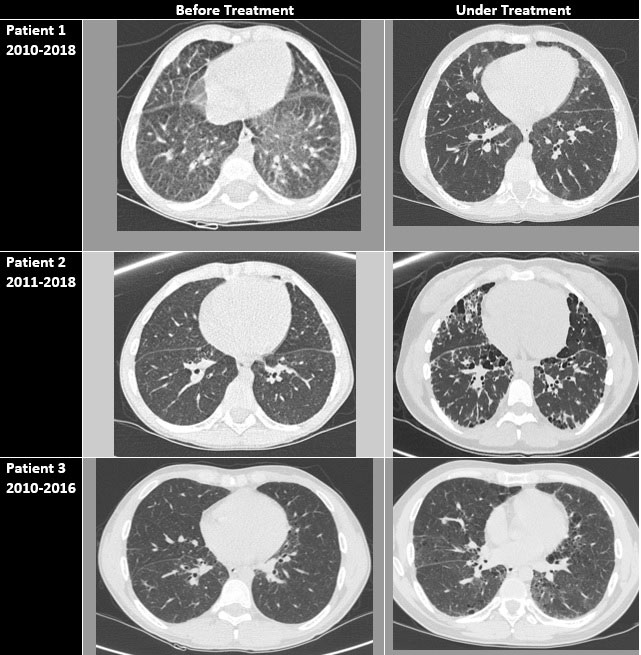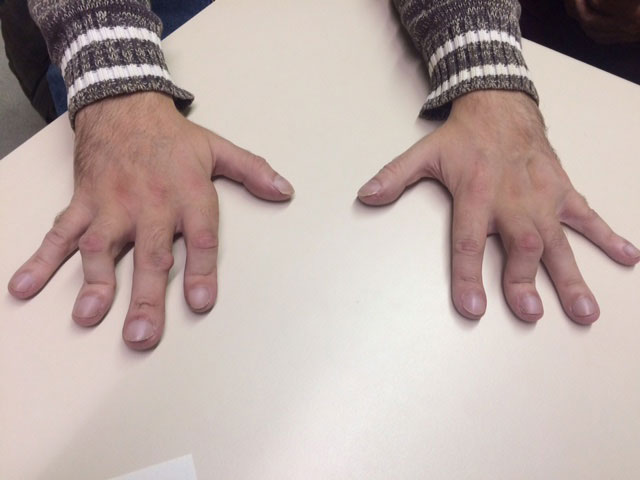 ---
Disclosure: J. Tandaipan, None; M. Lopez Corbeto, None; E. Moreno Ruzafa, None.
To cite this abstract in AMA style:
Tandaipan J, Lopez Corbeto M, Moreno Ruzafa E. STING-associated Vasculopathy with Onset in Infancy (SAVI Syndrome) Can Mimic Juvenile Idiopathic Arthritis [abstract].
Arthritis Rheumatol.
2019; 71 (suppl 10). https://acrabstracts.org/abstract/sting-associated-vasculopathy-with-onset-in-infancy-savi-syndrome-can-mimic-juvenile-idiopathic-arthritis/. Accessed January 30, 2023.
« Back to 2019 ACR/ARP Annual Meeting
ACR Meeting Abstracts - https://acrabstracts.org/abstract/sting-associated-vasculopathy-with-onset-in-infancy-savi-syndrome-can-mimic-juvenile-idiopathic-arthritis/