Session Information
Session Type: Poster Session D
Session Time: 9:00AM-11:00AM
Background/Purpose: Systemic sclerosis (SSc) is a chronic autoimmune-mediated connective tissue disorder. Although the etiology of the disease remains undermined, SSc is characterized by fibrosis and proliferative vascular lesions of the skin and internal organs. SSc involves the gastrointestinal tract in more than 90% of patients. Soluble guanylate cyclase stimulator (sGC) is used to treat pulmonary artery hypertension (PAH), and has been shown to inhibit experimental skin fibrosis. The aim of this study is to investigate whether bleomycin (BLM) -treated mice show gastrointestinal fibrosis, and find a therapeutic strategy to the lesion.
Methods: Female C57BL/6J mice were treated with BLM or normal saline by subcutaneous implantation of osmotic minipump. These mice were sacrificed on day 28 or day 42. Gastrointestinal pathologies were examined by Masson Trichrome staining. The expression of fibrosis-related genes in gastrointestinal tract were analyzed by real-time PCR, and the levels of collagen in the tissue was measured by Sircol collagen assay. To evaluate peristaltic movement, the small intestinal transport (ITR%) was calculated as [Dyeing distance×(Duodenum- Appendix)] -1 ×100 (%). We treated BLM-treated mice with soluble guanylate cyclase (sGC) or DMSO orally and analyzed them on day 42.
Results: Histological examination revealed that fibrosis from lamina propria to muscularis mucosa in the esophagus was significantly increased in BLM-treated mice, suggesting that BLM induces esophageal fibrosis in C57BL/6J mice. In addition, the levels of Col3a1 and CTGF were significantly increased in BLM-treated mice. More severe fibrosis was observed in the mice sacrificed on day 42 than the mice sacrificed on day 28. The ITR% was found to be significantly lower in BLM-treated mice, suggesting that gastrointestinal peristaltic movement was reduced in BLM-treated mice. Furthermore, we demonstrated that sGC treatment significantly reduced fibrosis of esophagus and intestine in BLM-treated mice, by histological examination and Sircol collagen assay.
Conclusion: These findings suggest that BLM induces gastrointestinal fibrosis in C57BL/6J mice, and treatment with sGC improves the BLM-induced gastrointestinal lesion.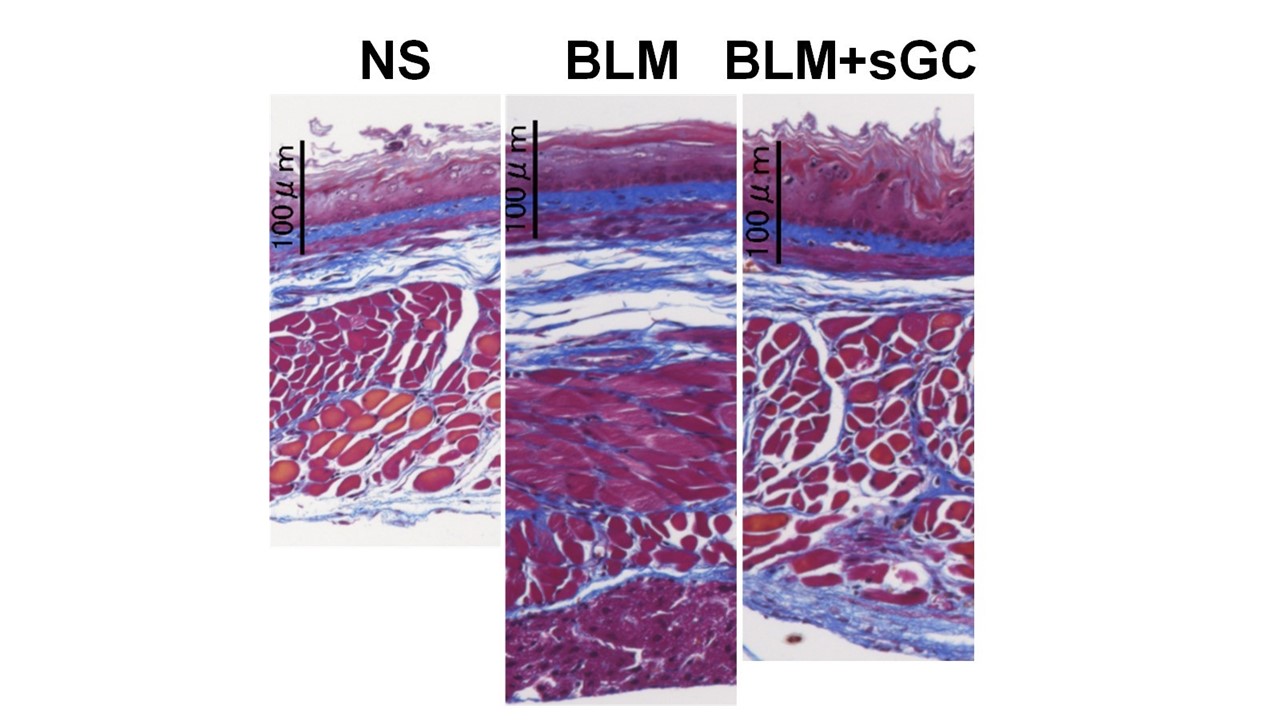 Blomycin caused gastrointestinal fibrosis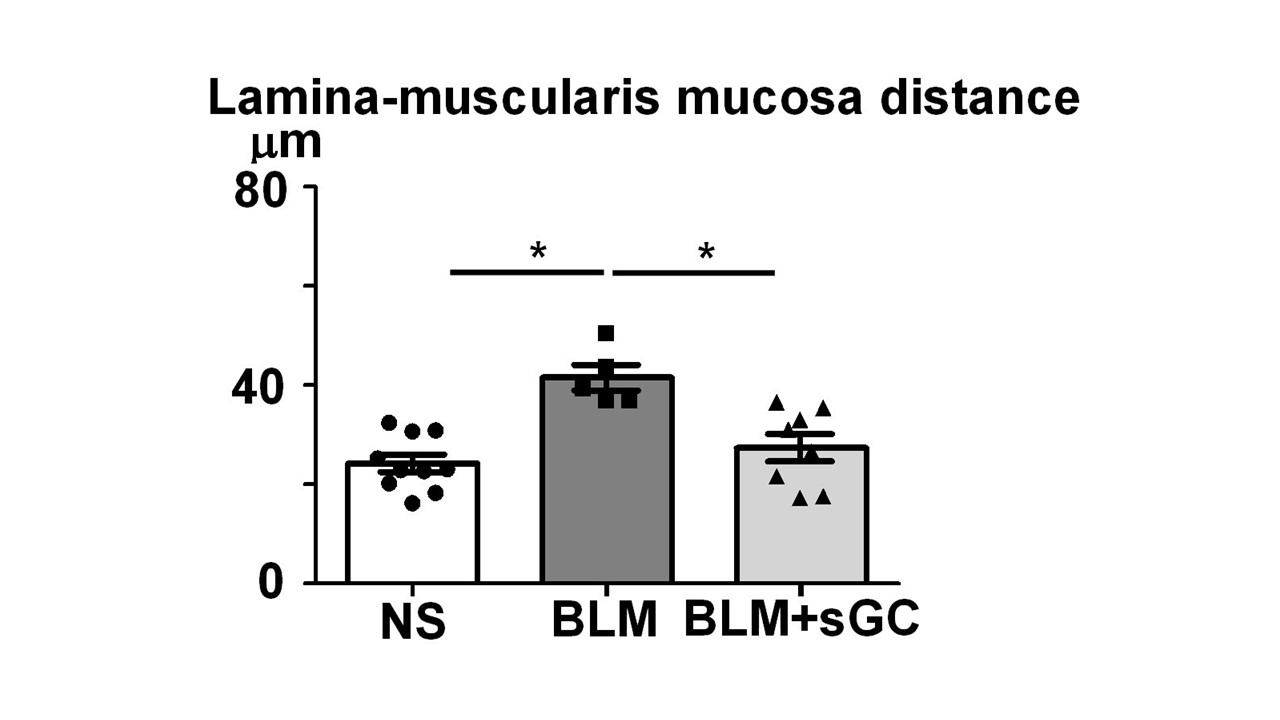 Bleomycin induced mice reduced ITR%
The treatment of sGC improved gastrointestinal fibrosis
---
Disclosure: Y. Yamamoto, None; T. Okano, None; T. Nagamoto, None; Y. Fujikawa, None; Y. Ichise, None; H. Yamada, None; I. Naka, None; Y. Ueda, None; K. Akashi, None; S. Sendo, None; A. Onishi, None; J. Saegusa, None; A. Morinobu, None.
To cite this abstract in AMA style:
Yamamoto Y, Okano T, Nagamoto T, Fujikawa Y, Ichise Y, Yamada H, Naka I, Ueda Y, Akashi K, Sendo S, Onishi A, Saegusa J, Morinobu A. Soluble Guanylate Cyclase Reduced the Gastrointestinal Fibrosis in Bleomycin-induced Mouse Model of Systemic Sclerosis [abstract].
Arthritis Rheumatol.
2020; 72 (suppl 10). https://acrabstracts.org/abstract/soluble-guanylate-cyclase-reduced-the-gastrointestinal-fibrosis-in-bleomycin-induced-mouse-model-of-systemic-sclerosis/. Accessed November 30, 2022.
« Back to ACR Convergence 2020
ACR Meeting Abstracts - https://acrabstracts.org/abstract/soluble-guanylate-cyclase-reduced-the-gastrointestinal-fibrosis-in-bleomycin-induced-mouse-model-of-systemic-sclerosis/