Session Information
Session Type: Poster Session B
Session Time: 8:30AM-10:30AM
Background/Purpose: Cognitive impairment (CI) in SLE is a significant problem with limited treatment options. This is in part due to the uncertainty regarding the multifaceted cause. Factors associated with CI include depression, pain, fatigue, medications, as well as more specific SLE factors such as disease damage, autoantibodies and inflammation. We aimed to phenotype CI in SLE using machine learning techniques to better enable future personalised targeted treatments.
Methods: SLE patients aged 18-65 years attending a single lupus centre (January 2016 – October 2019) completed the ACR Neuropsychological Battery (ACR-NB) cognitive assessment. Age and gender matched normative data were used to obtain z-scores on all 19 tests of ACR-NB. The ACR-NB tests were reduced using principal component analysis (PCA) to generate a factor score (CI Factor Score).
Demographic, and clinical data, and patient reported outcomes including, SF-36, LupusQoL, the PDQ-20 (perceived cognitive deficits), Beck Depression Inventory-II, Beck Anxiety Inventory, and the fatigue severity scale (FSS) were analysed using similarity network fusion (SNF) to identify patient subtypes. Differences between the SNF identified subtypes were evaluated using Kruskal-Wallis tests and chi-square tests.
Results: Of the 301 patients, 89% were women, mean age 40.9 ± 12.1 and mean disease duration 14 ± 10.1 years at study visit. The CI Factor Score accounted for 28.8% of the variance and was associated predominantly with tests of executive function and verbal memory. The SNF analysis defined subtypes with distinct patterns in health-related quality of life (HRQoL), depression, anxiety, fatigue, fibromyalgia, medication usage, and disease damage (figure 1). The CI Factor Score was significantly different between the subtypes (p=0.008). Examining specific cognitive domains revealed the most significant differences in the language processing (p=0.0008) and executive function tests (p=0.008; p=0.009; p=0.0009). Subtype 3 performed worst on the majority of the different cognitive domains (figure 3). Further exploration revealed statistical differences with depression, anxiety, fatigue, and fibromyalgia between the subtypes (figure 2). Differences were also found relating to organ involvement within the last ten years and damage within specific organs. No differences were found for SLE disease activity (figure 2). Subtype 3 had higher levels of all conditions and disease damage, Subtype 2 had lower levels and Subtype 1 mixed levels.
Conclusion: The subtype with the greatest psychiatric and disease burden and reduced HRQoL performed worse on cognitive testing, specifically in domains of language processing and executive function. This subtype also had more musculoskeletal (MSK) and cardiovascular involvement. MSK involvement affects pain levels, which can impact cognition. Cardiovascular damage may be linked to cerebral small vessel disease, which is known to affect cognitive function SLE patients. Overall, these results aid with phenotyping CI in SLE and provide a baseline for our future longitudinal results. This will then help to determine personalised CI trajectory and treatment options in SLE.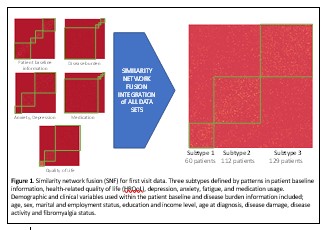 ---
Disclosures: M. Barraclough, None; L. Erdman, None; A. Knight, None; J. Diaz-Martinez, None; K. Bingham, None; J. Su, None; M. Kakvan, None; M. Tartaglia, None; L. Ruttan, None; J. Wither, None; M. Choi, MitogenDx, 1, 2; M. Fritzler, Inova Diagnostics Inc., 2, 6, Werfen International, 2, Alexion Canada, 6, Mitogen Diagnostics Corp., 3, 8, 9, 10; D. Bonilla, None; D. Beaton, None; B. Parker, Roche, 2, Eli Lily, 2, Fresenius Kabi, 2, Abbvie, 2; R. Green, None; P. Katz, None; I. Bruce, None; Z. Touma, AbbVie Inc, 2, UCB Biopharma SRL, 2, Sarkana Pharma Inc., 1, 4, Janssen Inc., 2, GlaxoSmithKline Inc., 6.
To cite this abstract in AMA style:
Barraclough M, Erdman L, Knight A, Diaz-Martinez J, Bingham K, Su J, Kakvan M, Tartaglia M, Ruttan L, Wither J, Choi M, Fritzler M, Bonilla D, Beaton D, Parker B, Green R, Katz P, Bruce I, Touma Z. SLE Phenotypes Formed from Machine Learning and Their Associations with Cognitive Impairment [abstract].
Arthritis Rheumatol.
2021; 73 (suppl 9). https://acrabstracts.org/abstract/sle-phenotypes-formed-from-machine-learning-and-their-associations-with-cognitive-impairment/. Accessed June 1, 2023.
« Back to ACR Convergence 2021
ACR Meeting Abstracts - https://acrabstracts.org/abstract/sle-phenotypes-formed-from-machine-learning-and-their-associations-with-cognitive-impairment/