Session Information
Session Type: Poster Session C
Session Time: 9:00AM-11:00AM
Background/Purpose: Sjogren's syndrome is chronic inflammatory disease that results in lacrimal and salivary dysfunction and can include extra-glandular manifestations. While it is well established that patients with auto-immune conditions such as systemic erythematous lupus and rheumatoid arthritis have an increased risk of cervical dysplasia, the risk of Sjogren's syndrome and cervical malignancy has not been determined due scarce data. Epidemiological data shows that 5% of all national papanicolaou smears results in atypical squamous cells of undetermined significance (ASCUS), while low-grade squamous intraepithelial lesions (LSIL) is found in 2% of pap smears, and less than 1% result is cervical cancer. Determining the risk of cervical lesions from Sjogren's syndrome, may lead to better understanding of its risk of cervical dysplasia, possibly affecting cervical cancer screening guidelines for these patients.
Methods: Retrospective chart review of women between the age of 21-65 years of age in the Jackson Health care system and University of Miami was performed using ICD 9 and 10 codes for Sjogren's syndrome (710.2, M35.0) between the years 2010 to 2019. Cervical pathology results were recorded for each patient as well as their HPV status, HIV status, immunosuppression history, and other auto-immune diagnoses. Descriptive analysis of these data points was conducted.
Results: We identified 136 women with an ICD 9 or 10 diagnosis of Sjogren's from the Jackson Memorial hospital and University of Miami Health systems. Out of the 136 women, 34 women had abnormal cervical cells, which consisted of 27 pap smear samples resulting with ASCUS, 5 with LSIL, and 2 with cervical squamous carcinoma. This amounted to 25% having concerning pap smears, with 62.3% of these samples infected with high risk HPV strains.   Out of the women with reported ASCUS, 16 were positive for high risk HPV, and out of the women with LSIL 1 was positive for high risk HPV. The rest of the 102 women had pap smears negative for cervical dysplasia, however 29 of those women had pap smears that resulted in inflammatory, reactive, or atrophic changes.
Conclusion: Results revealed that women from our retrospective study diagnosed with Sjogren's syndrome were found to have abnormal cervical cells on pap smears at a rate much higher than the national average. Although 62.3% of these women with ASCUS/dysplasia were also infected with high risk HPV, the increased rate of ASCUS results at 19.9% is significantly higher than the national rate of 5% in U.S women. There was also an increase in pap results yielding in inflammatory and reactive changes. Although there is limited data published on Sjogren's syndrome and cervical dysplasia, our results poses interest in the possibility of Sjogren's leading to increased cervical inflammation, as well as susceptibility to HPV-infections that may lead to cervical dysplasia. These findings suggest we should be vigilant about offering our Sjogren's patients appropriate HPV vaccination and ensure appropriate cervical cancer screening has been done.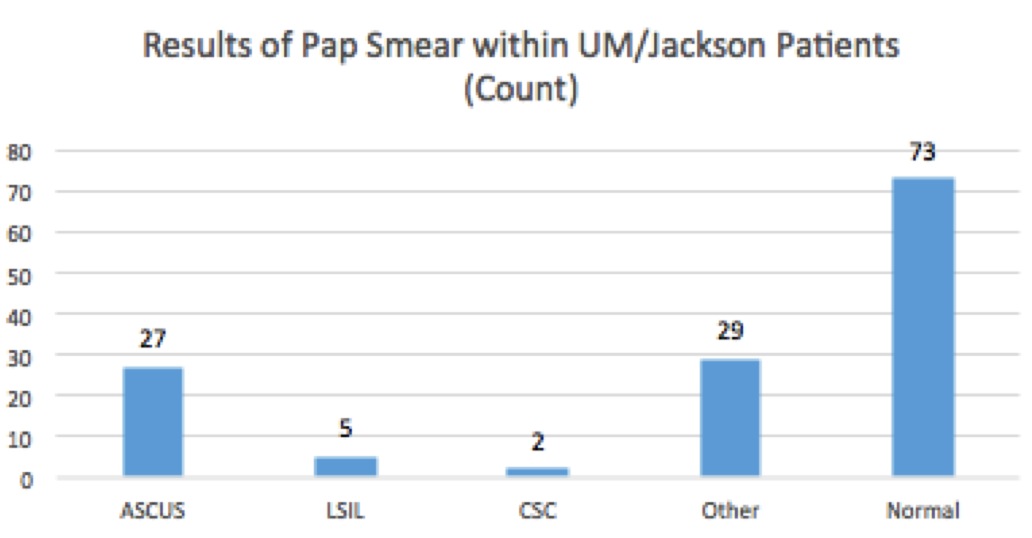 ---
Disclosure: K. Corbitt, None; I. Lopez, None; S. Culpepper, None.
To cite this abstract in AMA style:
Corbitt K, Lopez I, Culpepper S. Sjogren's Syndrome and Its Risk of Cervical Lesions [abstract].
Arthritis Rheumatol.
2020; 72 (suppl 10). https://acrabstracts.org/abstract/sjogrens-syndrome-and-its-risk-of-cervical-lesions/. Accessed November 29, 2022.
« Back to ACR Convergence 2020
ACR Meeting Abstracts - https://acrabstracts.org/abstract/sjogrens-syndrome-and-its-risk-of-cervical-lesions/