Session Information
Session Type: Poster Session (Monday)
Session Time: 9:00AM-11:00AM
Background/Purpose: Nailfold videocapillaroscopy (NVC) is a simple, non-invasive & highly sensitive tool to evaluate structural abnormalities of the microcirculation in vivo and considered a key clinical finding to help differentiate primary from secondary Raynaud's phenomenon (RP). It is available at limited centers across the US.  We examined the significance of NVC patterns in an unselected cohort of patients with RP and/or suspected connective tissue disease (CTD) referred to a recently instituted NVC Clinic at our institution.
Methods: Medical records of all patients referred to our NVC Clinic between 1/1/2017 to 3/31/2019 were retrospectively reviewed. Demographics, clinical diagnosis, major organ involvement that can been seen in systemic sclerosis (SSc) or CTDs (interstitial lung disease (ILD), pulmonary arterial hypertension (PAH), digital ulcers (DU) and gastrointestinal dysmotility (GID)) and autoantibodies were abstracted. NVC results (Optilia, 200x; 2nd-5th Digits examined bilaterally) were classified as normal or abnormal (described as non-specific or SSc specific pattern- early, active, late). Fulfilment of ACR/EULAR 2013 SSc classification criteria and Very Early Diagnosis of SSc (VEDOSS) criteria was ascertained. 
Results: 190 patients (mean age 46 ± 15 yrs, 81 % females, 93% white) underwent NVC during the study period. Indications for referral were RP (92%), positive autoantibodies (56%) and/or suspicion for underlying CTD (21%). 
A normal NVC was noted in 102 (54%) patients, of whom 34 patients were considered to have Primary RP. Abnormal NVC was noted in 88 (46%) patients of which 57 (65%) had SSc pattern (39% early,  46% active, and  16% late). Among those with SSc NVC pattern, 26 (46%) met classification criteria for SSc, 48 (84%) fulfilled VEDOSS criteria and 28 (49%) were diagnosed as other CTDs. Among patients met ACR/EULAR 2013 SSc diagnosis, NVC abnormalities were noted in 33 (94%). NVC abnormalities were also notable in patients with other CTDs (Table 1).
Organ involvement was observed more frequently with SSc NVC pattern (Table 2).  Among the 13 patients with SSc NVC pattern (6 early, 7 active) that did not meet criteria for SSc or other CTDs, 3 had ILD, 1 DU and 2 had GID.
Among patients with SSc NVC pattern, 74% had a positive ANA, 37% had SSc specific autoantibodies (anti-centromere 14%, anti-Scl70 12% and anti RNA polymerase-III 14%), and 39% had a positive ENA (16% anti-Ro/SSA, 2% anti-La/SSB, 7% anti-Sm, 16% anti-RNP).
In absence of RP (n=13), SSc pattern was observed in 4 (31%) patients: 3 met VEDOSS, 2 met ACR/EULAR SSc criteria and 1 had Sjogren's syndrome; 2 had anti-RNA polymerase-III and 1 had anti-Scl70 antibody.
The association of NVC abnormalities (giant capillaries, dilatations, microhemorrhages and avascularity) with organ dysfunction is shown in the figure.
Conclusion: Our study underscores the importance of performing NVC for early diagnosis of SSc. This study supports the role of NVC as a valuable screening tool for evaluation of CTDs where abnormal NVC, particularly SSc pattern, may be associated with a high prevalence of disease-specific autoantibodies and internal organ involvement (particularly ILD and PAH), even in the absence of RP and may signal an evolving CTD.
.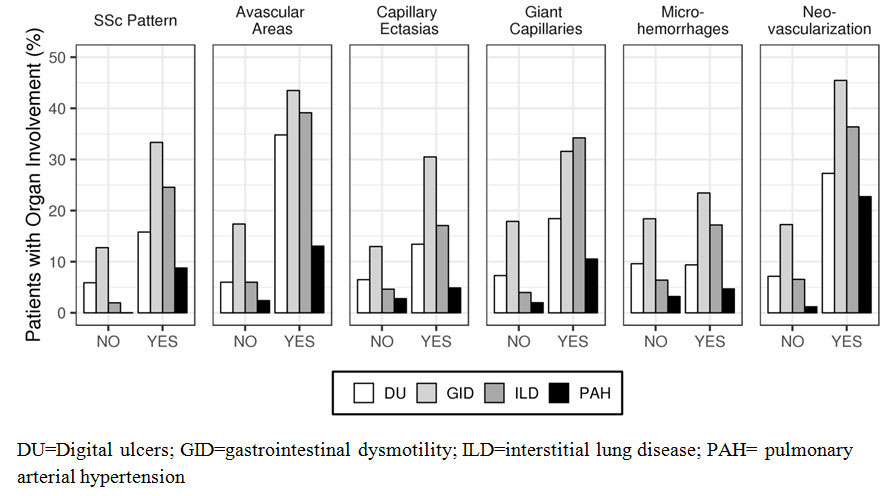 ---
Disclosure: Y. Radwan, None; T. Gunderson, None; C. Crowson, Crescendo Bioscience, 5, Crescendo BioScience Inc., 5, Crescendo Bioscience Inc., 5, Crescendo Biosciences inc., 5, Pfizer, 2; A. Hinze, None; K. Moder, None; F. Ernste, None; S. Amin, None; U. Thanarajasingam, None; T. Osborn, None; K. Warrington, Eli Lilly, 2, GlaxoSmithKline, 2, roche, 2, 8, Roche, 2, 5, 8, Sanofi, 5, sanofi, 5; P. Wennberg, None; A. Makol, None.
To cite this abstract in AMA style:
Radwan Y, Gunderson T, Crowson C, Hinze A, Moder K, Ernste F, Amin S, Thanarajasingam U, Osborn T, Warrington K, Wennberg P, Makol A. Significance of Abnormal Nailfold Videocapillarscopy Among Patients with Raynaud's Phenomenon And/or Suspected Connective Tissue Disease: A Cross-Sectional Single-Center US Experience [abstract].
Arthritis Rheumatol.
2019; 71 (suppl 10). https://acrabstracts.org/abstract/significance-of-abnormal-nailfold-videocapillarscopy-among-patients-with-raynauds-phenomenon-and-or-suspected-connective-tissue-disease-a-cross-sectional-single-center-us-experience/. Accessed January 30, 2023.
« Back to 2019 ACR/ARP Annual Meeting
ACR Meeting Abstracts - https://acrabstracts.org/abstract/significance-of-abnormal-nailfold-videocapillarscopy-among-patients-with-raynauds-phenomenon-and-or-suspected-connective-tissue-disease-a-cross-sectional-single-center-us-experience/