Session Information
Session Type: ACR Poster Session C
Session Time: 9:00AM-11:00AM
Background/Purpose:
Lupus anticoagulant hypoprothrombinemia syndrome (LA-HPS) is a rare condition that may predispose to both thrombosis and bleeding due to positive lupus anticoagulant (LA) and factor II (FII) deficiency. It can be seen in association with infections or systemic lupus erythematosus (SLE) and may require glucocorticoids (GC) and/or immunosuppressive medications. The purpose of this report is to describe the novel use of rituximab (RTX) as a steroid-sparing agent in three pediatric SLE cases and to systematically review the literature on pediatric cases of LA-HPS.
Methods:
Pediatric LA-HPS cases that received only RTX for LA-HPS (in addition to GC) at two institutions between January 2010 and June 2016 were analyzed descriptively. PubMed was queried for "pediatric" or "children" and "lupus anticoagulant hypoprothrombinemia", "acquired hypoprothrombinemia", "lupus anticoagulant" or "hypoprothrombinemia", retrieving all articles in English. Relevant articles and their references were checked. Pediatric LA-HPS cases (≤18 years) with bleeding or thrombotic events were included in the systematic analysis. Information obtained included demographics, presenting symptoms, diagnoses, treatments, pre/post-treatment prothrombin time (PT)/partial thromboplastin time (PTT)/LA/FII levels and outcomes.
Results:
In addition to three LA-HPS cases identified at our institutions (Table 1), as of June 2016, 35 articles reported 52 pediatric LA-HPS cases [mean age: 7.9y (10m – 17y); Female/Male: (2:1); viral illness 27 (52%), SLE 20 (38%), and other 5 (10%)]. All cases had a positive LA and FII deficiency (range: 0-40%). All cases presented with bleeding diathesis and were treated with various regimens, but there was no reported use of RTX. Of cases with viral illness, 23/27 (85%) received no or supportive treatment alone with 4/27 (15%) receiving GC and/or immunosuppressive medications. Of SLE cases, the majority 18/20 (90%) received GC [7/18 (39%) combined with immunosuppressive medications] with only 1/20 (5%) receiving supportive treatment alone. Post-treatment LA and FII were checked in 29/52 (56%) and 34/52 (65%) cases respectively. Patients had complete resolution: 25 (48%), partial/clinical resolution: 23 (44%), or no response/not available: 4 (8%) based on further bleeding diathesis/thrombotic events and post-treatment FII levels.
Conclusion:
Based on our experience with three pediatric SLE LA-HPS patients, RTX: a) is an effective steroid sparing agent; b) improves or normalizes FII levels; and c) does not affect LA positivity. Our systematic literature review of pediatric LA-HPS cases demonstrates that: a) viral illness-associated LA-HPS is mostly transient; b) steroid is the mainstay in the acute management of SLE-associated LA-HPS; c) there are no standardized maintenance treatments for SLE-associated LA-HPS; and d) there is no reported use of RTX in the literature.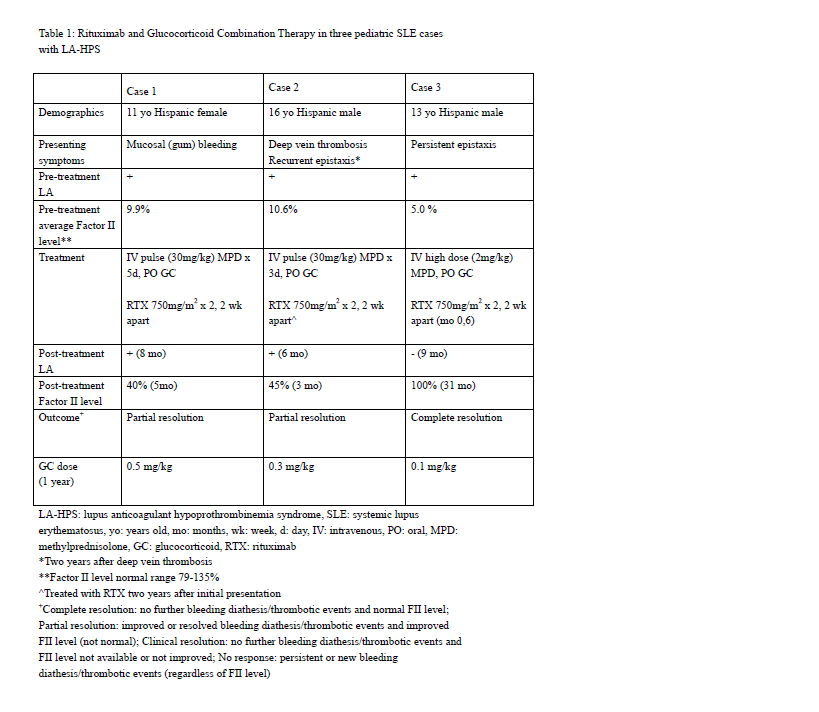 ---
Disclosure: K. Cetin Gedik, None; S. Siddique, None; C. L. Aguiar, None; D. Erkan, None.
To cite this abstract in AMA style:
Cetin Gedik K, Siddique S, Aguiar CL, Erkan D. Rituximab Use in Pediatric Lupus Anticoagulant Hypoprothrombinemia Syndrome – Report of Three Cases and Review of the Literature [abstract].
Arthritis Rheumatol.
2016; 68 (suppl 10). https://acrabstracts.org/abstract/rituximab-use-in-pediatric-lupus-anticoagulant-hypoprothrombinemia-syndrome-report-of-three-cases-and-review-of-the-literature/. Accessed November 29, 2020.
« Back to 2016 ACR/ARHP Annual Meeting
ACR Meeting Abstracts - https://acrabstracts.org/abstract/rituximab-use-in-pediatric-lupus-anticoagulant-hypoprothrombinemia-syndrome-report-of-three-cases-and-review-of-the-literature/