Session Information
Session Type: Poster Session (Sunday)
Session Time: 9:00AM-11:00AM
Background/Purpose: Juvenile Systemic Sclerosis (JSSc) is a rare multi-systemic disease characterized by fibrous changes of the skin and internal organs [1]. Patients with "rapidly progressive" SSc present with rapid development of skin induration and life threatening organ involvement, leading to poor prognosis [2, 3]. Recently, Rituximab (RTX), a monoclonal antibody against the CD20 antigen on B cells, has shown to be a promising therapy for adult patients with SSc [4, 5]. We present our experience with four pediatric patients with rapidly progressive JSSc treated with RTX.
Methods: Data on clinical, laboratory and instrumental parameters were collected from four patients with rapidly progressive JSSc treated with RTX for at least one year. Data were recorded at baseline and every 6 months after initiation of therapy. All patients underwent i.v. RTX therapy with four cycles (375 mg/m2 every 2 weeks), at 3 months intervals. Low dose oral prednisone and mycophenolate mofetil (MMF, 500 mg/m2/day) were administered between RTX pulses. Skin changes were assessed by mRSS, changes on muscles involvement by CMAS. Variations on BMI, pulmonary function tests (FVC, FEV1, DLCO) and cardiac involvement (LVEF, LVEDV, GLS) were expressed as % change from baseline. J4S was used to assess the overall disease severity [6].
Results: Four JSSc patients (3M, 1F), aged 8-17 years, entered the study (Table 1). Three patients presented with prevalent cardiac involvement. One patient (no.3) presented with severe pulmonary involvement. After one year RTX treatment, all patients showed significant decreased of number/duration of Raynaud Phenomenon attacks and cutaneous involvement. Prior RTX treatment, 2 patients needed an implantable cardioverter defibrillator (ICD) because of episodes of severe ventricular tachycardia (VT). After 12 months of therapy one patient presented improvement LVEF (+19%) and J4S, the other showed a global cardiac improvement (LVEF +37%, LVEDV -18%) and J4S. Both underwent a second year-long treatment with RTX with stabilization of internal organs' involvement. Case 3 showed a significant improvement of the respiratory function (FVC +46%, FEV1 +33%, DLCO +30%) with decreased J4S. Case 4 improved her arrhythmia and muscle strength (CMAS +17%). No major RTX-related side effects were reported.
Conclusion: Rapidly progressive JSSc still carries a high mortality rate. To the best of our knowledge this is the first series of patients with JSSc successfully treated with RTX. Our experience, although in a small cohort, confirms the beneficial effect of this therapy on the life-threatening internal organ involvement,  particularly on cardiac function.
References
Zulian F, et al. Arthritis Rheum 2007; 57:203–212.
Joven BE, et al. Semin Arthritis Rheum. 2010; 39:285.
Martini G, et al. Rheumatology (Oxford) 2009;48(2):119.
Daoussis D, et al. Semin Arthritis Rheum 2017; 46 (5): 625-31.
Jordan S, et al. Ann Rheum Dis, 2015; 74: 1188-94.
La Torre F, et al. Arthritis Rheum. 2012;64(12):4143-50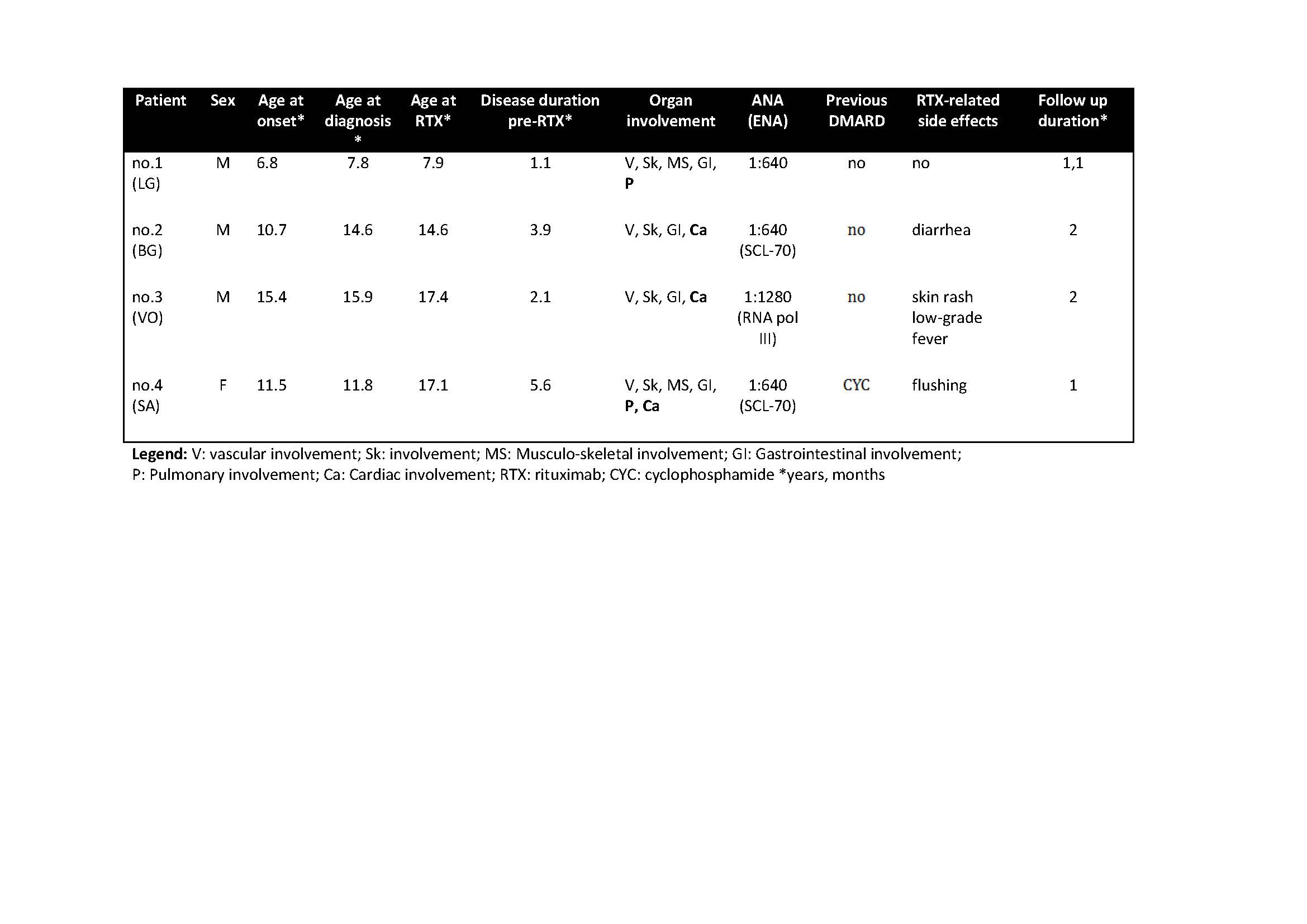 RTX Table 1
---
Disclosure: R. Dal Pozzolo, None; A. Meneghel, None; B. Castaldi, None; G. Martini, None; R. Marcolongo, None; F. Zulian, None.
To cite this abstract in AMA style:
Dal Pozzolo R, Meneghel A, Castaldi B, Martini G, Marcolongo R, Zulian F. Rituximab for Rapidly Progressive Juvenile Systemic Sclerosis: A Proof-of-concept Study in Four Patients [abstract].
Arthritis Rheumatol.
2019; 71 (suppl 10). https://acrabstracts.org/abstract/rituximab-for-rapidly-progressive-juvenile-systemic-sclerosis-a-proof-of-concept-study-in-four-patients/. Accessed November 23, 2020.
« Back to 2019 ACR/ARP Annual Meeting
ACR Meeting Abstracts - https://acrabstracts.org/abstract/rituximab-for-rapidly-progressive-juvenile-systemic-sclerosis-a-proof-of-concept-study-in-four-patients/