Session Information
Session Type: Poster Session C
Session Time: 9:00AM-11:00AM
Background/Purpose: In patients with SLE, remission is an established therapeutic goal associated with reduced damage accrual and flares, and improved health-related quality of life.1 Here, we evaluated attainment of DORIS (Definition of Remission in SLE) during anifrolumab treatment in the double-blind randomized phase 3 TULIP long-term extension (LTE) trial.2
Methods: Patients with moderate to severe SLE (1997 ACR criteria) despite standard therapy who completed the 52-week TULIP-1 or TULIP-2 trials (NCT02446912, NCT02446899) could reconsent to participatein the randomized, placebo-controlled, double-blind, 3-year extension (NCT02794285). Here, we analyzed patients randomized to receive intravenous anifrolumab 300 mg or placebo for the TULIP-1/TULIP-2 and LTE periods. DORIS attainment was defined as all the following: total clinical SLEDAI-2K score =0, physician global assessment (0–3) < 0.5, prednisone/equivalent dosage ≤5 mg/day, and no use of restricted medications (TULIP-1/TULIP-2 period only). Time to first DORIS was compared using Cox regression. DORIS attainment rates were calculated using a Cochran–Mantel–Haenszel approach and compared using logistic regression. Total time and percentage of time in DORIS was analyzed using analysis of covariance. Patients who discontinuedinvestigational product prematurely and/or withdrew from the study due to lack of efficacy and/or disease worsening were considered nonresponders from that visit on. All P-values are nominal.
Results: Overall, 369 patients (anifrolumab 300 mg, n=257; placebo, n=112) who continued treatment in the LTE were analyzed for the 4-year TULIP+LTE period. Time to first DORIS remission was shorter in anifrolumab-treated patients compared with placebo (hazard ratio 1.49, 95% CI 1.04–2.19, P=0.034). DORIS remission attainment increased from TULIP baseline to Week 208; at the first LTE visit (Week 64), 21.2% of anifrolumab-treated patients achieved DORIS compared with 11.8% of the placebo group (odds ratio [OR] 2.1, 95% CI 1.0–4.1, P=0.036); a similar trend was seen up to Week 208 (33.0% vs 21.4%; OR 1.8, 95% CI 0.9–3.5, P=0.089) (Figure). Greater cumulative time (P=0.002) and percentage of time (P=0.002) were spent in DORIS by patients receiving anifrolumab compared with placebo. A greater proportion of patients treated with anifrolumab were in DORIS ≥20% of the time compared with placebo (OR 2.9, 95% CI 1.6–5.2, P=0.001) and ≥50% of the time (OR 2.3, 95% CI 1.1–5.0, P=0.030). Compared with placebo, anifrolumab-treated patients were more likely to sustain DORIS for ≥3 consecutive visits (OR 2.1, 95% CI 1.2–3.6, P=0.013) and ≥5 visits (OR 2.3, 95% CI 1.1–4.8, P=0.022).
Conclusion: Treatment with anifrolumab, in addition to standard therapy, was associated with more frequent, prolonged, and sustained DORIS remission attainment compared with placebo during the 4-year TULIP+LTE period. Our results suggest that DORIS, a definition of remission associated with improved clinical outcomes,1 is an attainable therapeutic goal with long-term anifrolumab use.
References: 1.van Vollenhoven RF, et al. Lupus Sci Med. 2021;8:e000538.
2.Kalunian KC, et al. Arthritis Rheumatol. 2023;75:253–65.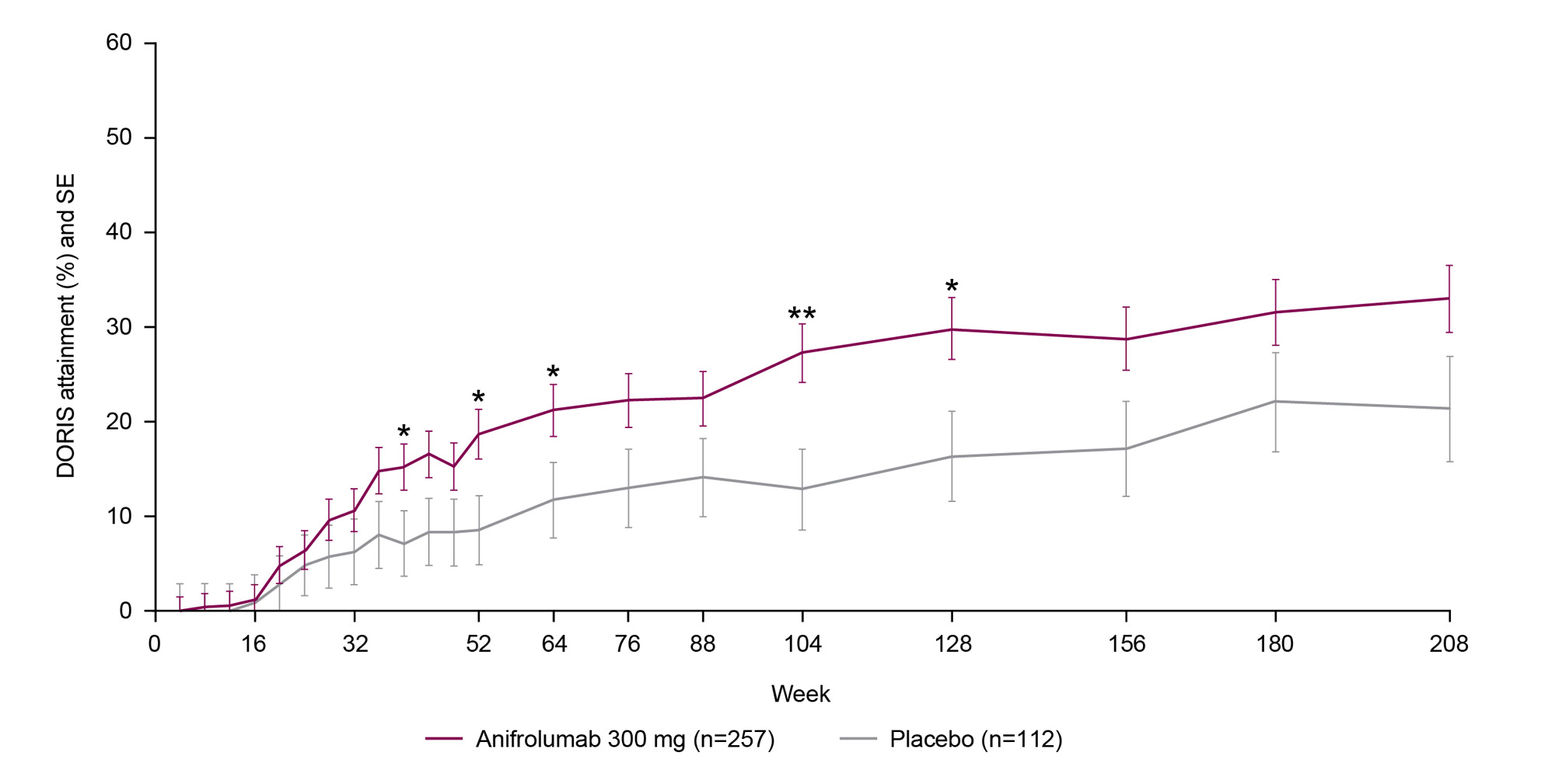 ---
Disclosures: R. van Vollenhoven: AbbVie, 2, 6, AstraZeneca, 2, 5, 6, Biogen, 6, Bristol-Myers Squibb(BMS), 2, 5, 6, Galapagos, 2, 5, 6, GlaxoSmithKline, 6, Janssen, 2, 6, MSD/Merck Sharp and Dohme, 5, Novartis, 5, Pfizer, 2, 5, 6, RemeGen, 2, Roche, 5, Sanofi, 5, UCB, 2, 5, 6; E. Morand: AbbVie, 2, 5, Amgen, 5, AstraZeneca, 2, 5, 6, Biogen, 2, 5, Bristol Myers Squibb, 2, 5, Eli Lilly, 2, 5, EMD Serono, 2, 5, Galapagos, 2, Genentech, 2, 5, GlaxoSmithKline, 2, 5, IgM, 2, Janssen, 2, 5, Novartis, 2, Servier, 2, Takeda, 2, UCB, 5; R. Furie: AstraZeneca, 2, 5, 6; K. Kalunian: AbbVie, 2, Amgen, 2, AstraZeneca, 2, Biogen, 2, Bristol-Myers Squibb, 2, Eli Lilly, 2, Genentech/Roche, 2, GlaxoSmithKline, 2, Janssen, 2, Pfizer, 2; R. Tummala: AstraZeneca, 3; G. Abreu: AstraZeneca, 3; H. Al-Mossawi: AstraZeneca, 3; C. Lindholm: AstraZeneca, 3.
To cite this abstract in AMA style:
van Vollenhoven R, Morand E, Furie R, Kalunian K, Tummala R, Abreu G, Al-Mossawi H, Lindholm C. Remission Attainment in Patients with Systemic Lupus Erythematosus Treated with Anifrolumab Compared with Placebo over a 4-Year Period [abstract].
Arthritis Rheumatol.
2023; 75 (suppl 9). https://acrabstracts.org/abstract/remission-attainment-in-patients-with-systemic-lupus-erythematosus-treated-with-anifrolumab-compared-with-placebo-over-a-4-year-period/. Accessed .
« Back to ACR Convergence 2023
ACR Meeting Abstracts - https://acrabstracts.org/abstract/remission-attainment-in-patients-with-systemic-lupus-erythematosus-treated-with-anifrolumab-compared-with-placebo-over-a-4-year-period/