Session Information
Session Type: ACR Concurrent Abstract Session
Session Time: 4:30PM-6:00PM
Background/Purpose:  Limb length inequality (LLI) is a condition in which one limb is longer than the other. Previous reports of a link between LLI and knee radiographic osteoarthritis (rOA) are limited by short follow-up durations. This longitudinal analysis examined the hazard of incident and progressive rOA and symptoms of the knee and hip by LLI in a large community-based cohort over a median 10-year follow-up period.
Methods: Participants were African American and Caucasian men and women 45+ years old enrolled from 1991-1997 (original cohort) or 2003-2004 (enrichment cohort), and follow up data were collected during 1999-2004, 2006-2010, or 2012-2015 (median follow-up time = 10 years, range= 4-22 years). Lower extremity lengths were measured with a tape measure from anterior superior iliac spine to distal medial malleolus with the participant supine; LLI was defined as ≥ 2 cm difference between limbs. Radiographs (anteroposterior [AP] standing knee and AP supine pelvic) were read for Kellgren-Lawrence grade (KLG). Incident rOA was defined as KLG <2 at baseline that becomes KLG ≥2 at follow-up.  Progressive OA was defined as ≥ 1 KLG increase with baseline KL=1. Incident symptoms were defined as new symptoms (pain, aching, or stiffness on most days) at follow-up among joints without symptoms at baseline. Progressive symptoms were defined as joints with mild or moderate baseline symptoms that increased ≥1 level of severity (to moderate or severe) at follow-up. Separate parametric Weibull time-to-event models estimated hazard ratios of the association of LLI and knee and hip outcomes, adjusting for cohort (original or enrichment), time of LLI assessment (1991-1997 or 1999-2004), age, sex, race, and body mass index (BMI). In models where symptoms were the outcome, rOA was included as a covariate. Interactions between LLI and covariates were examined (p<0.10 considered statistically significant).
Results: At baseline, complete LLI with knee and hip radiograph data were available for 2872 and 2669 participants with at least one follow-up, respectively. Characteristics of the pooled sample were: mean ± standard deviation (SD) baseline age 61 ± 9.8 years; 2/3 women; 1/3 African American; mean ± SD baseline BMI 30 ± 6.4 kg/m2, and 7% with a LLI. The hazards of incident or progressive knee or hip rOA and symptoms by LLI were not statistically different (Table). There was a statistically significant interaction between LLI and BMI for progressive knee rOA; thus, results were stratified by BMI (<30 and ≥30 kg/m2). Among participants with BMI≥30, the adjusted hazard for progressive knee rOA was 76% higher among those with LLI vs. no LLI (adjusted hazard ratio 1.76, 95% confidence interval 1.12, 2.75). 
Conclusion :  Among obese participants, LLI was associated with progressive knee rOA. These results suggest that obese individuals with knee rOA and LLI may benefit from interventions to limit rOA progression.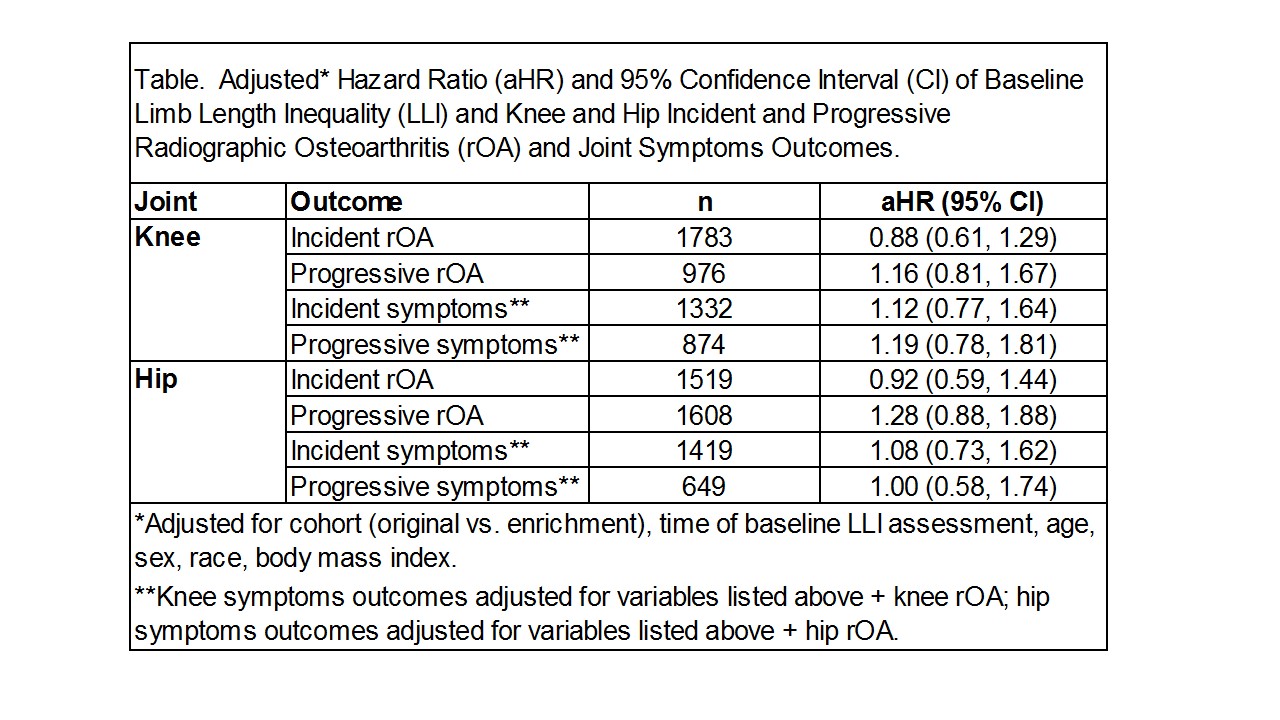 ---
Disclosure: Y. M. Golightly, None; C. Alvarez, None; K. Allen, None; J. B. Renner, None; J. M. Jordan, None.
To cite this abstract in AMA style:
Golightly YM, Alvarez C, Allen K, Renner JB, Jordan JM. Relationship of Limb Length Inequality and Incident and Progressive Knee and Hip Radiographic Osteoarthritis and Symptoms [abstract].
Arthritis Rheumatol.
2016; 68 (suppl 10). https://acrabstracts.org/abstract/relationship-of-limb-length-inequality-and-incident-and-progressive-knee-and-hip-radiographic-osteoarthritis-and-symptoms/. Accessed October 17, 2021.
« Back to 2016 ACR/ARHP Annual Meeting
ACR Meeting Abstracts - https://acrabstracts.org/abstract/relationship-of-limb-length-inequality-and-incident-and-progressive-knee-and-hip-radiographic-osteoarthritis-and-symptoms/