Session Information
Session Type: Abstract Session
Session Time: 5:00PM-5:50PM
Background/Purpose: Whether altered nociceptive signaling, such as pain sensitization and abnormal descending pain modulation, impact the risk of developing knee pain, more pain severity, and/or change in pain patterns from intermittent to more persistent pain over time is not clear. We used quantitative sensory testing (QST) to evaluate the relation of pain mechanisms to development and change in pain over 2 years.
Methods: We used data from the Multicenter Osteoarthritis (MOST) Study, a NIH-funded longitudinal cohort of people with or at risk of knee OA. The current analysis focusing on the 12th-year visit as the baseline for this analysis as this was the first visit at which descending pain modulation was assessed. All participants had pain questionnaires, knee radiographs, and QST at this baseline visit, and were assessed for pain outcomes every 8 months x3. QST comprised temporal summation (TS), pressure pain threshold (PPT), both of assess ascending pain facilitation, and conditioned pain modulation (CPM), a measure of descending pain modulation. TS was assessed with a set of weighted mechanical punctate probes. Degree of TS was defined as the difference in pain rating from the end of the train of 10 stimuli vs. the baseline. PPT at the wrist and patellae was assessed with an algometer as the point at which pressure first changed to slight pain. CPM was assessed using PPT at the wrist as the test stimulus pre- and post-conditioning stimulus (forearm ischemia); CPM was computed as the post-PPT: pre-PPT ratio. We evaluated the relation of each QST measure to the risk of development of: frequent knee pain (FKP) among those free of FKP at baseline, development of more frequent intermittent knee pain (indicated as at least "often") or constant pain among those with no constant pain or only infrequent intermittent pain (occurring no more than "sometimes" based on the ICOAP) at baseline, and WOMAC worsening of ≥2/20 (MCID) over 2 years. We used logistic regression with GEE, adjusting for age, sex, BMI, race, catastrophizing, and depressive symptoms.
Results: 2794 participants were included (mean age 64, mean BMI 29.5, 57% female). More pain sensitization assessed by TS was associated with increased risk of developing more intermittent or constant pain over two years (Table). More pain sensitization by PPT at the patella and wrist were associated with higher risk of developing more intermittent or constant pain, and with WOMAC pain worsening. Lower PPT at the patella was additionally associated with higher risk of developing FKP. In contrast, inefficient CPM was not associated with development of any of these pain outcomes over two years.
Conclusion: Pain sensitization measures that reflect ascending pain facilitation were associated with increased risk of developing more frequent and/or more severe knee pain. In contrast, descending pain modulation did not appear to play a role in changing pain frequency or severity over time. These findings provide insights into the role of neurobiological pain mechanisms in the transition from acute to chronic pain in knee OA.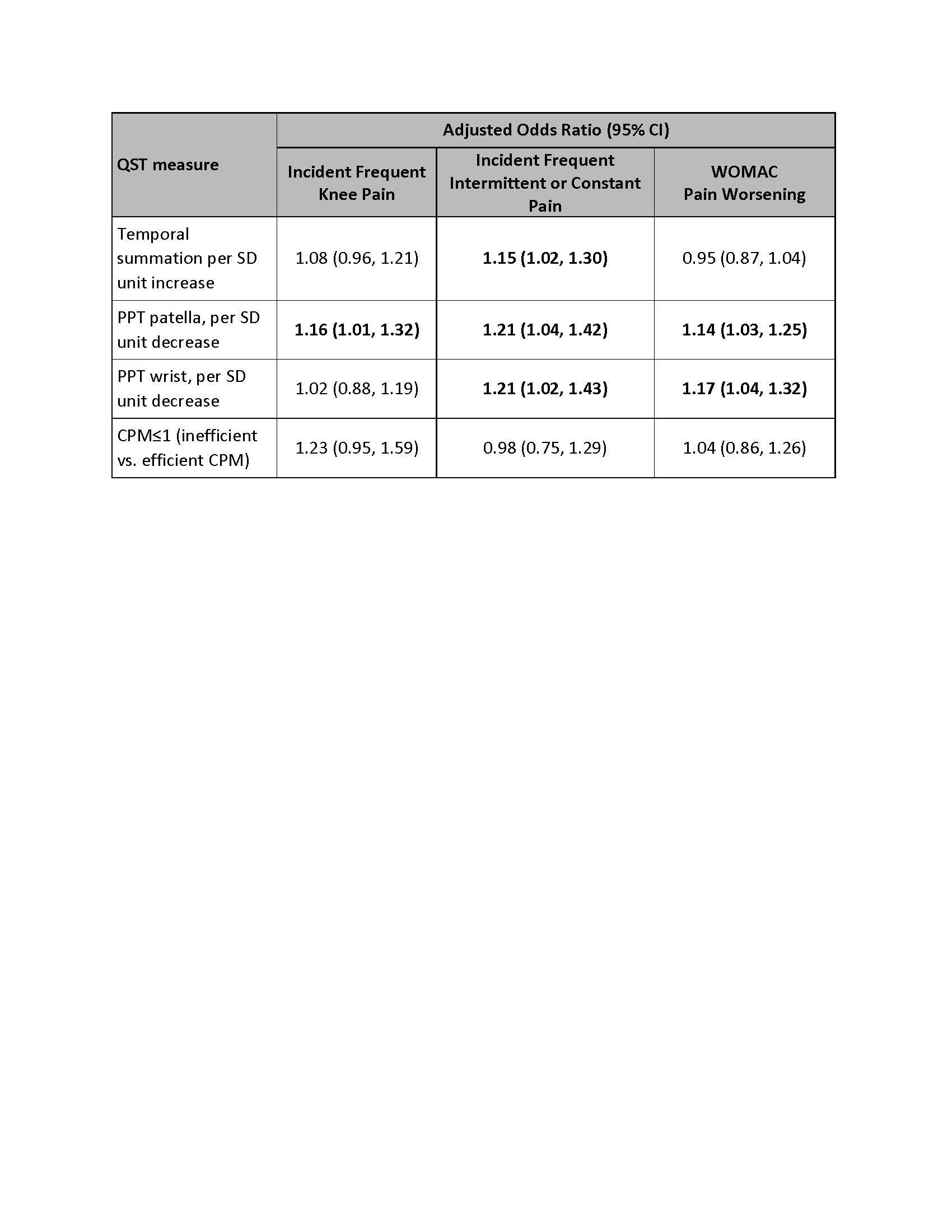 Relation of Quantitative Sensory Testing Measures of Ascending Facilitation and Descending Modulation to Risk of Developing Knee Pain or Knee Pain Worsening Over Two Years
---
Disclosure: T. Neogi, Lilly, 1, EMD Merck Serono, 1, Novartis, 1, Regeneron, 1, Pfizer/Lilly, 1; N. Wang, None; K. Aoyagi, None; L. Frey Law, None; C. Lewis, None; M. Nevitt, None; L. Carlesso, None.
To cite this abstract in AMA style:
Neogi T, Wang N, Aoyagi K, Frey Law L, Lewis C, Nevitt M, Carlesso L. Relation of Pain Mechanisms to Development of Knee Pain in Osteoarthritis: The Multicenter Osteoarthritis Study [abstract].
Arthritis Rheumatol.
2020; 72 (suppl 10). https://acrabstracts.org/abstract/relation-of-pain-mechanisms-to-development-of-knee-pain-in-osteoarthritis-the-multicenter-osteoarthritis-study/. Accessed November 25, 2020.
« Back to ACR Convergence 2020
ACR Meeting Abstracts - https://acrabstracts.org/abstract/relation-of-pain-mechanisms-to-development-of-knee-pain-in-osteoarthritis-the-multicenter-osteoarthritis-study/