Session Information
Session Type: Poster Session (Tuesday)
Session Time: 9:00AM-11:00AM
Background/Purpose: Intra-articular (i.a.) calcium crystal deposition is common in knee osteoarthritis (OA), particularly in end-stage disease. It is possible that low-grade inflammation related to crystals may contribute to knee pain, including pain fluctuation. However, in prior studies, results on this matter have been conflicting. Detection of chondrocalcinosis has relied on radiographs to date, which has low sensitivity, and this may have limited the ability to adequately assess the relation of chondrocalcinosis to knee pain. We used CT to identify i.a. mineralization to overcome this limitation.
Methods: The Multicenter Osteoarthritis (MOST) Study is a NIH-funded longitudinal cohort study of persons with or at risk of knee OA. Participants from the existing cohort underwent bilateral knee CT scans at the 144-months study visit (the first visit at which CTs were acquired), and completed standardized questionnaires to ascertain presence of frequent knee pain, knee pain severity using WOMAC, and patterns of knee pain using ICOAP (Intermittent and Constant OA Pain). A musculoskeletal radiologist scored multiplanar CT images (axial native images with coronal and sagittal 2D reformats) using a new CT scoring system that has high reliability, the Boston University Calcium Knee Score (BUCKS). The degree of mineralization in each of WORMS-defined subregions of cartilage and menisci was assessed using an ordinal score (0-3). Ligament and joint capsule mineralization were scored as present  or absent. We evaluated the relation of presence of i.a. mineralization to WOMAC knee pain severity using linear regression, to presence of frequent knee pain with logistic regression, and to constant +/- intermittent pain versus intermittent pain only or no pain using ordinal logistic regression. Analyses were conducted with GEE and adjusted for age, sex, BMI, race, and KL grade.
Results: There were 633 persons (1261 knees) included (mean age 72, 57% female, mean BMI 29.9). Overall, 23.3% of knees had any i.a. mineralization; 16.7% had cartilage mineralization and 19.5% had meniscal mineralization. In terms of pain, 33% had frequent knee pain, 6.2% had constant +/- intermittent pain, 23.9% had intermittent pain only, and 46.2% had unpredictable knee pain that comes on without warning. Presence of i.a. mineralization anywhere in the joint, in the cartilage, or in the meniscus were not associated with WOMAC pain severity, frequent knee pain, or ICOAP pain pattern (i.e., constant +/- intermittent pain versus intermittent or no pain) (Table).
Conclusion: Despite greater sensitivity with CT, we did not find an association between i.a. mineralization and knee pain in these cross-sectional analyses.  We were not able to differentiate type of crystal at this stage. Younger patients at earlier stages of disease may be a more relevant sample to study. Nonetheless, these cross-sectional analyses indicate that deposits of i.a. mineralization appear to be asymptomatic, though we cannot rule out subclinical inflammatory episodes not captured with these CT images that may contribute to symptoms.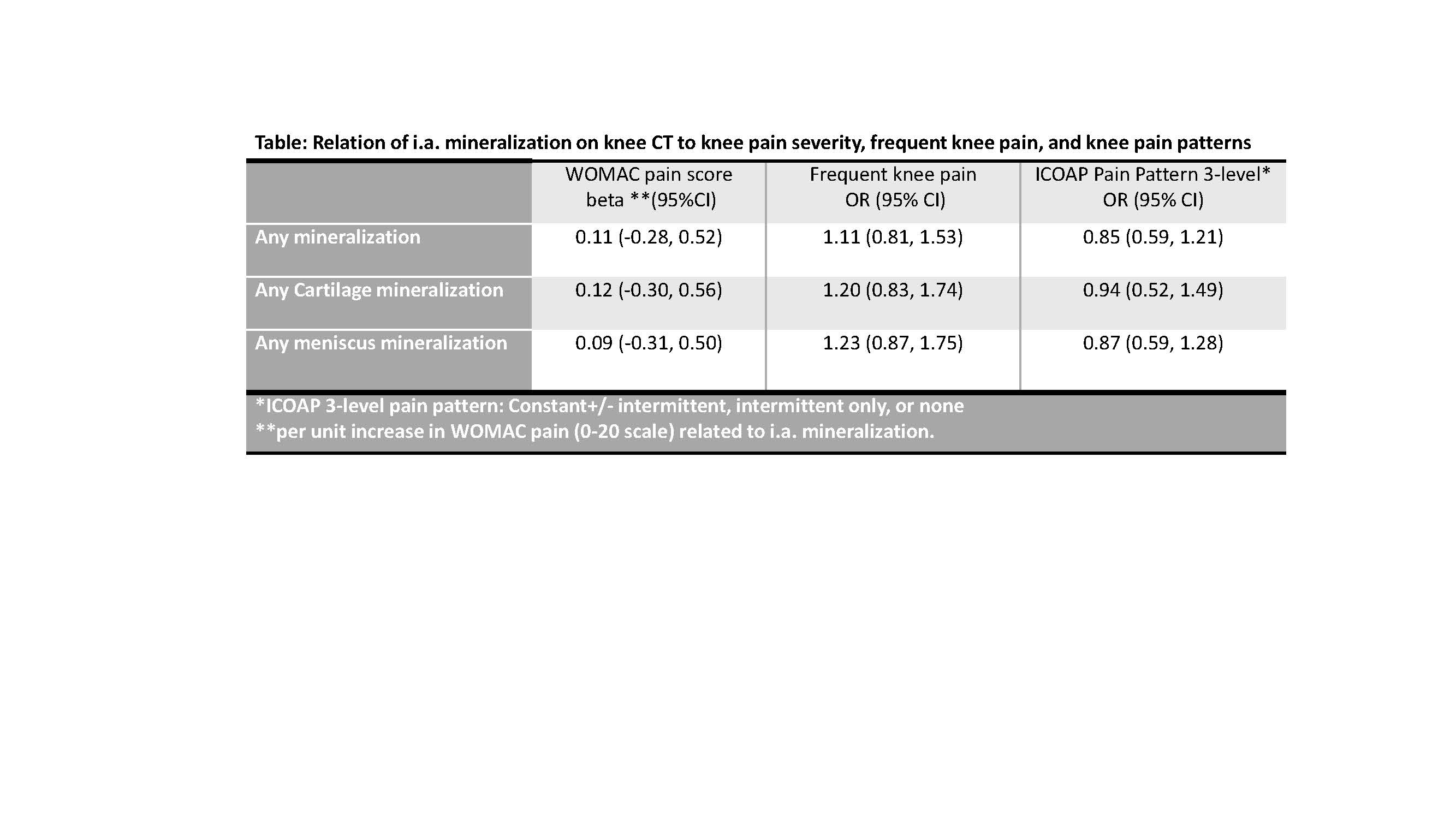 table
---
Disclosure: T. Neogi, MerckSerono, 5, Novartis, 5; J. Lynch, None; M. Jarraya, None; D. Felson, None; N. Wang, None; M. Nevitt, None; J. Torner, None; B. Lewis, None; A. Guermazi, AstraZeneca, 5, BICL - Boston Imaging Core Lab, 1, 3, 4, 5, 6, 7, BICL, LLC., 1, Galapagos, 5, MerckSerono, 5, Pfizer, 5, Roche, 5, TissueGene, 5.
To cite this abstract in AMA style:
Neogi T, Lynch J, Jarraya M, Felson D, Wang N, Nevitt M, Torner J, Lewis B, Guermazi A. Relation of Intra-Articular Knee Mineralization on CT to Knee Pain in People with or at Risk of Knee Osteoarthritis [abstract].
Arthritis Rheumatol.
2019; 71 (suppl 10). https://acrabstracts.org/abstract/relation-of-intra-articular-knee-mineralization-on-ct-to-knee-pain-in-people-with-or-at-risk-of-knee-osteoarthritis/. Accessed January 20, 2022.
« Back to 2019 ACR/ARP Annual Meeting
ACR Meeting Abstracts - https://acrabstracts.org/abstract/relation-of-intra-articular-knee-mineralization-on-ct-to-knee-pain-in-people-with-or-at-risk-of-knee-osteoarthritis/