Session Information
Session Type: Poster Session C
Session Time: 9:00AM-11:00AM
Background/Purpose: Granulomatosis with polyangiitis (GPA) is a common cause of glomerulonephritis and leads to end-stage renal disease (ESRD) in approximately 25% of patients. Both GPA and ESRD are associated with an increased risk of cardiovascular disease (CVD). In fact, CVD is the most common cause of death in GPA. Renal transplantation improves survival in GPA but its impact on risk of CVD events like myocardial infarction (MI) and cerebrovascular accident (CVA) is poorly understood in this unique population.
Methods: We identified all incident cases of ESRD due to GPA (ICD9=446.4) in the United States Renal Data System (USRDS) who were waitlisted for a renal transplant between 2000-2014. The USRDS captures nearly all patients with ESRD in the US and requires that nephrologists report the ESRD cause (ICD-9 code). The USRDS includes details regarding demographics, comorbidities, hospitalizations covered under Medicare Part A, and waitlist and transplant dates and statuses. All patients were followed to the earliest of: up to 3 years after transplant, end of Medicare coverage, death, or December 31, 2015. CVD outcomes of interested included non-fatal and fatal myocardial infarctions (MI) and ischemic cerebrovascular accident (CVA).  We used a Cox regression model with transplantation as a time-varying exposure and accounted for the competing risk of non-CVD-related mortality to estimate the hazard ratio (HR) and 95% confidence intervals (CIs) of CVD events among those transplanted compared to those who remained on the waitlist. We adjusted for sociodemographics, comorbidities, and other covariates.
Results: During the study period, 985 patients with ESRD due to GPA were waitlisted for a renal transplant (Table 1); 640 (65%) received a renal transplant. The majority were male (59%) and white (87%). Mean age at waitlisting was 50.6 (±16.3) years.  Among those who had a renal transplant, the mean age at transplant was 48.1 (±16.7) years. Mean follow-up time was 2.8 years. During follow-up, 15 non-fatal MIs, 39 non-fatal CVAs, 13 fatal MIs, and 4 fatal CVAs occurred.  In total, there were 68 CVD events.  The incidence of a CVD event during follow-up was 13.8/1,000 person-years and 53.0/1,000 person-years in the group that did and did not receive a transplant, respectively.  In fully-adjusted analyses, transplanted patients had a 70% lower risk of a CVD event compared to those who remained on the waitlist (HR 0.30, 95% CI 0.24-0.38).  Our findings remained consistent when analyzing each CVD event individually in unadjusted analyses, accounting for the competing risk of death and other CVD events: non-fatal CVA (HR 0.34, 95% CI 0.27-0.43), non-fatal MI (HR 0.34, 95% CI 0.27-0.43), fatal CVA (HR 0.35, 95% CI 0.27-0.44), and fatal MI (HR 0.35, 95% CI 0.28-0.44).
Conclusion: In this nationwide study of ESRD due to GPA, renal transplantation was associated with a significantly reduced risk of non-fatal and fatal CVD events. Our findings highlight the importance of identifying barriers to transplantation in this patient population. Additionally, evaluating management strategies to reduce the risk of CVD events in patients on the waitlist will likely improve survival.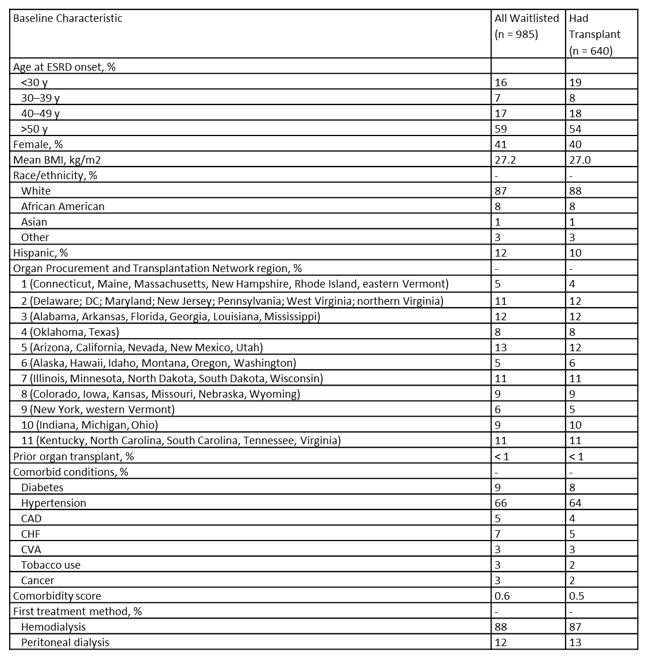 Table 1: Baseline Demographic and Disease-Specific Features
---
Disclosure: Z. Wallace, Bristol-Myers Squibb, 2; A. Jorge, None; X. Fu, None; Y. Zhang, None; H. Choi, AstraZeneca, 2, Takeda, 5, Selecta, 5, GlaxoSmithKline, 5, Horizon, 5.
To cite this abstract in AMA style:
Wallace Z, Jorge A, Fu X, Zhang Y, Choi H. Reduced Risk of Cardiovascular Diseases Events with Renal Transplantation in Granulomatosis with Polyangiitis in the United States: Data from the US Renal Data System [abstract].
Arthritis Rheumatol.
2020; 72 (suppl 10). https://acrabstracts.org/abstract/reduced-risk-of-cardiovascular-diseases-events-with-renal-transplantation-in-granulomatosis-with-polyangiitis-in-the-united-states-data-from-the-us-renal-data-system/. Accessed January 23, 2022.
« Back to ACR Convergence 2020
ACR Meeting Abstracts - https://acrabstracts.org/abstract/reduced-risk-of-cardiovascular-diseases-events-with-renal-transplantation-in-granulomatosis-with-polyangiitis-in-the-united-states-data-from-the-us-renal-data-system/