Session Information
Session Type: Poster Session A
Session Time: 9:00AM-11:00AM
Background/Purpose: Infections are one of the main complications among patients with rheumatoid arthritis (RA) with immunosuppressive treatment. The differences between treatments and the influence of other factors is unclear.
The objective of this study was to evaluate the frequency and factors associated with serious infections in patients with RA treated with biological therapy (BT) and JAK inhibitors (JAKi) and the differences between treatments.
Methods: Descriptive and retrospective study (January 2015-May 2020) of patients with RA treated with BT (TNFi, non-TNFi) and JAKi (tofacitinib, bariticinib) in a single center. RA diagnosis was performed according to ACR classification criteria. Severe infection was considered a life-threatening infection or one that required hospitalization and intravenous treatment. Epidemiological variables, clinical characteristics, Charlson comorbidity index, type of BT or JAKi and concomitant treatment were collected. For the analysis frequencies and percentages are used in qualitative variables, and mean ± SD in the quantitative ones. Statistical analysis was performed with IBM SPSS v 23.
Results: We registered 246 patients (85% women) mean aged 56±13.5 years. RF was positive in 87%, anti-CCP in 75.6% and 15.4% presented extra-articular manifestations (nodulosis 8.9%, intersticial lung disease 5.3%, other 1.2%). At the start of the study 149 patients (60.6%) were with TNFi, 79 (32.1%) non-TNFi and 18 (7.3%) with JAKi. Conventional synthetic DMARDs (csDMARDs) were used in 84.1% of cases (methotrexate 71%, leflunomide 21.3%, other 7.7%).
During the study, 165 patients (67.1%) continued with the same treatment and in 81 (32.9%) it was changed at least once. Four patients discontinued the treatment. At the end of the study, 119 patients (49.2%) were with TNFi, 79 (32.6%) non-TNFi and 44 (18.2%) with JAKi.
Severe infection was developed in 23 (9.3%) patients (respiratory 11, sepsis 4, cellulitis 4, urinary 3, osteomyelitis 1). Two patients had severe infection and herpes zoster and 3 developed a second infection. Twelve patients were with TNFi (52.2%), 7 non- TNFi (30.4%) and 4 JAKi (17.4%).Table 1
The inflammatory activity of RA was mild at the time of infection (DAS28: 2.6±1.1). The median time until infection was: TNFi 21.65 [7-60.8] months, non- TNFi 20.09 [17-37.7] and JAKi 28.19 [15.1-28.7]. The Charlson index, chronic obstructive pulmonary disease (COPD), diabetes mellitus (DM), severe liver disease, cerebrovascular accidents and peripheral vascular disease were statistically significantly associated with infection. The infection developed in 60.9% and 78.3% of patients who were on concomitant treatment with corticoid and csDMARD respectively. Table 1
Conclusion: In our study, 9.3% of patients with RA treated with BT or JAKi developed severe infection during 4.5 years of follow-up. Comorbidity, especially DM, increased the risk of presenting this complication. Concomitant treatment with corticoid and csDMARDs was not statistically significantly associated with infection.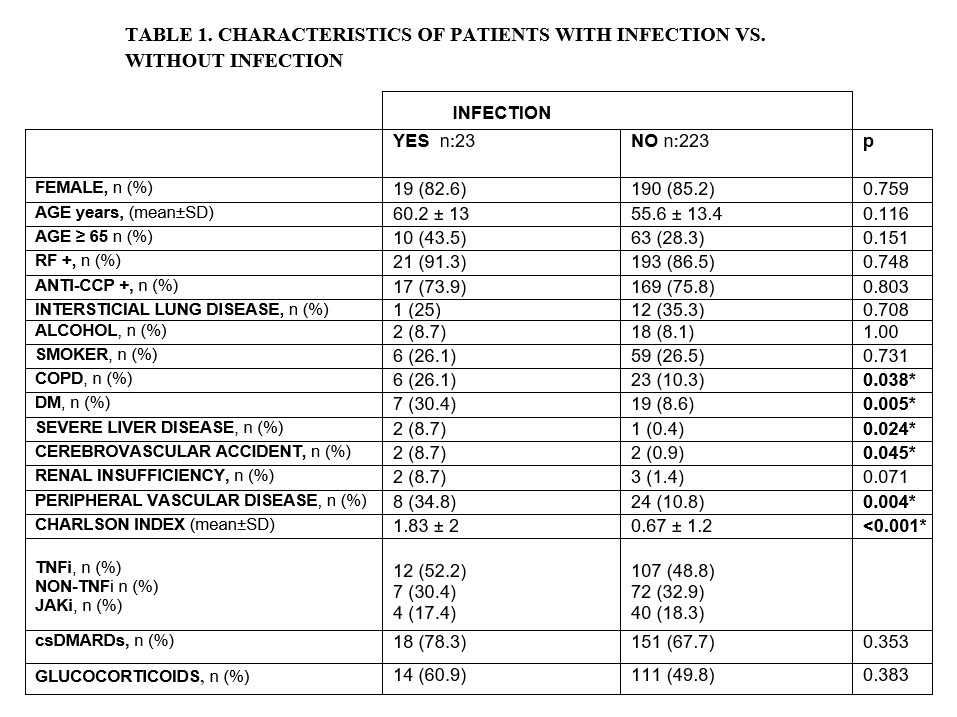 ---
Disclosure: L. Vega-Álvarez, None; I. Calvo-Zorrilla, None; O. Ibarguengoitia-Barrena, None; J. Blanco-Madrigal, None; D. Montero-Seisdedos, None; C. Garcia-Gomez, None; M. Ruiz-Lucea, None; A. Inchaurbe-Pellejero, None; I. Torre-Salaberri, None; C. Perez-Velasquez, None; O. Fernandez-Berrizbeitia, None; E. Cuende-Quintana, None; I. Gorostiza-Hormaetxe, None; M. García-Vivar, None; E. Galindez-Agirregoikoa, None.
To cite this abstract in AMA style:
Vega-Álvarez L, Calvo-Zorrilla I, Ibarguengoitia-Barrena O, Blanco-Madrigal J, Montero-Seisdedos D, Garcia-Gomez C, Ruiz-Lucea M, Inchaurbe-Pellejero A, Torre-Salaberri I, Perez-Velasquez C, Fernandez-Berrizbeitia O, Cuende-Quintana E, Gorostiza-Hormaetxe I, García-Vivar M, Galindez-Agirregoikoa E. Real Life Severe Infections in Patients with Rheumatoid Arthritis on Treatment with Biological Therapy and JAK Inhibitors [abstract].
Arthritis Rheumatol.
2020; 72 (suppl 10). https://acrabstracts.org/abstract/real-life-severe-infections-in-patients-with-rheumatoid-arthritis-on-treatment-with-biological-therapy-and-jak-inhibitors/. Accessed January 24, 2022.
« Back to ACR Convergence 2020
ACR Meeting Abstracts - https://acrabstracts.org/abstract/real-life-severe-infections-in-patients-with-rheumatoid-arthritis-on-treatment-with-biological-therapy-and-jak-inhibitors/