Session Information
The 2020 Pediatric Rheumatology Symposium, originally scheduled for April 29 – May 2, was postponed due to COVID-19; therefore, abstracts were not presented as scheduled.
Session Type: ACR Abstract Session
Session Time: 6:00PM-7:00PM
Background/Purpose: Systemic lupus erythematosus (SLE) is a chronic autoimmune inflammatory disease that typically affects multiple organs and can lead to potentially fatal complications. Management of SLE is always challenging and requires chronic use of immunotherapy in addition to systemic corticosteroids (CS). Central nervous system (CNS) involvement in SLE is common, especially in children, and can present nonspecifically with a variety of neuropsychiatric manifestations; described as neuropsychiatric lupus (NPSLE). Pseudotumor cerebri (PTC) is a term used to describe intracranial hypertension (ICH) which can be idiopathic or secondary to underlying etiology. Few cases of PTC in children with SLE have been reported without clear association. Here, we describe a case series of seven children who developed NPSLE in the form of PTC after diagnosis or as first manifestation of SLE to highlight the importance of proper neurologic evaluation of refractory headache in children with SLE.
Methods: Retrospective descriptive case series of 7 children (< 18 years old) who were diagnosed with SLE by a pediatric rheumatologist and PTC by pediatric neurologist at the time of or after their SLE diagnosis.
Results: All patients were adolescent females with either African American (AA) (5/7) or Hispanic (2/7) ethnicity. Refractory headaches were exhibited in 8/9 patients and obesity in 4/9 at the time of PCT diagnosis. Five of the patients had a prolonged history (≥ 9 months) of refractory headaches with multiple hospital admissions for investigation. SLE disease activity was severe in the majority of the patients based on the SLE Disease Activity Index (SLEDAI). Few patients had abnormal neuroimaging, history of NPSLE, abnormal CSF composition, abnormal neurologic examination or borderline CSF opening pressure. The diagnosis was supported specifically in those patients by failure of other measures to alleviate their refractory headache including controlling the underlying active lupus disease and remarkable improvement after therapeutic LP and acetazolamide treatment. Papilledema was absent in 3/7 patients on neurologic and ophthalmology examination (Table 1).
Conclusion: CNS involvement is common in children with SLE and PTC can be the first presentation. Intracranial hypertension is underestimated in children with SLE. Regardless of the term used to describe intracranial hypertension in SLE  (primary, secondary, NPSLE, ICH or PTC), it is still a treatable cause of significant morbidity among lupus patients. Vision loss is the most fearful complication of intracranial hypertension which can also develop in asymptomatic patients. Proper evaluation of intracranial hypertension through complete neurologic examination, ophthalmological examination, neuroimaging and CSF opening pressure should be considered in any lupus patient with refractory headache, 6th nerve palsy and/or papilledema. Regular fundus examination during SLE follow up visits is a convenient tool to detect asymptomatic PTC. In addition to appropriate control of underlying lupus disease, acetazolamide and therapeutic lumber puncture are successful measures to treat PTC in NPSLE.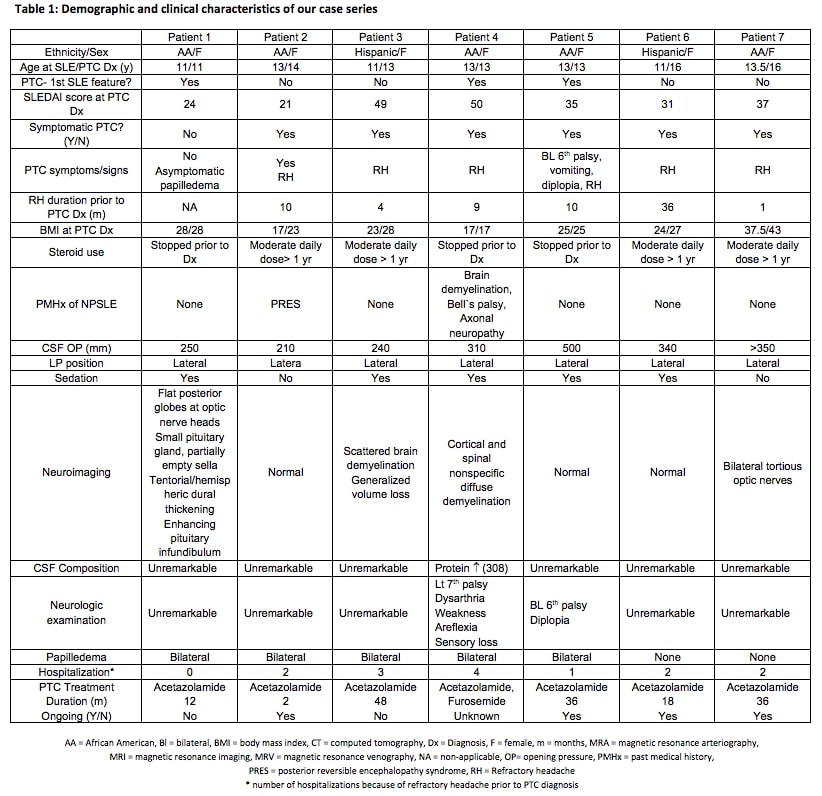 ---
Disclosure: T. Moussa, None; M. Abdelhak, None; C. Edens, None.
To cite this abstract in AMA style:
Moussa T, Abdelhak M, Edens C. Pseudotumor Cerebri Syndrome in Children with Systemic Lupus Erythematosus [abstract].
Arthritis Rheumatol.
2020; 72 (suppl 4). https://acrabstracts.org/abstract/pseudotumor-cerebri-syndrome-in-children-with-systemic-lupus-erythematosus/. Accessed June 2, 2023.
« Back to 2020 Pediatric Rheumatology Symposium
ACR Meeting Abstracts - https://acrabstracts.org/abstract/pseudotumor-cerebri-syndrome-in-children-with-systemic-lupus-erythematosus/