Session Information
Session Type: Poster Session A
Session Time: 9:00AM-11:00AM
Background/Purpose: Self-reported poor sleep is common in RA, but only a few small studies objectively measuring sleep have been conducted in RA. In general population studies, sleep disorders are associated with poor health outcomes relevant to RA, including lower pain thresholds and higher rates of depression, cognitive impairment, systemic inflammation, and cardiovascular events. We report on the prevalence of objectively-measured sleep disturbances in a longitudinal cohort of individuals with RA.
Methods: Data are from a study of sleep disorders in RA (n=133).At baseline, participants underwent 9 nights of home sleep monitoring. For the first 2 nights, participants wore a WatchPAT™ device (Itamar Medical, Ltd). For the next 7 nights, participants wore an actigraph (GT9X, Actigraph Corp., Pensacola, FL).Participants were followed over 18 months with 3 follow-ups at 6-month intervals. At each follow-up, actigraphs were worn for 7-day periods. WatchPAT monitoring was discontinued early due to the COVID-19 pandemic. The WatchPAT estimates the apnea-hypopnea index (AHI), reflecting the number of apnea or hypopnea episodes/hour of sleep, an indication of obstructive sleep apnea (OSA), and levels and timing of oxygen desaturation (O2desat). AHI was categorized as normal-mild OSA (< 15) or moderate-severe OSA (≥15). Actigraphs yielded estimates of time in bed, time asleep, and sleep efficiency (SE, time asleep/time in bed).Acceptable SE was defined as ≥85%.Short sleep time was defined as < 7 hours. Analyses examined the frequency of moderate-high OSA, poor SE, and short sleep.
Results: Mean age was 58 ± 13 years, ~90% female, mean BMI 28 ± 6.Mean disease duration was 16 ± 13 years, self-reported disease activity was relatively low (mean RA Disease Activity Index, RADAI, 3.3 ± 1.9). 31% were currently using glucocorticoids.116 participants had sufficient baseline actigraph data for scoring, 63 completed WatchPAT monitoring, and 58 completed both WatchPAT and actigraph assessments at baseline. Only 9.5% of the sample had normal AHI, while over half had moderate-severe OSA (Table 1).Of those with moderate-severe OSA, fewer than a quarter reported receipt of an OSA diagnosis. 10% had some time at O2desat < 80%; 40% had >30 minutes with O2desat < 90%.From actigraphy, mean SE was 83.8% ± 5.7% at baseline, approximately half of participants had SE < 85%, and over half of participants averaged < 7 hours sleep/night; 18% averaged < 6 hours/night (Table 2).Prevalence of poor SE and short sleep was relatively consistent over measurement periods. In the actigraph cohort, 35% had both poor SE and short sleep, 18% had short sleep only, and 16% had poor SE only (Figure 1).Among those with WatchPAT and actigraph assessments, 22% had combined OSA, poor SE, and short sleep. Only 5% had none of the sleep disorders.
Conclusion: The majority of this RA sample had at least one sleep disturbance. Given the known association of sleep disturbances with poor health outcomes and potential associations with RA-related factors such as inflammation and disordered cytokine profiles, increased awareness of sleep problems among people with RA may be beneficial. If findings are replicated, screening for OSA may be an important addition to routine care for RA.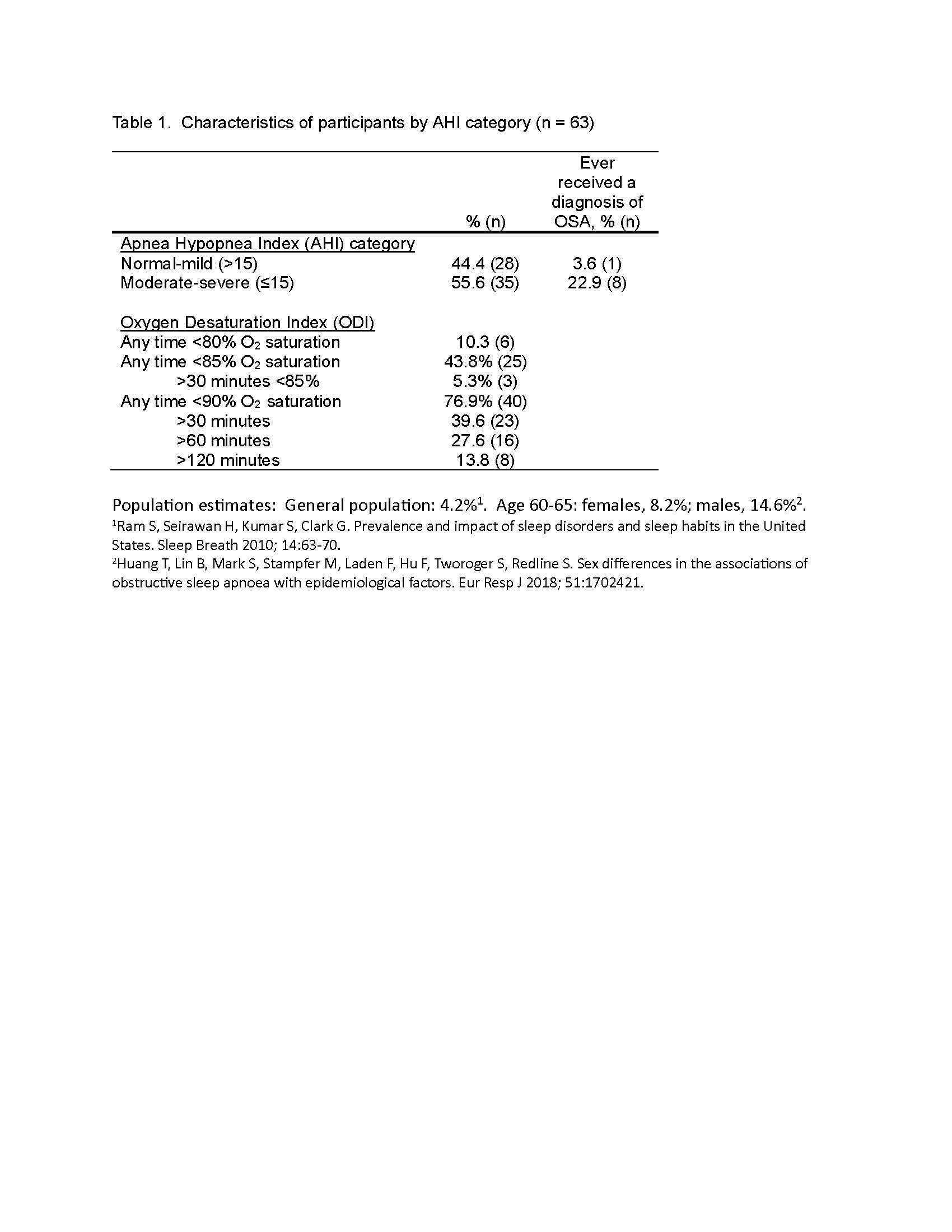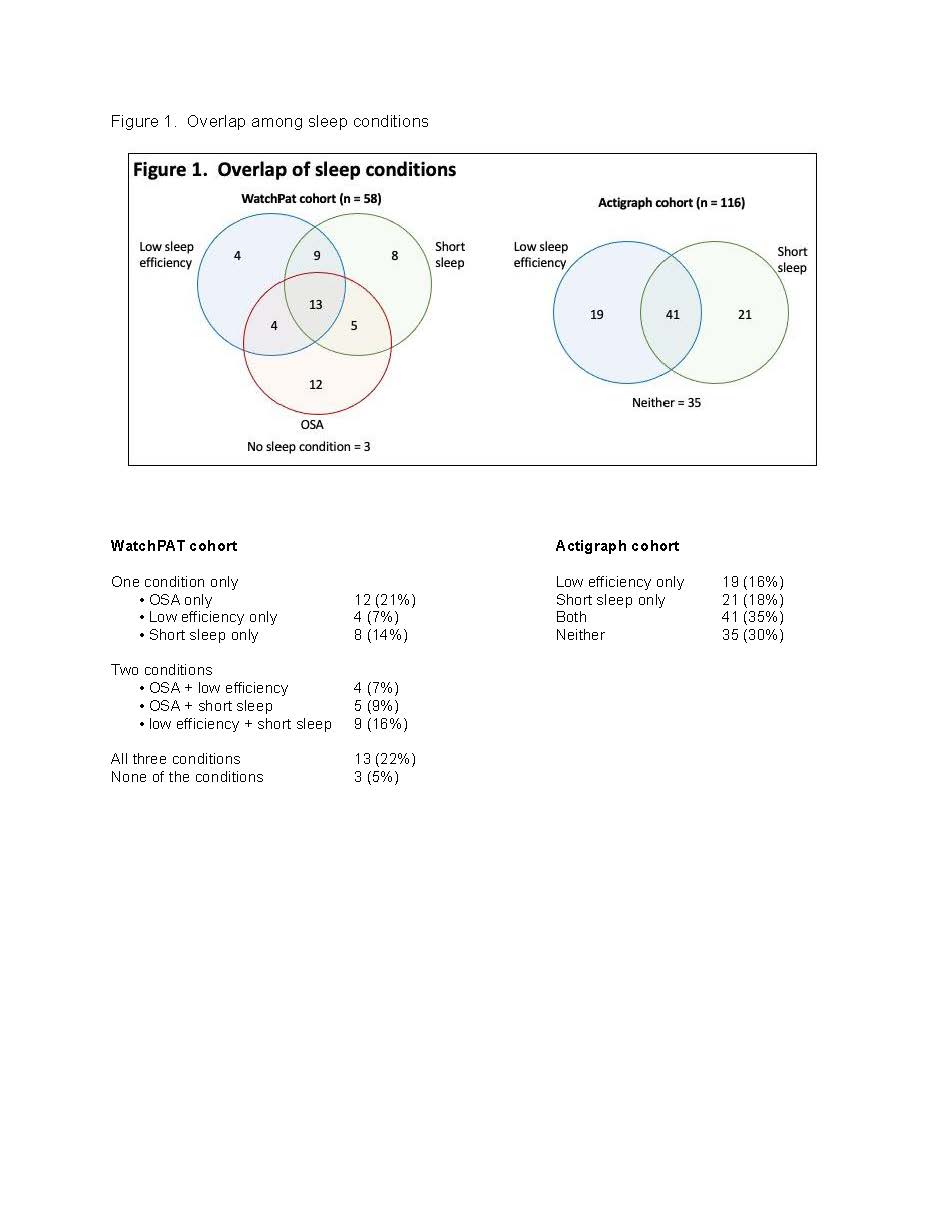 ---
Disclosures: P. Katz: None; M. Nakamura: None; S. Patterson: None; K. Stone: None.
To cite this abstract in AMA style:
Katz P, Nakamura M, Patterson S, Stone K. Prevalence of Objectively Measured Sleep Disturbance in Rheumatoid Arthritis (RA) [abstract].
Arthritis Rheumatol.
2023; 75 (suppl 9). https://acrabstracts.org/abstract/prevalence-of-objectively-measured-sleep-disturbance-in-rheumatoid-arthritis-ra/. Accessed .
« Back to ACR Convergence 2023
ACR Meeting Abstracts - https://acrabstracts.org/abstract/prevalence-of-objectively-measured-sleep-disturbance-in-rheumatoid-arthritis-ra/