Session Information
Session Type: ACR Poster Session B
Session Time: 9:00AM-11:00AM
Background/Purpose:
Macrophages contribute in situ to the RA pathogenesis. Two distinct states of polarization for macrophages have been recognized: the classically activated macrophage phenotype (M1), considered to be pro-inflammatory and the alternatively activated macrophage phenotype (M2) considered to be regulatory. miRNAs are a recently discovered class of post-transcriptional regulators. miR-155 is upregulated in RA synovial monocytes, macrophages and fibroblasts, but also in blood CD14+ monocytes. Here, we assessed monocytes capacity of differentiation into M2 macrophages and implication of miR-155 in RA patients or controls (healthy donor (HD), connective tissue disease (CTD) or spondylarthritis (SpA)).
Methods:
CD14-CD16 monocytes were isolated from PBMCs by negative selection. To generate monocyte-derived macrophages (MDM), monocytes were incubated 6 days in the presence of M-CSF (M2) or GM-CSF (M1). Expressions of total macrophages markers (CD11b and CD71), M2 macrophage polarization markers (CD163, CD206, IL-10 and Arginase) and M1 macrophage polarization markers (INOS, IFR5 and IL1β) were evaluated. The microRNA transfections were performed using AMAXA technology.
Results:
We observed a significant decrease of macrophages induction by M-CSF in RA patients as shown by a decreased expression of CD11b-CD71. We have found a specific decreased level of M2 markers (IL-10 Mean 26.4 HD versus 2.5 pg/mL RA– Arginase Mean 86.8 HD versus 26.9% RA Fig1 A-C). Moreover, we found that Adalimumab but not Etanercept is able to partially correct this defect (IL-10 17.6 pg/mL and Arginase 69.9%). We confirmed that under M-CSF treatment, RA monocytes have a propensity for preferential maturation towards M1 phenotype (INOS Mean 0.8 HD versus 25% RA – IFR5 expression Mean 1.35 HD versus 3.2 ΔΔCt RA and IL-1β secretion Mean 3.4 HD versus 20.9 pg/mL RA). We have hypothesized the involvement of miR-155 on this defect. In M1 macrophages, the level of miR-155 was the same in controls and RA, whereas it was increased in M2 RA macrophages (Mean 0.6 HD versus 2.3 ΔΔCt RA). Subsequently preliminary experiments of transfected monocytes from healthy donors with miR-155 mimic leads to decrease M2 differentiation, conversely on RA monocytes transfection with a miR-155 inhibitor allowed the restoration of M2 polarization.
Conclusion:
RA patients have a specific impaired maturation of monocytes to M2 while the differentiation to M1 phenotype is maintained. The use of monoclonal anti-TNF restores M2 polarization while Etanercept or non- anti-TNF drugs do not restore M2 polarization. This lack is associated with miR-155 increase that leads to IFR5 INOS and IL-1β increase. Preliminary experiments showed that transfection of RA monocytes with an antagomiR may correct this lack, justifying the proof of concept trial of monocytes-targeted nanoparticles containing microRNA in mouse models of RA.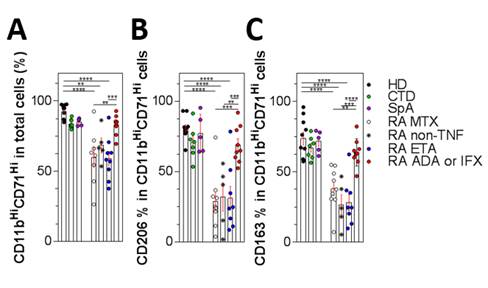 ---
Disclosure: A. Paoletti, None; J. Rohmer, None; J. Pascaud, None; B. Oumouly, None; E. Rivière, Arthritis Fondation PhD fellowship, 2; S. Bitoun, None; G. Nocturne, None; X. Mariette, None.
To cite this abstract in AMA style:
Paoletti A, Rohmer J, Pascaud J, Oumouly B, Rivière E, Bitoun S, Nocturne G, Mariette X. Presence of a Specific Defect in M2 Polarization of Blood Monocytes from Patients with Rheumatoid Arthritis, Associated with Increased microRNA-155 [abstract].
Arthritis Rheumatol.
2018; 70 (suppl 10). https://acrabstracts.org/abstract/presence-of-a-specific-defect-in-m2-polarization-of-blood-monocytes-from-patients-with-rheumatoid-arthritis-associated-with-increased-microrna-155/. Accessed November 24, 2020.
« Back to 2018 ACR/ARHP Annual Meeting
ACR Meeting Abstracts - https://acrabstracts.org/abstract/presence-of-a-specific-defect-in-m2-polarization-of-blood-monocytes-from-patients-with-rheumatoid-arthritis-associated-with-increased-microrna-155/