Session Information
Session Type: Poster Session D
Session Time: 9:00AM-11:00AM
Background/Purpose: There is significant unmet need for new treatments to achieve disease control in dermatomyositis (DM), because of limited efficacy or toxicity of immunosuppressive agents or refractory disease.1  Lenabasum is an oral, selective cannabinoid receptor type 2 (CB2) agonist that resolves inflammation and attenuates fibrotic processes.   In a Phase 2 DM trial (NCT02466243), lenabasum vs. placebo treatment was well tolerated and associated with improvement in Cutaneous Dermatomyositis Disease Area and Severity Index (CDASI) activity score and other efficacy outcomes.2  Efficacy and safety of lenabasum in DM is being tested in a global, randomized, double-blind, placebo-controlled Phase 3 trial (NCT03813160).  Preliminary baseline demographics, disease characteristics, and immunomodulating treatments in the first 129 enrolled subjects are presented as blinded data.  This is the largest interventional, placebo-controlled trial to date in DM.
Methods: 150 subjects will be enrolled in an ongoing trial with sites in North America, Europe, and Asia.  Subjects are ≥ 18 years of age, with a diagnosis of DM by Bohan and Peter or ACR/EULAR criteria.3,4 Stable doses of immunomodulating medications are allowed.  Disease must be active by physician assessment with ≥ 1 of 3 criteria: 1. Physician global activity (MDGA) ≥ 3 cm [10 cm visual analogue scale (VAS)] and Manual Muscle Testing (MMT)-8 score ≤ 142 points (max 150); 2. Sum of MDGA, patient global activity (PtGA), and extramuscular global assessment (EMGA) VAS scores ≥ 10 cm (each 10 cm VAS scales); or 3. MDGA ≥ 3 cm and CDASI activity score > 14 (≥ moderate/severe skin activity).
Results: As of May 31, 2020, 129 subjects were dosed (Table 1). Most subjects are female (79%), white (70%), and middle-aged. More have classic (85%) than clinically amyopathic DM (15%).  Most (86%) have significant moderate/severe skin activity (CDASI > 14).  Most (87%) have muscle weakness with mean MMT-8 ± SD, 135 ± 14, and 37% have ≥ 1 elevated muscle enzyme test.  Physician-reported outcomes include EMGA VAS score = 5.4 ± 1.76 and MDGA VAS score = 5.5 ± 1.75.  Patient-reported outcomes include Health Assessment Questionnaire-Disability Index (HAQ-DI) score = 0.83 ± 0.713, pain score on HAQ-DI = 34 ± 27, and PtGA VAS score = 5.1 ± 2.32.  Glucocorticoids were used in 52% of subjects.  Eighty-four percent were on ≥ 1 immunomodulating drug and 56% were on ≥2.
Conclusion: Baseline demographics of enrolled subjects are as expected (majority white, female, and middle-aged) and reflects the estimated proportion of classic to clinically amyopathic patients in the overall DM population (~5:1).  Most subjects are concurrently receiving immunomodulatory drugs and have active, refractory disease with glucocorticoid use in half of subjects.  
J Am Acad Dermatol. 2020;82:267-81.
Arthritis Rheumatol. 2019;71 (suppl 10).
Arthritis Rheumatol. 2017;69:2271‐82.
N Engl J Med. 1975;292:344‐7 and N Engl J Med. 1975;292:403‐7.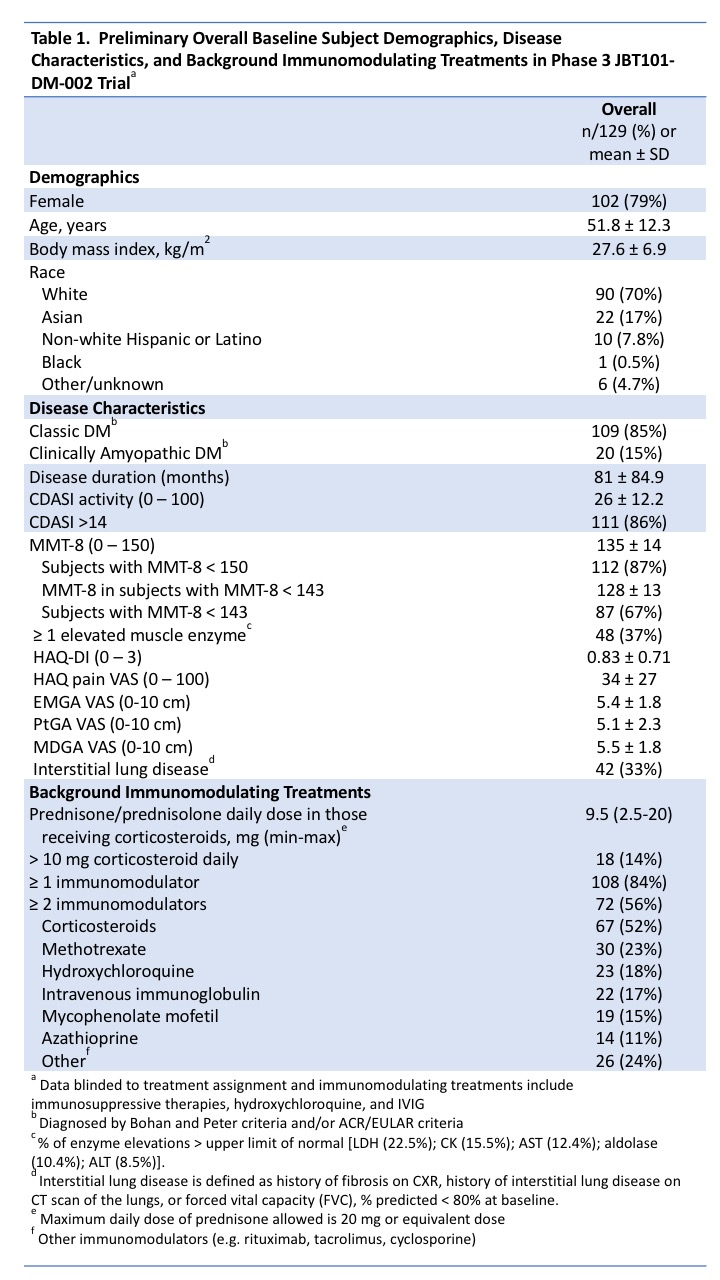 ---
Disclosure: V. Werth, Biogen, 2, 5; C. Oddis, Genentech, 2; D. Fiorentino, None; N. Dgetluck, Corbus Pharmaceuticals Inc., 3; Q. Dinh, Corbus Pharmaceuticals Inc., 3; M. Tillinger, Corbus Pharmaceuticals Inc., 3; B. White, Corbus Pharmaceuticals, Inc., 1, 2, 3, 4; I. Lundberg, Bristol Myers Squibb, 2, Astra Zeneca, 2.
To cite this abstract in AMA style:
Werth V, Oddis C, Fiorentino D, Dgetluck N, Dinh Q, Tillinger M, White B, Lundberg I. Preliminary Baseline Subject Demographics and Disease Characteristics in a Phase 3 Clinical Trial of the Safety and Efficacy of Lenabasum in Dermatomyositis (DETERMINE) [abstract].
Arthritis Rheumatol.
2020; 72 (suppl 10). https://acrabstracts.org/abstract/preliminary-baseline-subject-demographics-and-disease-characteristics-in-a-phase-3-clinical-trial-of-the-safety-and-efficacy-of-lenabasum-in-dermatomyositis-determine/. Accessed September 22, 2023.
« Back to ACR Convergence 2020
ACR Meeting Abstracts - https://acrabstracts.org/abstract/preliminary-baseline-subject-demographics-and-disease-characteristics-in-a-phase-3-clinical-trial-of-the-safety-and-efficacy-of-lenabasum-in-dermatomyositis-determine/