Session Information
Session Type: Poster Session (Tuesday)
Session Time: 9:00AM-11:00AM
Background/Purpose: In rheumatoid arthritis (RA) development, autoantibodies to citrullinated protein antigens (ACPA) are elevated in the blood before clinically-apparent synovitis develops. These findings underpin the development of several prevention trials in RA where individuals with elevated ACPA are studied to prevent or delay the development of clinically-apparent synovitis. Understanding the decision-making processes of individuals with such autoantibodies who are offered enrollment in a clinical prevention trial could provide important insights into optimizing participation in such trials. To address this, the Research Participation Influences (RPI) Study is an IRB-approved project that examines factors that influence the decision to participate in an ongoing RA clinical prevention trial.
Methods: Individuals with elevated serum levels of ACPA in absence of synovitis were notified of their ACPA results indicating risk for future RA development.  Following this, subjects were provided a description of an interventional clinical trial and what their participation would entail. After each individual agreed to or refused participation, they were given a survey that gathered limited demographic information, first-degree relative (FDR) status, and 11 influences on trial participation which were rated on a Likert scale. In addition, 2 open response questions asked why individuals initially had their ACPA tested and to list any additional influencing factors. The responses were statistically compared between groups, and the qualitative data from open response questions were transcribed and sectioned by relevant meaning units. These units were used to build common themes using a language processing application.
Results: 62 surveys were collected; 37 'Yes' responses (agreed to trial) and 25 'No' responses (refused trial). Key findings in both the Likert and open response questions were that 'Yes' respondents expressed higher perceived risk for RA and higher perception of benefit to themselves or others (Table 1). 'No' respondents expressed more concern about adverse effects of the medication and had less personal or family experience with RA. There was a higher rate of FDRs agreeing to the trial (56.8%) than non-FDRs.  Furthermore, 7 codes of high frequency were derived from the open response questions, revealing a general theme of support for research among the 'Yes' group and a negative perception of study medication among the 'No' group (Table 2).
Conclusion: 'Yes' respondents were more likely to be FDRs and exhibited a stronger concern for personal risk for RA than 'No' respondents. Given that all subjects were provided similar estimates of risk based on ACPA levels, further exploration is needed to determine why these differences in perception of risk were present, and whether these were due to other factors such as the presence of symptoms or an individual's interpretation of their risk for RA given family history. Understanding these and other underlying issues that influence participation, including perceptions of medications, will better inform researchers and individuals who are candidates for prevention.

RPI ACR Abstract Table 1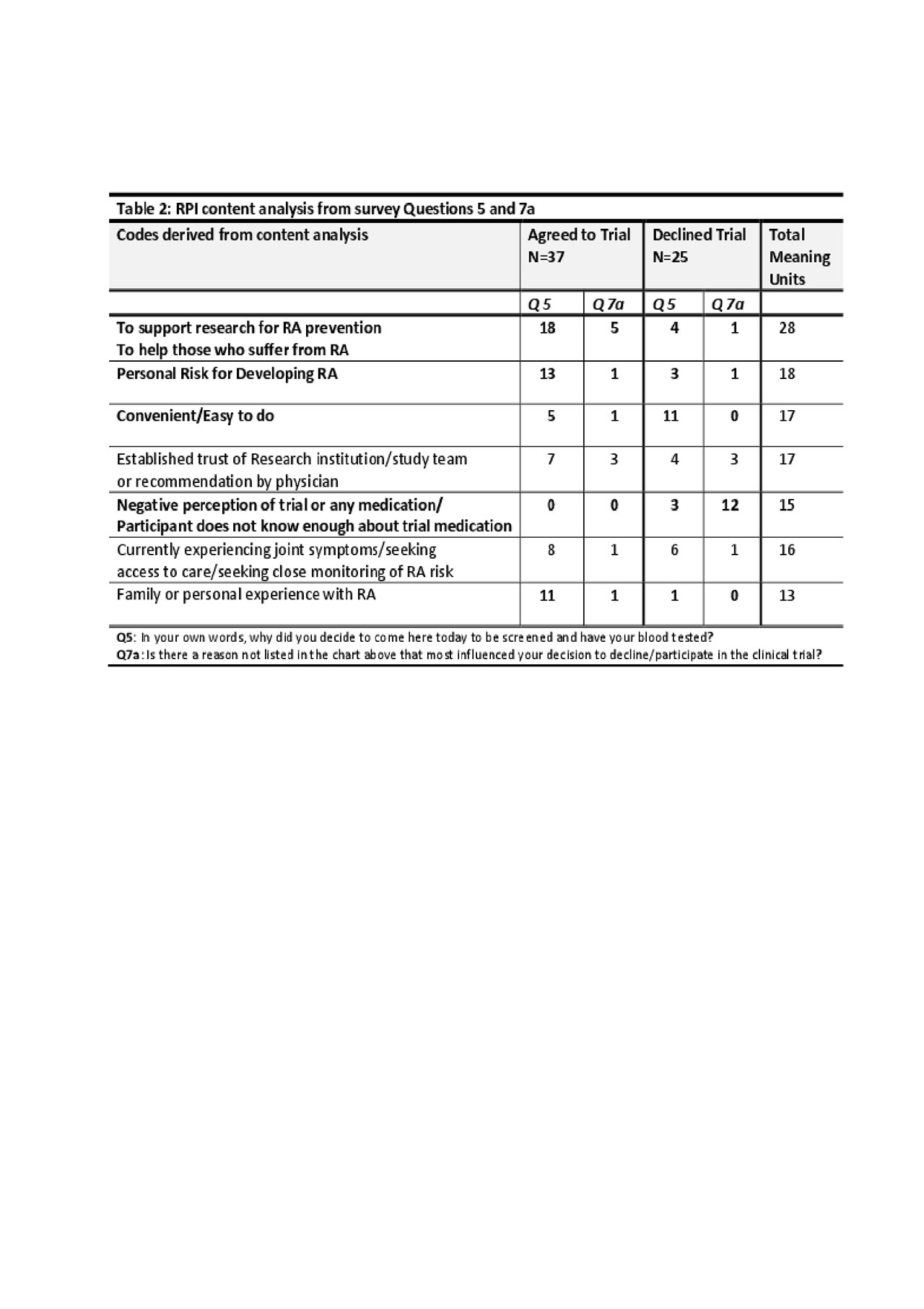 RPI ACR Abstract Table 2
---
Disclosure: C. Fleischer, None; M. Feser, None; E. Bemis, None; C. Striebich, None; L. Moss, None; V. Kormendi, None; S. White, None; V. Holers, AdMIRx, 1, 2, 4, 5, 6, Alexion, 7, BMS, 5, Bristol-Myers Squibb, 5, Celgene, 5, Janssen R&D, 2, 5, Pfizer, 2; M. Harrison, None; K. Deane, Bristol-Myers Squibb, 5, Inova, 9, Janssen, 2, 5, Janssen R&D, 2, Microdrop, 5, Pfizer, 2.
To cite this abstract in AMA style:
Fleischer C, Feser M, Bemis E, Striebich C, Moss L, Kormendi V, White S, Holers V, Harrison M, Deane K. Preferences and Insights for Rheumatoid Arthritis Clinical Prevention Trial Participation [abstract].
Arthritis Rheumatol.
2019; 71 (suppl 10). https://acrabstracts.org/abstract/preferences-and-insights-for-rheumatoid-arthritis-clinical-prevention-trial-participation/. Accessed August 6, 2020.
« Back to 2019 ACR/ARP Annual Meeting
ACR Meeting Abstracts - https://acrabstracts.org/abstract/preferences-and-insights-for-rheumatoid-arthritis-clinical-prevention-trial-participation/