Session Information
Session Type: Poster Session B
Session Time: 8:30AM-10:30AM
Background/Purpose: The longitudinal experience of COVID-19 illness in patients with rheumatic diseases is emerging. Reports from the general population have described post-acute sequelae of SARS-CoV-2 (PASC) including de novo autoimmunity but evidence in patients with pre-existing rheumatic diseases is limited. We sought to characterize PASC in patients with rheumatic diseases in our majority Latino patient cohort. Further, we investigated the relationship between COVID-19 illness, the subsequent development of new autoantibodies, and increased rheumatic disease activity.
Methods: This is a retrospective study of patients with rheumatic diseases from an existing observational cohort, comprising of 72.4% Latino patients. Patients seen between April 1, 2020 to May 15, 2021 were included in analyses. We reviewed demographics, rheumatic disease, immunomodulatory therapies, and PASC symptoms. Antibodies to SARS-CoV-2 were measured for patients reporting infection. Antibodies to extractable nuclear antigens and anti-phospholipid antibodies were repeated once in the post-acute period when feasible. Data for continuous variables were expressed as the mean ± SD and categorical variables were summarized by computing counts of patients (%). Fisher's exact test was used, and significance threshold was 0.05.
Results: During the study period, 54 patients reported COVID-19 illness, representing 17.5% of our cohort of 307 active patients (Table 1); 53 were Latino patients. Most patients had mild illness with 8 patients (14.8%) requiring inpatient management. There were no COVID-19 related deaths. SARS-CoV-2 IgG was assessed in sera in 52 individuals, and 5 patients (9.6%) were found to have negative titers while 83.3% of initially positive patients maintained their antibodies 9 months post infection. Of 47 patients assessed, 27 (57.4%) reported PASC symptoms and 24 of those patients (37.5%) had persistent PASC six months post infection. Autoantibody tests were performed in 39 patients after acute COVID-19 infection and a new autoantibody was detected in 8 patients (18.6%). Anti-RNP developed in 5 patients, anti-Scl70 in one patient, and anti-phospholipid antibodies in 2 patients. Subgroup analysis revealed a significantly higher frequency of autoantibody development in patients with RA when compared to other patients with COVID-19 (7/18 vs 1/21, p=0.01). This autoantibody development was higher than RA patients without COVID-19. The frequency of self-reported worsened rheumatic symptoms was higher among patients who developed a new autoantibody in the post-COVID-19 period than in other patients (6 of 8 vs 8 of 37, p=0.006).
Conclusion: Latino patients not only have an increased rate of COVID-19 infection but also shoulder an outsized burden of its post-acute sequelae. The finding of de novo autoantibody production in 18.6% of patients, post-COVID-19, could foretell the development of a new autoimmune phenomenon. Patients in high-risk groups for COVID-19, particularly marginalized groups, will require closer monitoring, early identification, and therapeutic intervention for detecting this new autoimmune phenotype. This likely will be an ongoing, long term effort.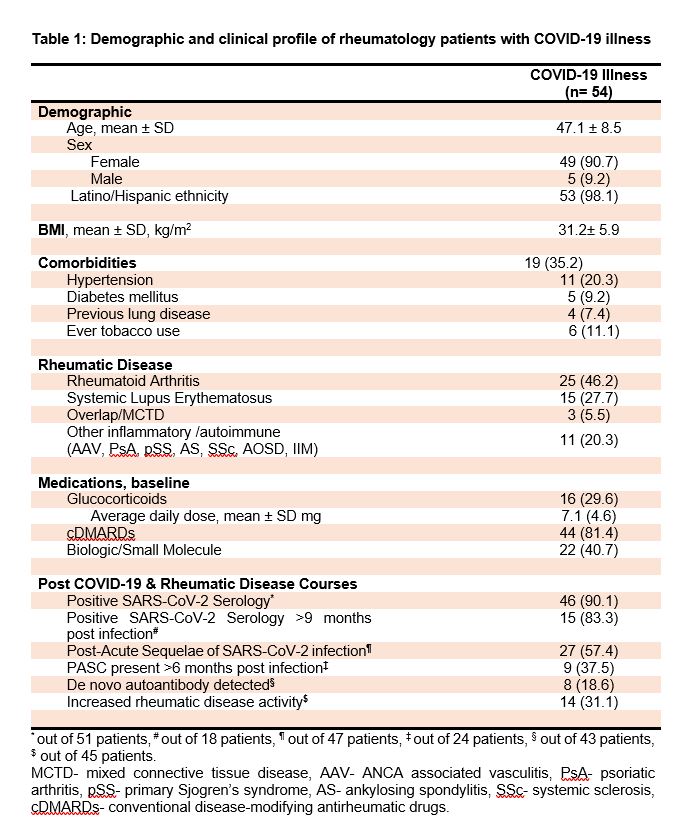 ---
Disclosures: A. Fike, None; O. Pamuk, None; Y. Luo, None; J. Chu, None; Y. Ruiz-Perdomo, None; S. Hasni, None; P. Gourh, None; J. Katz, None.
To cite this abstract in AMA style:
Fike A, Pamuk O, Luo Y, Chu J, Ruiz-Perdomo Y, Hasni S, Gourh P, Katz J. Post-acute Sequelae of SARS-CoV-2 and Serological Response in a Cohort of Patients with Rheumatic Diseases [abstract].
Arthritis Rheumatol.
2021; 73 (suppl 9). https://acrabstracts.org/abstract/post-acute-sequelae-of-sars-cov-2-and-serological-response-in-a-cohort-of-patients-with-rheumatic-diseases/. Accessed January 27, 2023.
« Back to ACR Convergence 2021
ACR Meeting Abstracts - https://acrabstracts.org/abstract/post-acute-sequelae-of-sars-cov-2-and-serological-response-in-a-cohort-of-patients-with-rheumatic-diseases/