Session Information
Session Type: ACR Poster Session B
Session Time: 9:00AM-11:00AM
Background/Purpose: Rheumatoid arthritis (RA) is inflammatory joint disease characterized by immune infiltration and synovial hyperplasia. Hyperplastic synovium contains increased numbers of activated synovial fibroblasts, which amplify inflammation and directly invade cartilage. Fibroblast proliferation and invasion is stimulated in vitro by platelet-derived growth factor receptor (PDGFR) ligands. PDGFR and ligand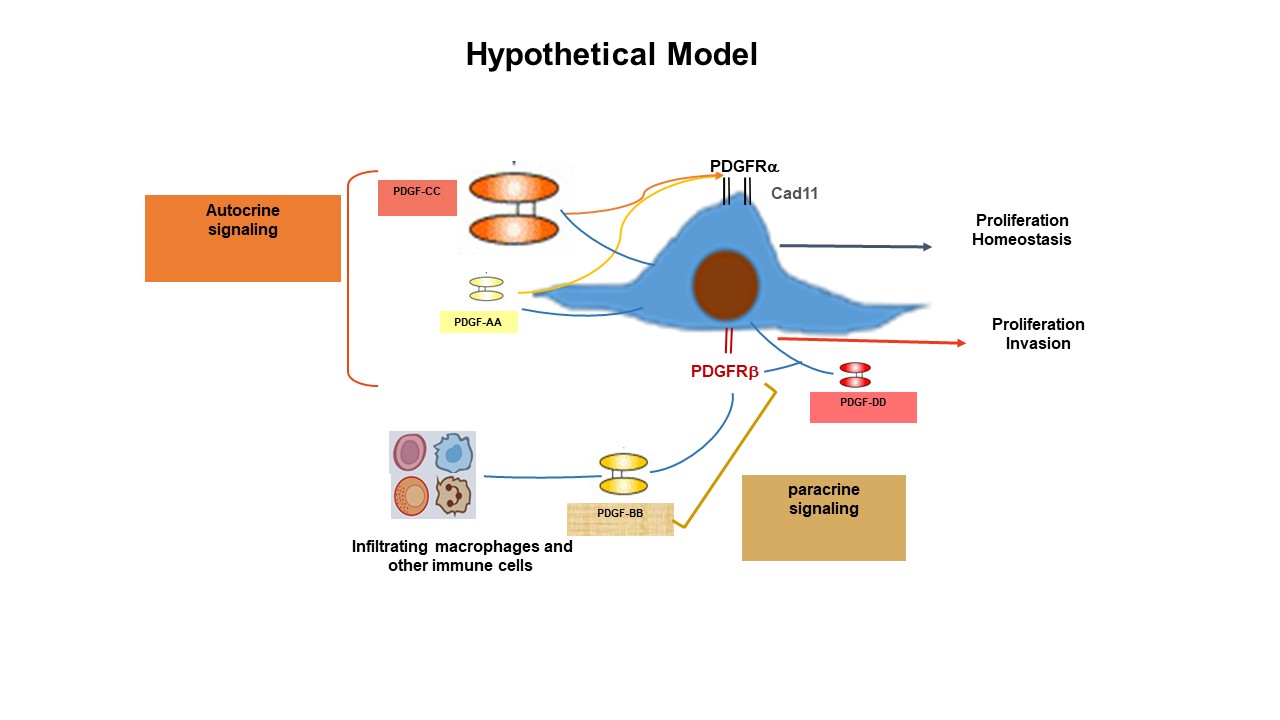 expression are upregulated in RA, suggesting a pathogenic role. However, PDGFR signaling is complex, involving differential activation of PDGFR-alpha (PDGFRa) and PDGFR-beta (PDGFR-b) homo- and heterodimers by five ligands. Our hypothesis is that PDGFRa and PDGFRb function differently in RA, with PDGFRa having a more homeostatic role while PDGFRb promotes a more invasive phenotype.
Methods: Human synovial fibroblast PDGFR expression was determined by quantitative reverse transcription-polymerase chain reaction (qRT-PCR), western blot, and flow cytometry. PDGF ligand expression was determined by qRT-PCR. Fibroblast proliferation and appearance was determined after activation with PDGFRα- or PDGFRβ-specific ligands. Cadherin-11 signaling was induced with cadherin-11 extracellular binding domains linked to human Fc domains.
Results: Synovial fibroblasts expressed significantly higher levels of PDGFRα compared to PDGFRβ. In addition, they expressed high levels of the PDGFRα-specific ligands, PDGF-CC and PDGF-AA. In contrast, fibroblasts expressed less PDGFRβ-specific ligands, with low PDGF-DD and undetectable PDGF–BB levels. Both PDGFRα and PDGFRβ ligands increased fibroblast proliferation. However, only PDGFRα interacted with the fibroblast cell adhesion molecule cadherin-11 to induce proliferation. Conversely, only stimulation with PDGFRβ-activating ligands (PDGF-BB and -DD) induced a rounded, more migratory cell phenotype.
Conclusion: After evaluating PDGF ligand expression and the effects of PDGFRα versus PDGFRβ activation, our hypothesis is that PDGFRa and PDGFRb have functionally distinct roles in inflammatory arthritis.  Our model is that PDGFRα ligands, especially highly expressed PDGF-CC, maintain fibroblast proliferation in autocrine fashion.  In contrast, release of PDGFRβ ligands by infiltrating macrophages promotes fibroblast migration and invasion, contributing to RA cartilage damage.  Better understanding of how PDGFRα and PDGFRβ function to promote inflammatory arthritis will help to target activated synovial fibroblasts in RA treatment.
---
Disclosure: B. Madarampalli, None; J. Kyung Kim, None; P. Panipinto, None; H. Labinsky, None; V. Mahajan, None.
To cite this abstract in AMA style:
Madarampalli B, Kyung Kim J, Panipinto P, Labinsky H, Mahajan V. Platelet Derived Growth Factor Receptors (PDGFRs) and Their Implication in Inflammatory Arthritis [abstract].
Arthritis Rheumatol.
2018; 70 (suppl 9). https://acrabstracts.org/abstract/platelet-derived-growth-factor-receptors-pdgfrs-and-their-implication-in-inflammatory-arthritis/. Accessed January 28, 2023.
« Back to 2018 ACR/ARHP Annual Meeting
ACR Meeting Abstracts - https://acrabstracts.org/abstract/platelet-derived-growth-factor-receptors-pdgfrs-and-their-implication-in-inflammatory-arthritis/