Session Information
Session Type: Abstract Submissions (ACR)
Background/Purpose: Associations between chronic urticaria (CU) with autoantibodies and other autoimmune conditions have implicated T cells in CU initiation and/or propagation. Many patients (pts) have symptoms that require chronic corticosteroids (CCS) and/or immunomodulatory therapies. We conducted an investigator-initiated pilot study to assess the safety and potential efficacy of abatacept (ABA) in pts with CU. 
Methods: Pts with refractory CU were enrolled in an open-label study of intravenous (IV) ABA (750-1000 mg per body weight) administered at baseline, 2 wk, 4 wk, and 8 wk (clinicaltrials.gov NCT00886795). Pts had required previous CCS and failed other immunomodulators. If symptoms improved, sequential tapering of CCS and/or antihistamines was permitted. Outcomes included Dermatology Life Quality Index (DLQI), urticaria severity score, number of hives, interference with sleep and daily activities, MD and Pt assessments of response, and SF-36. Safety was carefully monitored during infusions; adverse events were recorded using the OMERACT Rheumatology CTCAE v2.0. Funding and study drug were provided by BMS, who had no role in study conduct, data analysis, or decision to submit abstract.
Results: Four pts (2M/2F) were enrolled (32-51 yo; urticaria duration: 3-29 yr). Prior immunomodulatory therapies included sulfasalazine (SSZ), hydroxychloroquine (HCQ), methotrexate, azathioprine, adalimumab, mycophenolate, and cyclosporine. At baseline 2 pts were on CCS, 1 was on SSZ, and 1 was on HCQ, continued per protocol. All pts improved from their baseline clinical state by 3 months (mo), in terms of most pt-reported outcomes and in MD-reported variables. Three pts had complete urticaria resolution. One pt improved from baseline but remained symptomatic and exited at 3 mo. For all pts there was considerable improvement in DLQI (Figure). In 3 pts, background medications were tapered (CCS elimination in 1; antihistamine tapering in 3). Two pts continue to do well off ABA, requiring only periodic non-sedating antihistamines for intermittent pruritus (Time since last ABA infusion 7 mo and 24 mo). One pt had recurrent urticaria approximately 3 mo after last ABA infusion, with response rapidly recaptured with SQ ABA administered outside the study. ABA infusions were well-tolerated with no worsening urticaria, angioedema, or anaphylaxis. Upper respiratory infections (mild) were consistent with ABA studies for other indications.
Conclusion: A 2 mo intervention with IV ABA led to improvement in 4 pts with immunomodulatory therapy-resistant CU. For 3 pts there was a rapid and complete response; in the 4th there was a clinically detectable improvement. Limitations are the small number of pts and open-label design. These results suggest a fundamental role for T cells in CU pathogenesis.
DLQI over time (MID in CU 2.24-3.1). Timing of Abatacept infusions indicated with *.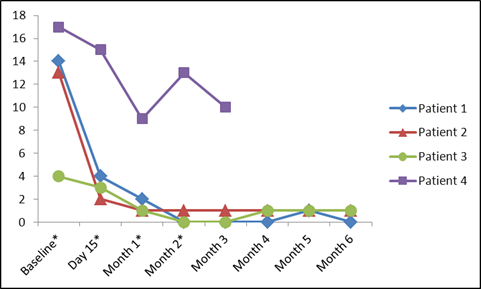 ---
Disclosure:
C. O. Bingham III,
BMS,
5,
BMS,
2;
M. Towns,
None;
S. J. Bartlett,
None.
« Back to 2013 ACR/ARHP Annual Meeting
ACR Meeting Abstracts - https://acrabstracts.org/abstract/pilot-study-of-abatacept-in-patients-with-refractory-autoimmune-chronic-urticaria/