Session Information
Session Type: ACR Poster Session C
Session Time: 9:00AM-11:00AM
Background/Purpose: Exosomes are biologically active microvesicles derived from the endosomal membrane system understood to play a significant role in a wide range of inflammatory diseases. Exosomes both initiate and propagate inflammation through a number of mechanisms including antigen presentation and by serving as cargo vessels for damage-associated molecular patterns (DAMPs) and cytokines. In RA, synovial fluid (SF)-derived microparticles modulate chemokine and cytokine release in cultured synoviocytes. However, SF-derived microvesicles in osteoarthritis (OA) remain largely unexplored. Tumour-derived exosomes express a number of proteins known to contribute to metastasis and tissue remodelling which are conserved across OA pathogenesis including matrix metalloproteinases (MMP) and the damage-associated molecular pattern molecule (DAMP), S100A8. These proteins contribute to synovial inflammation, cartilage degradation and subchondral bone turnover in OA, We therefore sought to 1) isolate exosomes from the SF of patients with OA 2) determine whether these exosomes expressed any factors known to potentiate OA, including MMPs and S100 proteins and 3) assess the functional effects of isolated SF-derived exosomes on primary human macrophages.
Methods: Exosomes were isolated from SF using an Exo-Spin isolation kit. Western immunoblotting was carried out on both exosomes and neat SF isolated from patients with OA. Primary human macrophages were treated with exosomes for 24 hours and expression of S100A8, S100A12 and RANK was analyzed by quantitative PCR (qPCR). Cytokine production by macrophages in response to exosomes was assessed by ELISA. CD14+ monocytes were treated with M-CSF and exosomes or neat synovial fluid in the presence or absence of RANKL for 14 days and then stained for TRAP to analyse the ability of exosomes to drive osteoclast differentiation.
Results: Western blot analysis revealed robust expression of MMP-1 and S100A8 in exosomes from OA SF (N=3 donors) (Fig). The inflammasome adaptor protein, ASC, was also similarly detected in both exosomes and neat SF. SF-derived exosomes (25 µg/ml) upregulated S100A8 and S100A12 in human macrophages by approximately 16 to 20-fold by qPCR, while a 50-fold increase in RANK expression was observed. SF-derived exosomes were also shown to induce a 7-fold increase in IL-6 release from primary macrophages. Finally, both SF-exosomes and neat SF from OA patients promoted the differentiation of osteoclast precursor cells.
Conclusion: Based on these studies we propose that synovial fluid-derived exosomes could aggravate OA via 1) synovial inflammation through up-regulation of DAMPs, MMP and cytokines and 2) subchondral bone remodelling through promotion of osteoclastogenesis and increased expression of RANK in haematopoeitic cells.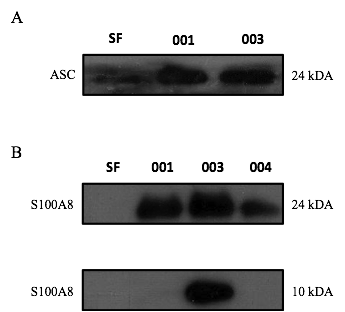 ---
Disclosure: G. M. McCarthy, None; D. McGagh, None; C. C. Cunningham, None; E. M. Corr, None; L. Sullivan, None; F. Haji, None; A. Dunne, None.
To cite this abstract in AMA style:
McCarthy GM, McGagh D, Cunningham CC, Corr EM, Sullivan L, Haji F, Dunne A. Phenotypic and Functional Characteristics of Exosomes Isolated from Human Osteoarthritis (OA) Synovial Fluid [abstract].
Arthritis Rheumatol.
2016; 68 (suppl 10). https://acrabstracts.org/abstract/phenotypic-and-functional-characteristics-of-exosomes-isolated-from-human-osteoarthritis-oa-synovial-fluid/. Accessed November 27, 2022.
« Back to 2016 ACR/ARHP Annual Meeting
ACR Meeting Abstracts - https://acrabstracts.org/abstract/phenotypic-and-functional-characteristics-of-exosomes-isolated-from-human-osteoarthritis-oa-synovial-fluid/