Session Information
Session Type: ACR Poster Session A
Session Time: 9:00AM-11:00AM
Background/Purpose: The increasing use of biological agents has been linked with the paradoxical development of autoimmune processes. The scenario has dramatically change in recent years due to the increased number and the emerging use of biologics in solid cancers.
Methods: In 2006, the Study Group on Autoimmune Diseases (GEAS) of the Spanish Society of Internal Medicine created the aeBIOGEAS Registry (autoimmune events) designed to collect data on autoimmune diseases secondary to the use of biologic agents though a systemic and yearly MEDLINE search. The baseline analysis identified in 2017 nearly 200 cases of autoimmune diseases triggered overwhelmingly anti-TNF. We present the updated results of the aeBIOGEAS Registry (cases included until May 31, 2017).
Results: The aeBIOGEAS Registry currently includes 12013 cases of autoimmune diseases related to the administration of biological agents, including more than 50 different systemic and organ-specific autoimmune processes; the most frequently reported were psoriasis (n=6377), inflammatory bowel disease -IBD- (n=783), demyelinating CNS diseases (n=453), lupus (n=369), interstitial lung diseases -ILD- (n=378), peripheral neuropathies (n=328), vasculitis (n=291) and hypophysitis (n=207). The main biological agents identified consisted of anti-TNF agents in 9220 cases (mainly adalimumab in 4051, infliximab in 3109 and etanercept in 1496), B-cell targeted therapies in 729 (mainly rituximab in 664), immune checkpoint inhibitors in 552 (mainly ipilimumab in 426 and nivolumab in 77) and vascular endothelial growth factor inhibitors in 504 cases (bevacizumab). With respect to the biologic, the main associations were reported for the development of lupus and hepatitis in patients treated with infliximab (44% and 45% of the reported cases of induced lupus and hepatitis, respectively), demyelinating CNS diseases, sarcoidosis, uveitis and IBD in patients treated with etanercept (47%, 41%, 67% and 83%, respectively), psoriasis in patients treated with adalimumab (56%), ILD in patients treated with rituximab (49%) and hypophysitis in patients treated with ipilimumab (96%). With respect to the underlying disease for which the patient received the biological agent, the main associations were reported for the development of lupus, vasculitis and sarcoidosis in patients with RA (68%, 84% and 47% of the reported cases of induced lupus, vasculitis and sarcoidosis, respectively), uveitis and IBD in patients with JIA (60% and 41%, respectively), psoriasis in patients with IBD (33%), hypophysitis in patients with melanoma (90%) and ILD in patients with hematological neoplasia (50%).
Conclusion: As the use of biological therapies expands, the number and diversity of induced autoimmune disorders is increasing exponentially (Figure). Management of these biologic-induced autoimmune diseases will be an increasing clinical challenge in the daily practice in the next years.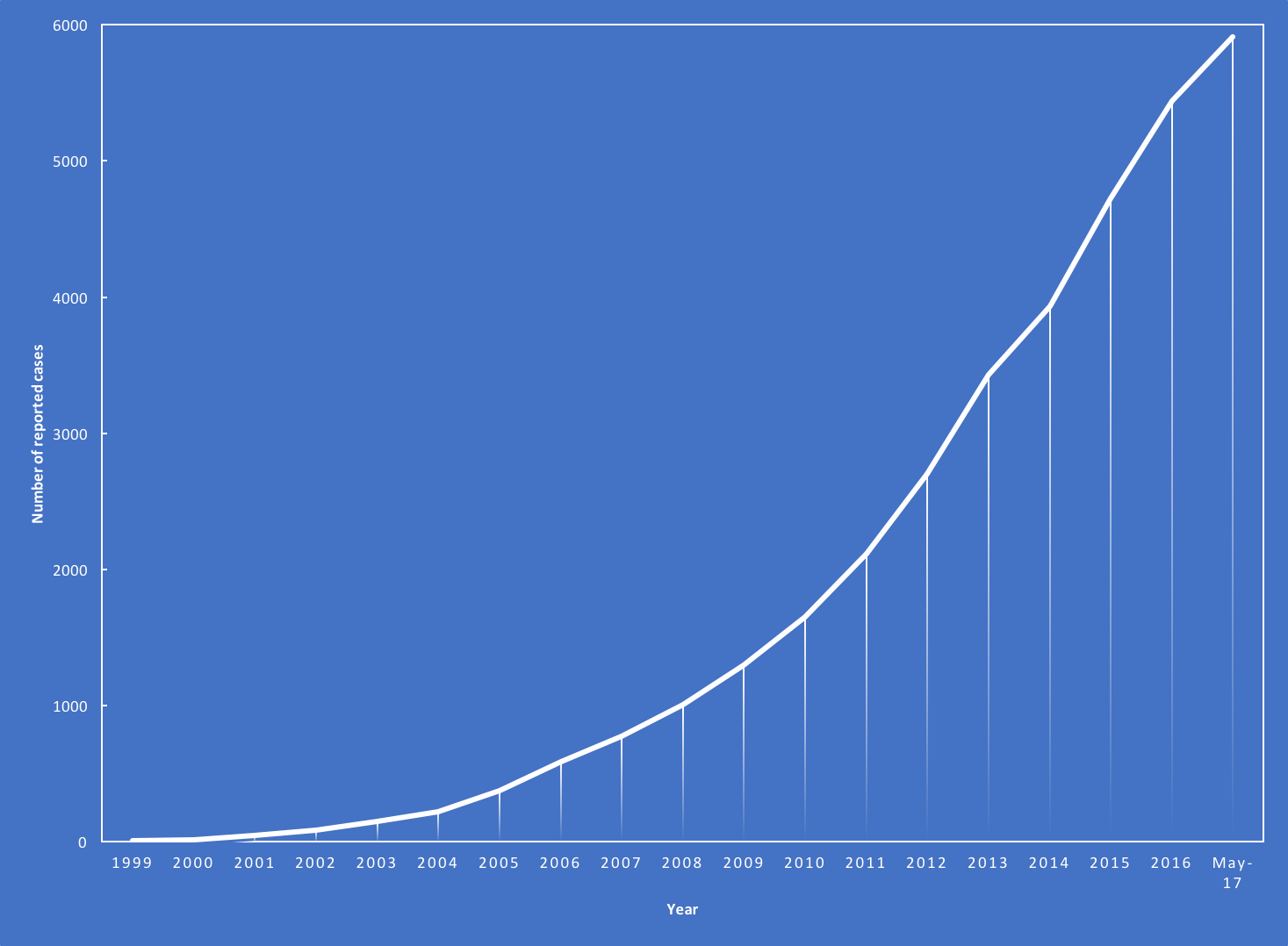 \s
---
Disclosure: S. Retamozo, None; M. Ramos-Casals, None; M. Pérez de Lis, None; A. Flores-Chavez, None; S. Arteaga, None; C. Galcerán-Chaves, None; B. Kostov, None; R. Pérez-Alvarez, None; P. Brito-Zerón, None.
To cite this abstract in AMA style:
Retamozo S, Ramos-Casals M, Pérez de Lis M, Flores-Chavez A, Arteaga S, Galcerán-Chaves C, Kostov B, Pérez-Alvarez R, Brito-Zerón P. Pharmacovigilance Surveillance of Autoimmune Diseases Induced By Biological Agents: A Review of 12013 Cases (aeBIOGEAS-SEMI Registry) [abstract].
Arthritis Rheumatol.
2017; 69 (suppl 10). https://acrabstracts.org/abstract/pharmacovigilance-surveillance-of-autoimmune-diseases-induced-by-biological-agents-a-review-of-12013-cases-aebiogeas-semi-registry/. Accessed October 19, 2021.
« Back to 2017 ACR/ARHP Annual Meeting
ACR Meeting Abstracts - https://acrabstracts.org/abstract/pharmacovigilance-surveillance-of-autoimmune-diseases-induced-by-biological-agents-a-review-of-12013-cases-aebiogeas-semi-registry/