Session Information
Session Type: Poster Session C
Session Time: 9:00AM-11:00AM
Background/Purpose: Non-Infectious Ocular inflammatory disease (OID) is a group of immune-mediated diseases involving the ocular surface, uveal tract, retina, optic nerve, and peri-orbital tissue. Patients are often referred to rheumatology for assistance with Disease-Modifying Anti-Rheumatic Drug (DMARD) therapy, when topical or systemic corticosteroids have not been completely effective. Real-world rheumatology practice of DMARD therapy selection to treat OID remains undescribed. We aim to describe the current DMARD prescribing practice at a tertiary academic center and identify effectiveness of these DMARDs.
Methods: Retrospective descriptive cohort study of patients with OID treated at an academic tertiary center from 2000 to 2017. Inclusion criteria: age > 18 years, use of DMARDs, ≥ 2 visits with a rheumatologist, treatment with oral corticosteroid (≥10mg). Exclusion criteria: DMARD use for a systemic autoimmune disease and not particularly for OID.
DMARD effectiveness was defined as disease control, as determined by the ophthalmologist, and the ability to taper oral prednisone to ≤ 10mg.  DMARD therapy was considered not effective when oral prednisone could not be tapered ≤10mg due to active disease, active ocular disease as evaluated by the ophthalmologist despite the DMARD, or the need to discontinue the DMARD due to adverse effects.
Proportions were used to describe demographic characteristics, diagnoses, DMARDs prescription trends and effectiveness.
Results: A total of 369 patients were identified and 162 met the inclusion criteria. Median age was 42 years [Interquartile Range (IQR) 29 – 56 years]. The majority were Caucasian (63.0%) and female (58.6%). The most common OID was uveitis (49.4%), followed by chorioretinopathy (18.5%), orbital inflammation (12.3%), scleritis (11.7%), keratitis (6.2%), and neuro-ophthalmic (1.9%) (Chart 1).
With the exception of chorioretinopathy, methotrexate was the most common initial DMARD used in all forms of OID, ranging from 29% in chorioretinopathy to 63.2% in orbital inflammation. Mycophenolate followed by adalimumab were the most common subsequent DMARDs chosen. Other anti-TNF biologics were not used as often.
Chart 2 shows effectiveness of DMARDs in the different forms of OID. Methotrexate was found to be more effective in uveitis (around 80%), scleritis and chorioretinopathy, as compared to in orbital inflammation and keratitis. Adalimumab was found to be highly effective in uveitis, orbital inflammation and scleritis.
Conclusion: Our data suggests that the most common OID rheumatologists at our center treat is Uveitis, while most common DMARD used is methotrexate. Methotrexate and adalimumab were more commonly noted to be effective in treating some forms of OID.
Some of the limitations of our study are that this is a single institutional study, with small cohort when broken down into various subgroups of OID diagnoses, many patients lost to follow up which led to their exclusion, and lack of standardized practice patterns and steroid tapering schedule.
While there are RCTs on treatment of anterior uveitis, there is a need for multicenter RCTs for difficult to treat anterior uveitis and other OIDs.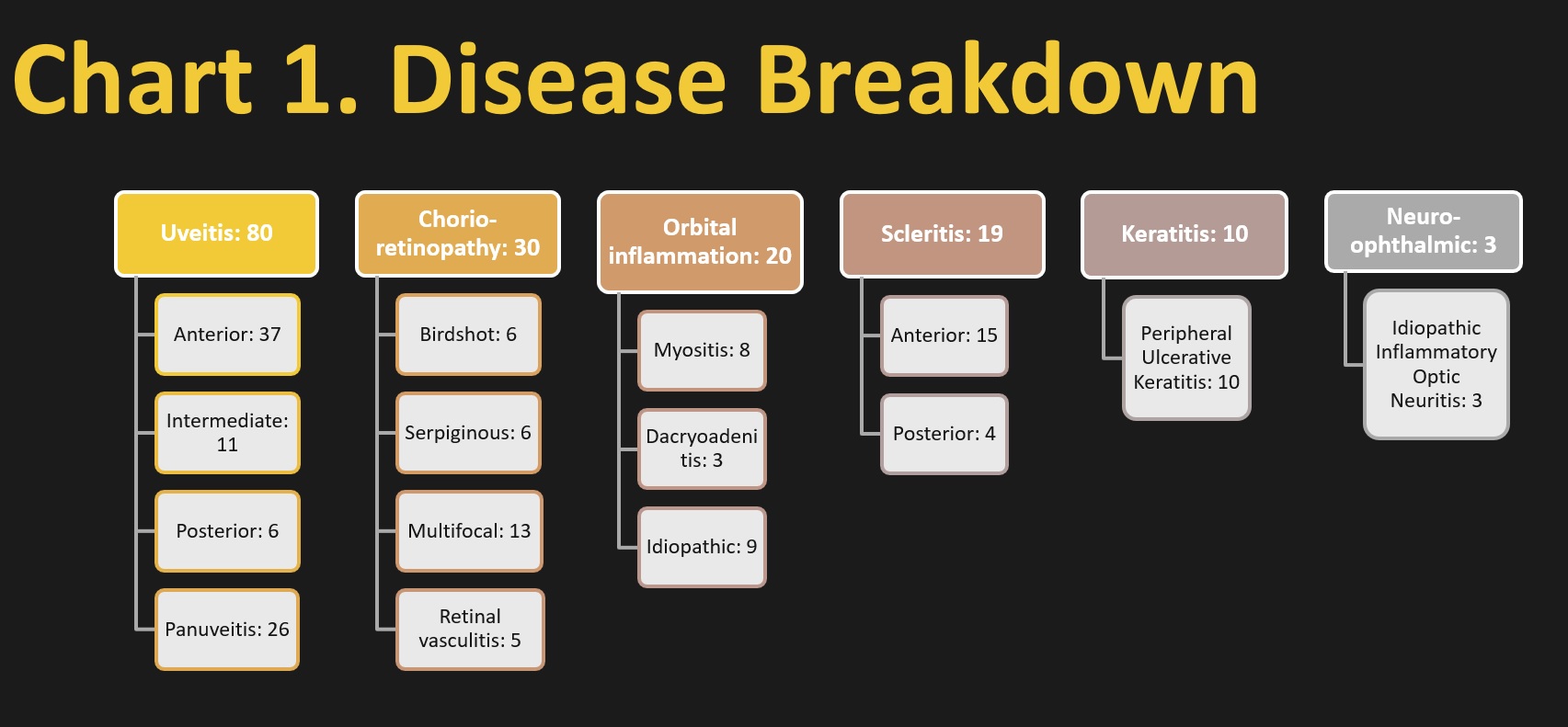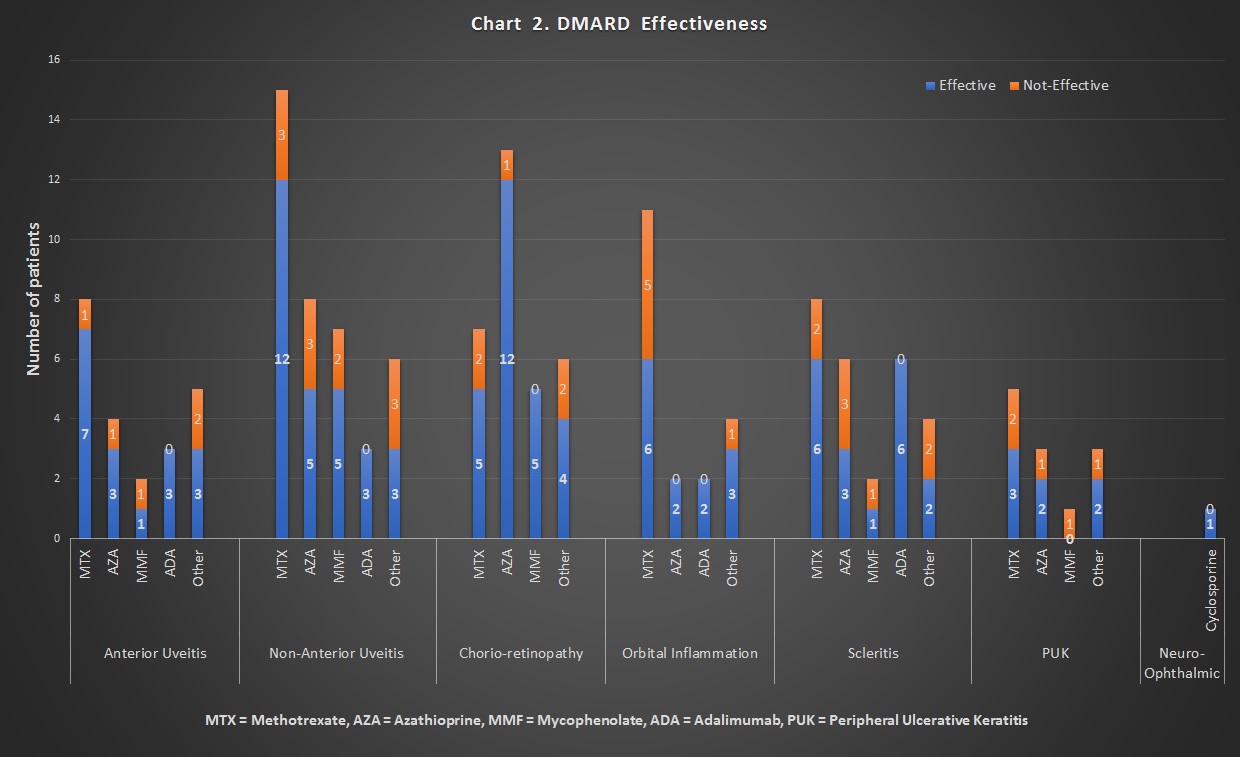 ---
Disclosure: S. Patil, None; J. Cheng, None; L. Provencher, None; S. Vogelgesang, None.
To cite this abstract in AMA style:
Patil S, Cheng J, Provencher L, Vogelgesang S. Pharmaco-epidemiology of Non-infectious Ocular Inflammatory Disease in a Tertiary Academic Center [abstract].
Arthritis Rheumatol.
2020; 72 (suppl 10). https://acrabstracts.org/abstract/pharmaco-epidemiology-of-non-infectious-ocular-inflammatory-disease-in-a-tertiary-academic-center/. Accessed September 22, 2023.
« Back to ACR Convergence 2020
ACR Meeting Abstracts - https://acrabstracts.org/abstract/pharmaco-epidemiology-of-non-infectious-ocular-inflammatory-disease-in-a-tertiary-academic-center/