Session Information
Session Type: ACR Poster Session B
Session Time: 9:00AM-11:00AM
Background/Purpose: BehetÕs disease (BD) is a multisystemic disease characterized by recurrent inflammatory manifestations. BD is classified as variable vessel vasculitis. While inflammatory thrombotic venous findings are dominant in patients with vascular-BD, arterial lesions manifesting as aneurysms and occlusive/stenotic lesions can also be seen. In addition to clinical findings, imaging studies with CT, MRI, and Doppler ultrasonography play an important role in the diagnosis of vascular involvement. PET/CT is a relatively new tool being used in the assessment of large-vessel vasculitis, and there are conflicting reports about using PET/CT in patients with BD. We herein aimed to investigate our records for the role of PET-CT in the diagnosis and follow-up of BD patients with vascular involvement.
Methods: We retrospectively reviewed the charts of BD patients who were investigated with PET/CT for any reason related to disease activity. Patients fulfilling the ISG criteria or with a preliminary diagnosis of BD were included for the analysis. Using a standard form, clinical findings, acute phase response including ESR and CRP, and additional imaging findings, such as CT or MRI, performed within the last 2-week of PET/CT scanning were recorded. Vascular FDG uptake was graded using a 4-point semi-quantitative scale. PET/CT scans were considered positive if vascular FDG uptake was ³ 2 (equal to or greater than liver).
Results: We identified 12 patients investigated with PET/CT. The mean age of the patients was 44 years, the mean disease duration was 14 years, and 11 (92%) were male. Demographic and clinical findings are summarized in Table 1. Patients underwent PET-CT due to fever of unknown origin (n=6), fatigue with unexplained high acute phase response (n=3), abdominal pain (n=1), or unexplained neck pain (n=1). Five of them fulfilled the ISG criteria, and 4 had positive PET/CT findings due to aortic involvement or bronchiolitis obliterans organizing pneumonia (n=2). No FDG uptake was detected in one patient with venous lesions. In remaining 7 patients with incomplete manifestations suggesting BD, vascular involvement documented by FDG uptake in aorta and its branches (n=2), pulmonary arteries (n=2), carotid arteries (n=2) and splenic artery (n=1).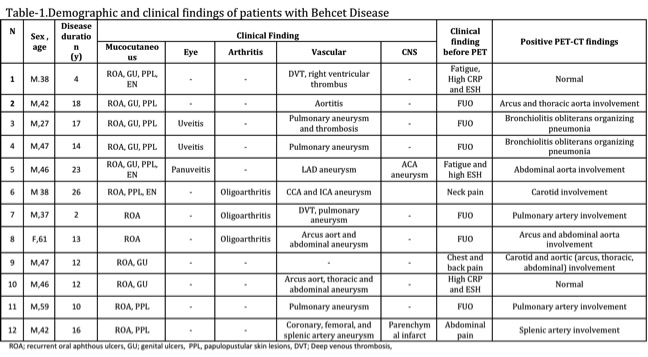 Conclusion: In BD patients with unexplained acute phase response, screening for vascular involvement is important, and PET/CT may contribute to diagnostic process by documenting medium-large size arterial activity. FDG uptake by arterial aneurysms and venous involvement in PET/CT is not clear, and several factors such as the size of the vessels and the thickness of vessel wall may affect FDG uptake. Parenchymal lesions possibly induced by small vessel vasculitis may also be another reason for positive PET/CT findings. Role of PET/CT in the diagnosis of patients with incomplete BD manifestations needs to be investigated further, since other disorders with mucocutaneous and vascular findings may mimic BD and cause diagnostic uncertainty.
---
Disclosure: B. Toz, None; B. Erer, None; S. Kamali, None; M. Inanc, None; L. Ocal, None; A. Gul, None.
To cite this abstract in AMA style:
Toz B, Erer B, Kamali S, Inanc M, Ocal L, Gul A. PET/CT Imaging in Patients with Vascular Behcet Disease [abstract].
Arthritis Rheumatol.
2016; 68 (suppl 10). https://acrabstracts.org/abstract/petct-imaging-in-patients-with-vascular-behcet-disease/. Accessed November 25, 2020.
« Back to 2016 ACR/ARHP Annual Meeting
ACR Meeting Abstracts - https://acrabstracts.org/abstract/petct-imaging-in-patients-with-vascular-behcet-disease/