Session Information
Session Type: ACR Late-breaking Abstract Session
Session Time: 9:00AM-11:00AM
Background/Purpose: PePRS is a Phase IIa international, multicenter, open-label single arm study of rituximab in pediatric patients with newly diagnosed or relapsing GPA or MPA. We report safety and exploratory efficacy data for the initial 6-month remission induction phase and for the long-term follow-up of all patients through ≥ 18 months.
Methods: Patients aged ≥ 2 to ≤ 18 years with recurrence or new onset of potentially organ- or life-threatening disease were included. Patients with severe disease requiring mechanical ventilation due to alveolar hemorrhage, requirement for plasmapheresis, or hemodialysis at screening were excluded. Three doses of pulsed intravenous (IV) methylprednisolone were administered during the screening period followed by four weekly IV rituximab infusions of 375 mg/m2 body surface area and concomitant oral glucocorticoid taper. After the 6-month remission induction phase, patients received standard of care treatment (including additional rituximab infusions if required) for disease control. Visits occurred at 1, 2, 4 and 6 months during the remission-induction phase and every 3 months thereafter for a minimum of 18 months. The pediatric vasculitis activity score (PVAS) was used for exploratory efficacy assessments. Remission was defined as a PVAS of 0 and oral prednisone or prednisolone equivalent dose of ≤ 0.2 mg/kg/day (max 10 mg/day).
Results: Of the 25 patients enrolled from 11 centers, 19 (76%) had GPA and 6 (24%) had MPA. The majority were female (20 patients [80%]), white (17 patients [68%]) and the median age was 14 years (range: 6-17 years). Most patients (18/25) had new-onset disease. Median baseline PVAS was 8 (IQR 5-15). The median duration of follow-up was 24 months (range:16-54 months). All 25 patients completed the first 4 rituximab infusions and the 6-month remission induction phase; 24 of 25 completed ≥ 18 months of follow-up. All patients experienced ≥ 1 adverse event (AE) during the first 6 months, with infusion-related reactions (IRRs) being the most common AE (Table). IRRs occurred in 32% of patients with the first infusion and were less frequent thereafter. Overall, infections occurred in 68% of patients (with upper respiratory tract infection being the most frequent [16% of patients]). Ten serious AEs (SAEs) occurred in 7 patients during the 6-month remission induction phase, including 1 IRR. Over the entire study, 27 SAEs occurred in 12 patients, and no deaths were reported. Exploratory efficacy assessment showed that 56% of patients achieved remission by month 6; 100% of patients achieved remission by month 18. The median duration of remission during the study was 56 (IQR, 38-83) weeks.
Conclusion: In this first global clinical trial of rituximab in pediatric patients with GPA/MPA, rituximab was well tolerated with an overall safety profile comparable to rituximab-treated adults with GPA/MPA. No new safety signals were observed. PVAS remission was achieved in 100% of patients by 18 months.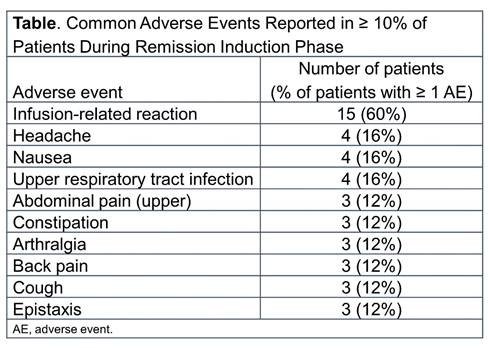 ---
Disclosure: P. Brogan, Roche, 2, 5,SOBI, 2, 5, 8,Novartis, 2, 8,Chemocentryx, 2,UCB, Inc., 5; G. Cleary, AbbVie Inc., 8; A. O. Hersh, None; O. Kasapcopur, None; S. Rangaraj, None; R. S. M. Yeung, Novartis, 5,Eli Lilly and Co., 5; A. Zeft, None; S. Melega, Roche, 3; P. Brunetta, Genentech, Inc., 3; J. Cooper, Genentech, Inc., 3, 5; P. Pordeli, F. Hoffmann-La Roche Ltd., 3; P. B. Lehane, Roche Products, Ltd., 3.
To cite this abstract in AMA style:
Brogan P, Cleary G, Hersh AO, Kasapcopur O, Rangaraj S, Yeung RSM, Zeft A, Melega S, Brunetta P, Cooper J, Pordeli P, Lehane PB. Pediatric Open-Label Clinical Study of Rituximab for the Treatment of Granulomatosis with Polyangiitis (GPA) and Microscopic Polyangiitis (MPA) [abstract].
Arthritis Rheumatol.
2018; 70 (suppl 9). https://acrabstracts.org/abstract/pediatric-open-label-clinical-study-of-rituximab-for-the-treatment-of-granulomatosis-with-polyangiitis-gpa-and-microscopic-polyangiitis-mpa/. Accessed December 1, 2022.
« Back to 2018 ACR/ARHP Annual Meeting
ACR Meeting Abstracts - https://acrabstracts.org/abstract/pediatric-open-label-clinical-study-of-rituximab-for-the-treatment-of-granulomatosis-with-polyangiitis-gpa-and-microscopic-polyangiitis-mpa/