Session Information
Session Type: Abstract Submissions (ACR)
Background/Purpose: Tocilizumab (TCZ) is indicated for the treatment of patients with RA who have had inadequate responses to DMARDs either as monotherapy (Mono) or in combination with DMARDs (Combo). ACT-UP is an umbrella project with data pooled from several international, observational, postmarketing studies investigating intravenous TCZ use in patients with RA in routine care. Interim observations of patterns of TCZ use, adherence to label recommendations, and safety are reported.
Methods: Adult patients with moderate to severe RA who started TCZ within 8 wk of enrollment were observed in clinical practice for 6 mo. There were no specified dosing regimens (concomitant RA treatments were permitted) and no interventional procedures, clinic visits, or laboratory analyses outside routine practice.
Results: Of 961 patients who received their first TCZ dose by June 30, 2013, 352 (37%) started Mono and 609 (63%) started Combo; 94% and 95% of Mono and Combo  patients, respectively, started TCZ at 8 mg/kg, and 93% and 94% of patients, respectively, who received TCZ at 6 mo received 8 mg/kg. TCZ dose changes were reported for 34 (10%) Mono patients (7 increased, 11 decreased, 16 both increased and decreased) and 68 (11%) Combo patients (13 increased, 20 decreased, 35 both increased and decreased). Reasons for dose changes were AEs for 4% of Mono and 5% of Combo patients and lack of efficacy for 2% of Mono and 1% of Combo patients. Median MTX dose for Combo patients was 15.0 mg/wk. Sixty-three patients changed MTX dose during the study at a median dose change of –5.0 mg/wk. Twenty-eight (8%) patients who started TCZ Mono added a DMARD during the study. Corticosteroids were used by 57% of Mono and 70% of Combo patients (median prednisone-equivalent dose of 7.5 and 5.0 mg/d, respectively, at baseline). At 6 mo, 72% of Mono and 84% of Combo patients were still receiving TCZ. Overall, 100 (10%) patients discontinued TCZ in the first 3 mo and another 94 (10%) discontinued in the next 3 mo. Reasons for discontinuations included lack of efficacy (11% Mono; 27% Combo), adverse events (AEs; 27% Mono, 29% Combo), and other (62% Mono, 44% Combo). Regarding safety, AEs occurred in 53% of patients in each group. AEs classified as infections were less common in Mono than Combo patients (Table). No gastrointestinal perforations were reported in either group. Among patients for whom an AE required TCZ dose modification or an abnormal laboratory test result required follow-up, the investigator reported that local label/protocol recommendations were followed for 98% of Mono and 95% of Combo patients.
Conclusion: In this multinational observational study, 37% of patients started TCZ as monotherapy in clinical practice. Most patients continued TCZ treatment 6 mo after initiation whether they started it as monotherapy or in combination with DMARDs. TCZ was well tolerated in both groups, and adherence to local label recommendations was high.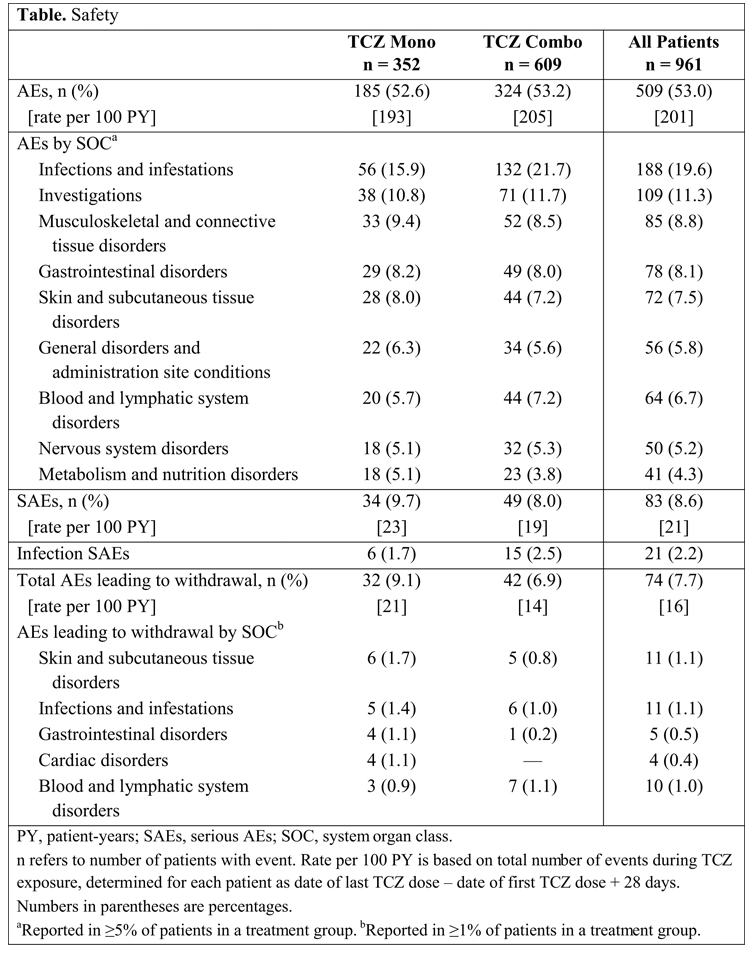 ---
Disclosure:
B. Haraoui,
Amgen, BMS,
2,
AbbVie, Amgen, BMS, Janssen, Pfizer, Roche, UCB,
5;
G. Casado,
AstraZeneca, AbbVie, GSK, Janssen, Pfizer, Roche,
5;
E. Theander,
None;
L. Czirják,
AbbVie, Pfizer, Roche, UCB, MSD,
5;
A. Taylor,
AbbVie, Roche, Celgene, Janssen, BMS, UCB,
5,
AbbVie, roche, Janssen, BMS, UCB,
8;
P. Button,
Roche Pharmaceuticals,
3;
L. Hinsch Gylvin,
Roche Pharmaceuticals,
3;
R. Caporali,
None.
« Back to 2014 ACR/ARHP Annual Meeting
ACR Meeting Abstracts - https://acrabstracts.org/abstract/patterns-of-tocilizumab-use-and-safety-in-patients-with-rheumatoid-arthritis-interim-results-from-a-multinational-observational-study/