Session Information
Session Type: Poster Session A
Session Time: 1:00PM-3:00PM
Background/Purpose: Familial Mediterranean fever (FMF) is a chronic disease characterized by recurrent episodes of fever and serositis, with a risk of severe complications (e. g. amyloidosis). Treatment of FMF according to EULAR recommendations aims to control acute relapses and subclinical inflammation and improve patients' quality of life. Clinical data suggest that inhibition of interleukin-1β with canakinumab (CAN) is effective in controlling and preventing relapses in FMF patients.
The present study investigates the long-term efficacy and safety of CAN in routine clinical practice in pediatric (age ≥2 years) and adult FMF patients.
Methods: RELIANCE is a prospective, non-interventional, multicenter observational study in Germany with a follow-up period of up to seven years. Patients with a clinically confirmed diagnosis of FMF who routinely receive CAN will be enrolled in the study. At the time of study inclusion and at six-months intervals, the following parameters will be recorded: Disease activity (physician assessment), fatigue and impact on social life (patient assessment), inflammatory markers and the Auto-Inflammatory Diseases Activity Index (AIDAI) score.
Results: This interim analysis of FMF patients (N=74) enrolled through December 2021 includes data from baseline through the 24-months visit. The mean age in this cohort was 25 years (2-61 years). The proportion of female patients was 51% (N=38). At baseline, the median duration of prior CAN treatment was 1.0 years (0-6 years). Patients had been pre-treated with colchicine (71%), canakinumab (77%), anakinra (31%) and tocilizumab (5%). At month 24, approximately 63% of patients were in disease remission by physician assessment, and 67% of patients documented inactive disease in the AIDAI (Table 1).
Mutations were documented in a total of N=57 patients. Most common variants were M694V (9 homozygous [hoz], 10 compound heterozygous [hec], 12 heterozygous [hez],), V726A (1 hoz, 6 hec, 1 hez), and M680I (1 hoz, 6 hec, 1 hez).
At baseline, N=16 FMF patients were CAN-naive and received a starting dose of median 150 mg CAN (40 mg/kg – 150 mg every 4 weeks). In this subgroup, a total of 12 dose adjustments were made over the course of two years (9 dose increases, 3 dose reductions).
A total of 18 severe adverse events (SAE) were reported, of which 2 (tonsillectomy due to recurrent tonsillitis and tachycardia, patient age: 6 years each) were classified as drug-related.
Conclusion: Interim data from FMF patients in the RELIANCE study, the longest running canakinumab registry, confirm the efficacy and safety of long-term treatment with canakinumab. Dose adjustments during the course of therapy are possible.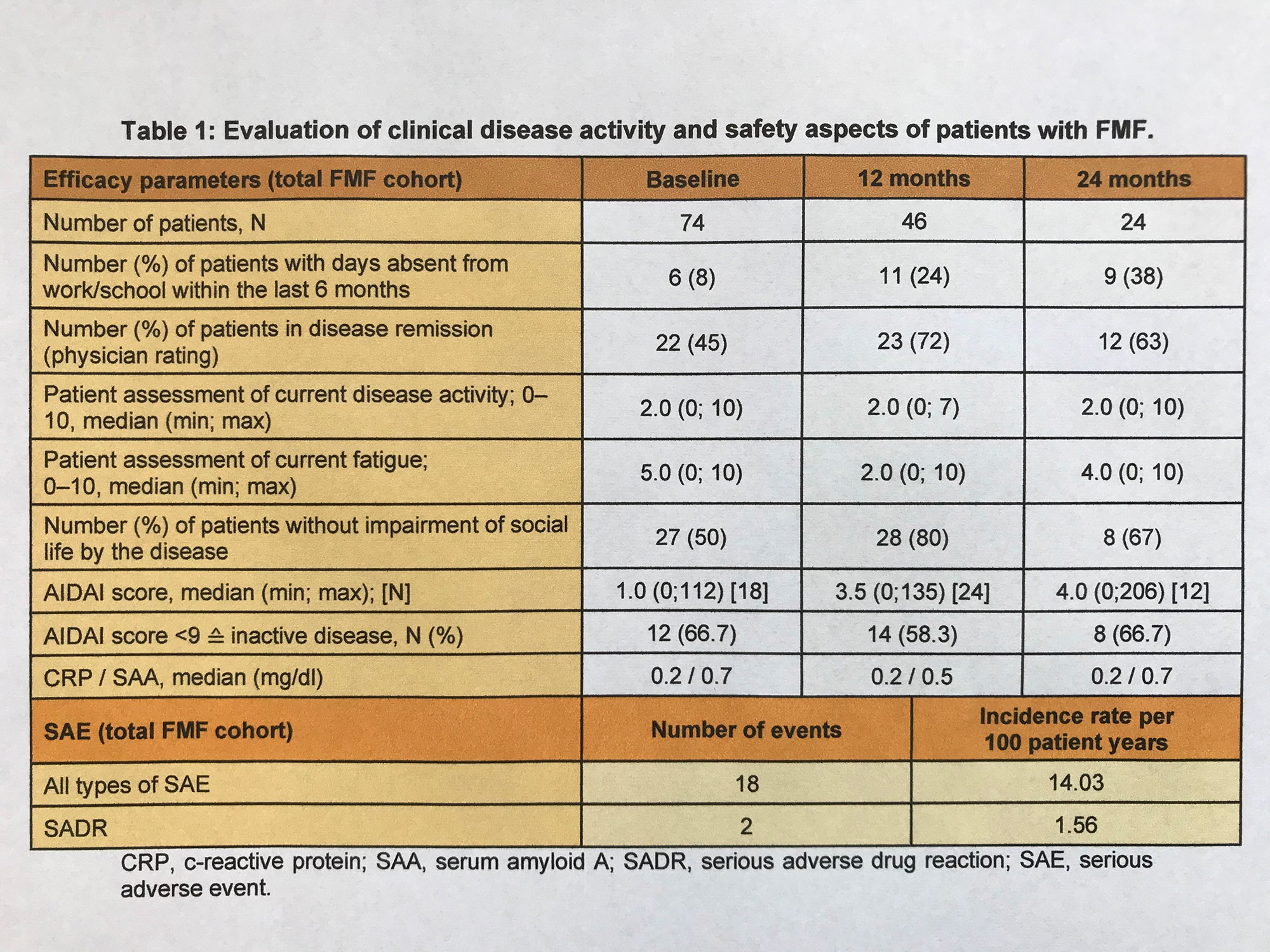 ---
Disclosures: J. Henes, Boehringer Ingelheim; J. Kuemmerle-Deschner, AbbVie/Abbott, Novartis, SOBI; T. Krickau, Novartis; T. Kallinich, Roche; F. Dressler, Novartis, AbbVie/Abbott, Mylan, Pfizer; G. Horneff, Roche, Pfizer, Novartis, Merck/MSD, Eli Lilly, AbbVie/Abbott; F. Meier, Novartis; I. Foeldvari, None; F. Weller-Heinemann, None; B. Kortus-Goetze, Novartis; M. Hufnagel, Novartis; J. Rech, Novartis, SOBI, AbbVie/Abbott, Biogen, Bristol-Myers Squibb(BMS), Chugai, GlaxoSmithKlein(GSK), Janssen, Eli Lilly, Merck/MSD, Mylan, Roche, Sanofi, UCB; P. Oommen, Novartis; J. Weber-Arden, Novartis; N. Blank, Novartis, SOBI, Lilly, Pfizer, AbbVie/Abbott, Bristol-Myers Squibb(BMS), Merck/MSD, Actelion, UCB, Boehringer-Ingelheim, Roche.
To cite this abstract in AMA style:
Henes J, Kuemmerle-Deschner J, Krickau T, Kallinich T, Dressler F, Horneff G, Meier F, Foeldvari I, Weller-Heinemann F, Kortus-Goetze B, Hufnagel M, Rech J, Oommen P, Weber-Arden J, Blank N. Patients with Familial Mediterranean Fever (FMF) Under Canakinumab Treatment – Long-term Efficacy and Safety Interim Data of the RELIANCE Registry [abstract].
Arthritis Rheumatol.
2022; 74 (suppl 9). https://acrabstracts.org/abstract/patients-with-familial-mediterranean-fever-fmf-under-canakinumab-treatment-long-term-efficacy-and-safety-interim-data-of-the-reliance-registry/. Accessed May 27, 2023.
« Back to ACR Convergence 2022
ACR Meeting Abstracts - https://acrabstracts.org/abstract/patients-with-familial-mediterranean-fever-fmf-under-canakinumab-treatment-long-term-efficacy-and-safety-interim-data-of-the-reliance-registry/