Session Information
Session Type: Poster Session D
Session Time: 9:00AM-11:00AM
Background/Purpose: Axial spondyloarthritis (axSpA) impacts negatively on multiple dimensions of patient's life, including their working life. The present study aims to evaluate working status, work-related issues and their associated factors in a Spanish sample of patients with axSpA.
Methods: The Atlas 2017 based its results on an extensive cross-sectional patient survey conducted in Spain (2016), validated by a multidisciplinary group of experts on spondyloarthritis. Participants were recruited through an on-line panel and patient organizations. Participants were classified as active (employed, unemployed between 15-64 years) and inactive (retirees, on sick leave, students and homemakers). Those employed were asked to report work-related issues due to axSpA (sick-leave, difficulty fulfilling work hours, missing work for doctors' appointments, reducing working hours or taking days off) in the past 12 months. Diagnostic delay, disease activity (BASDAI), spinal stiffness (3-12), functional limitation (0-54) and psychological distress (General Health Questionnaire, GHQ-12 [0-12]) were compared between employed patients with or without work-related issues using a Mann-Whitney and Kruskal-Wallis test. Regression analysis was conducted to determine explicative disease outcome related factors (enter method for BASDAI, self-reported spinal stiffness, functional limitation and GHQ-12) over work-related issues.
Results: Data from 680 patients were collected: mean age was 47±11 years, 52.5% were female and 36.9% were university educated. Mean disease duration and diagnostic delay were 20.9±12.2 and 8.5±7.7 years, respectively, and mean BASDAI was 5.5±2.2. A total of 63.6% (n=415) were considered active population, of which 49.8% (n=325) were employed (Table 1). Of those employed, 54.3% reported a work-related issue, specifically 37.1% took sick leave, 44.1% had difficulties in fulfilling the working hours and 42.9% missed work due to doctor's appointments (Table 2). Among all patients, 95.5% faced (or believed they would) difficulties finding a job due to axSpA. Experiencing work-related issues due to axSpA was significantly associated with higher disease activity, self-reported spinal stiffness, longer diagnostic delay, higher functional limitation and higher level of psychological distress (p< 0.001). However, the highest levels of disease burden were reported by unemployed participants (Table 3).
Conclusion: Results reveal a relevant impact of axSpA in patient working life. Approximately two out of three patients employed experienced work-related issues due to axSpA, being associated to worse disease outcomes and poorer psychological health. However, those who were unemployed faced a harsher situation reporting even poorer disease-related and psychological health outcomes. As psychological health appears impaired severely in axSpA patients regardless of their employment status it should be key for a holistic approach to patient care.
Table 1. Employment status of survey respondents
Table 2. Frequencies of work-related issues surveyed among employed respondents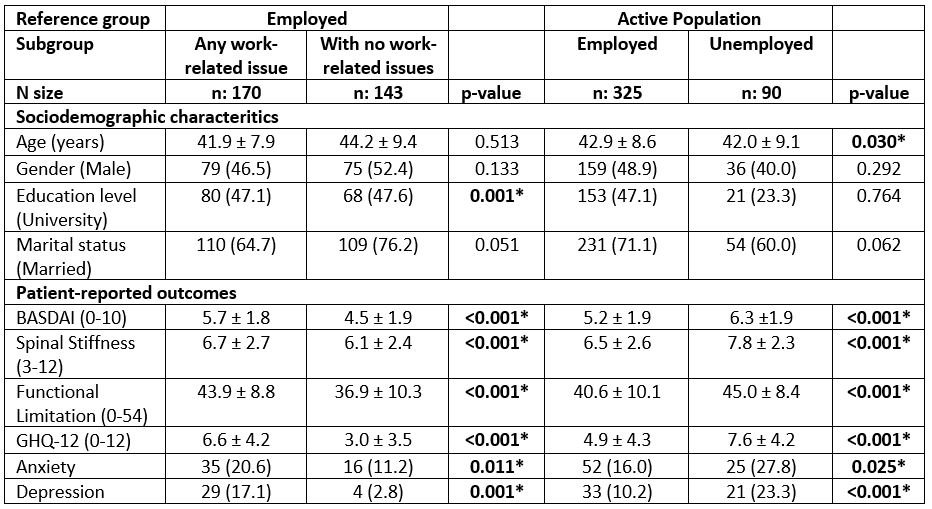 Table 3. Differences between employees with/without work-related issues and between employed/unemployed participants in relation to sociodemographic characteristics and patient-reported outcomes
---
Disclosure: M. Garrido-Cumbrera, None; E. Collantes-Estévez, None; V. Navarro-Compán, Novartis Pharma, 1, 5, 8, AbbVie Inc., 5, 8, Eli Lilly and Company, 5, 8, Pfizer Inc., 5, UCB, 5, 8; P. Zarco, None; C. Sastre, Novartis, 3; S. Sanz-Gomez, None; J. Correa-Fernández, None; J. Gratacós, AbbVie Inc., 5, 8, Eli Lilly and Company, 5, 8, Pfizer Inc., 5, 8, MSD, 5, 8, UCB, 5, 8, Novartis, 5, 8, Janssen Pharmaceutical, 5, 8, Amgen, 5, 8, BMS, 2, 5, 8, Celgene, 2, 5, 8.
To cite this abstract in AMA style:
Garrido-Cumbrera M, Collantes-Estévez E, Navarro-Compán V, Zarco P, Sastre C, Sanz-Gomez S, Correa-Fernández J, Gratacós J. Patient-reported Impact of Axial Spondyloarthritis on Working Life. Results from the Spanish Atlas 2017 [abstract].
Arthritis Rheumatol.
2020; 72 (suppl 10). https://acrabstracts.org/abstract/patient-reported-impact-of-axial-spondyloarthritis-on-working-life-results-from-the-spanish-atlas-2017/. Accessed September 22, 2023.
« Back to ACR Convergence 2020
ACR Meeting Abstracts - https://acrabstracts.org/abstract/patient-reported-impact-of-axial-spondyloarthritis-on-working-life-results-from-the-spanish-atlas-2017/