Session Information
Session Type: Poster Session C
Session Time: 9:00AM-11:00AM
Background/Purpose: Medication management in systemic lupus erythematosus (SLE) is particularly complex given the clinical heterogeneity of symptoms and a wide range of medications used.  We developed a conceptual model that characterizes symptoms and corresponding medications into two categories: Type 1 medications are used for Type 1 SLE symptoms or inflammatory manifestations (such as arthritis, nephritis, rashes) while Type 2 medications are used for Type 2 SLE symptoms of fatigue, myalgia, anxiety/depression and cognitive dysfunction.  Type 1 medications included antimalarials, oral immunosuppressants, biologics and steroids.  Type 2 medications included pain medications, muscle relaxants, sleep medications, and antidepressants.  We conducted a qualitative descriptive study to assess perceived helpfulness (benefits and drawbacks) of Type 1 and Type 2 medications and describe disease experiences in patients with SLE.
Methods: We conducted semi-structured qualitative interviews among purposefully selected adult patients meeting SLICC criteria for SLE from an academic medical center.  We asked patients to describe the helpfulness of medications, including whether they believed their symptoms had improved.  All interviews were audio-recorded and transcribed, and we used applied thematic analysis to analyze the data.
Results: We interviewed 37 patients (12 with Type 1 SLE, 12 with Type 2 SLE, and 13 with Mixed SLE); 73% were age ≤55 years, 84% had disease duration ≥5 years, 49% were black or African American, and 35% had a history of nephritis.
Medication Helpfulness: The majority of patients endorsed benefit from at least one Type 1 or Type 2 medication.  More patients reported at least one Type 2 medication as not helpful (n=24) compared to those reporting at least one Type 1 medication as not helpful (n=18).
Unable to Assess Helpfulness: More patients were unable to assess the helpfulness of Type 1 medications (~50%, n=19) compared to Type 2 medications (~20%, n=7).  Inability to determine helpfulness was often due to no change in symptoms or uncertainty of symptoms the medication was supposed to improve.
We categorized participant experiences with Type 1 and Type 2 medications by class of medication thematically (Table 1).  For example, patients viewed hydroxychloroquine as minimally beneficial compared to the dramatic improvements they noted on biologics and IV infusions.  Patients also had less certainty regarding the helpfulness and indication for antimalarials and oral immunosuppressants compared to biologics, steroids, and Type 2 medications.
Conclusion: For both Type 1 and 2 medications, the vast majority of patients reported at least some benefit in helping symptoms.  However, substantially more patients were unable to assess the helpfulness of Type 1 medications compared to Type 2, most often due to uncertainty regarding helpfulness or lack of awareness of indication.  These findings suggest physician/patient discussion about specific indications for which medications are prescribed and potential side effects may increase patient understanding and expectations regarding medication use.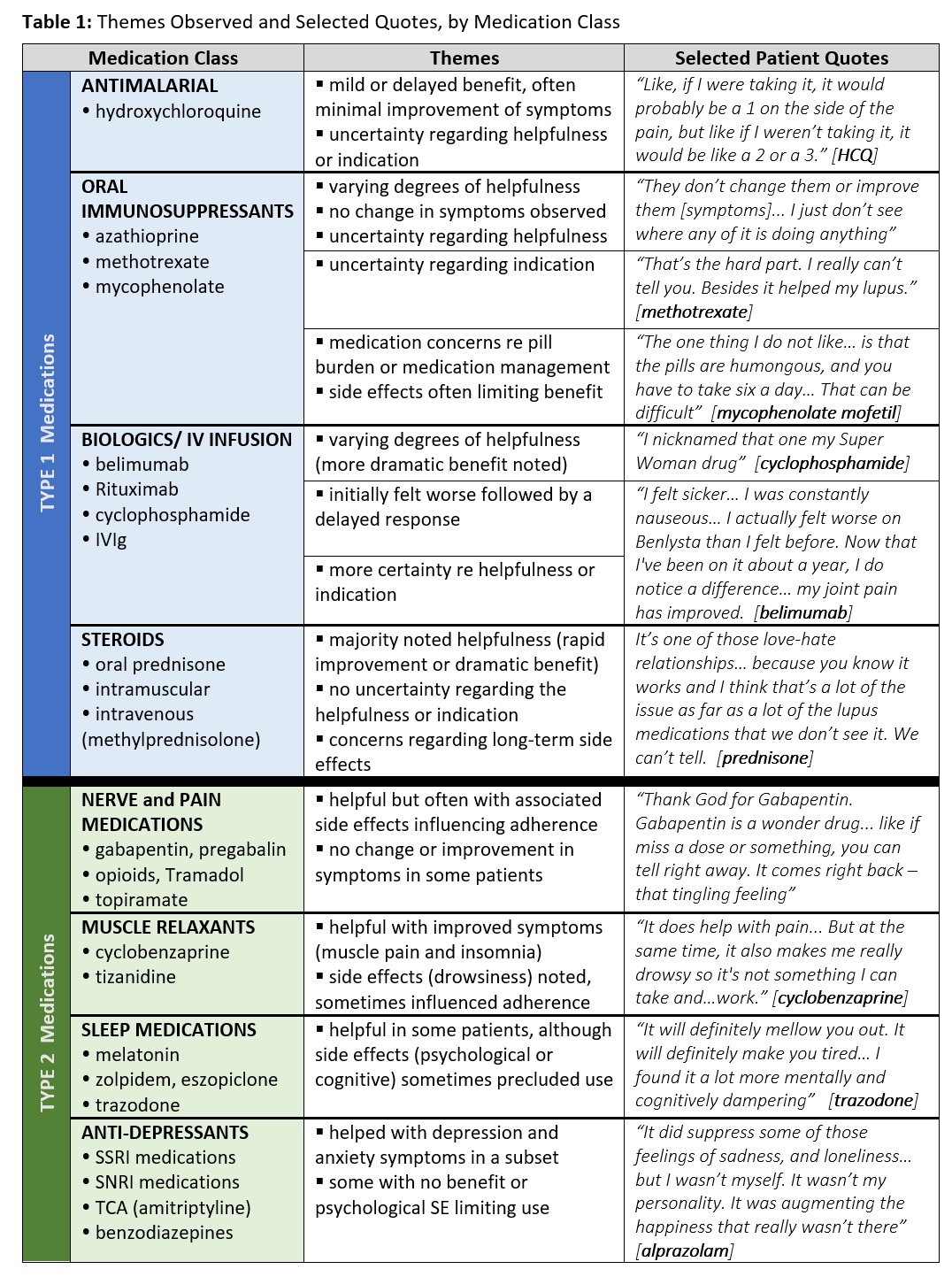 ---
Disclosure: M. Maheswaranathan, None; K. McKenna, None; A. Corneli, None; D. Pisetsky, None; M. Clowse, UCB, 5, GSK, 2, 5, Astra Zeneca, 5, Pfizer, 2; A. Eudy, NIH NCATS Award Number 1KL2TR002554, 2, Pfizer, 2.
To cite this abstract in AMA style:
Maheswaranathan M, McKenna K, Corneli A, Pisetsky D, Clowse M, Eudy A. Patient Perspective of Helpfulness of Lupus Medications: A Qualitative Study of Medication Use Within the Type 1 and 2 SLE Model [abstract].
Arthritis Rheumatol.
2020; 72 (suppl 10). https://acrabstracts.org/abstract/patient-perspective-of-helpfulness-of-lupus-medications-a-qualitative-study-of-medication-use-within-the-type-1-and-2-sle-model/. Accessed September 22, 2023.
« Back to ACR Convergence 2020
ACR Meeting Abstracts - https://acrabstracts.org/abstract/patient-perspective-of-helpfulness-of-lupus-medications-a-qualitative-study-of-medication-use-within-the-type-1-and-2-sle-model/