Session Information
Session Type: ACR Poster Session A
Session Time: 9:00AM-11:00AM
Background/Purpose: Despite the global prevalence of rheumatoid arthritis (RA), there is no single model of care (MoC) and little is known about the RA patient journey at the population level. 18 RA patient organizations launched a global survey to understand patient experiences of RA MoCs and identify common challenges, gaps, and opportunities for improvement.
Methods: A short online questionnaire of RA patients recruited by patient organizations from 25 countries in Europe, the Middle East, and North and South America was conducted by Kantar Health (March 15–June 9, 2017) in 16 languages. The survey include questions on the patient's disease journey through 5 key elements of an RA MoC: 1) recognize symptoms/seek care, 2) access to specialist care, 3) medical management, 4) shared care, and 5) self-care. Countries with >30 respondents were included in this analysis. Data were analyzed at the global and country levels; descriptive (means, medians, percentages) analyses were conducted using STAR ODEC version 2.9.13. Global results are presented.
Results: 2690 respondents from 14 countries were included in this analysis (Table 1): 90% women, 71.5% between 35-65 years of age, and 69.7% from urban communities. Most respondents first heard they had RA from a rheumatologist (66%) (Table 2) and classified their current RA severity as moderate (59%) or severe (24%). Respondents reported an average of 22 mo (median, 5 mo) to receive an RA diagnosis and 20 mo (median, 3 mo) for an initial rheumatologist visit after first experiencing RA symptoms. Although 47% waited <1 mo for their first rheumatologist appointment, 33% had to wait >3 mo. Half (49%) see a rheumatologist once every 3 mo for management, 32% less frequently, and 9% as needed or do not see a rheumatologist. The majority (92%) have been treated with methotrexate, hydroxychloroquine, or sulfasalazine; however, most have not taken or did not know whether they have received biologics (72%) or small molecule treatment (82%). One-third (30%) reported it took from 4 mo to "never" for a first medication effectiveness assessment. Many respondents (39%) are not completely confident when describing RA to other people (Table 2). Access to additional information about living with RA and self-care was noted as a need by half (49%).
Conclusion: This large international patient survey highlights self-reported gaps and delays in all 5 key elements of a standardized RA MoC, including significant delays to diagnosis and specialist access globally, delayed therapy effectiveness assessment, and additional education/information to increase the level of confidence to describe RA and improve effective self-care practice.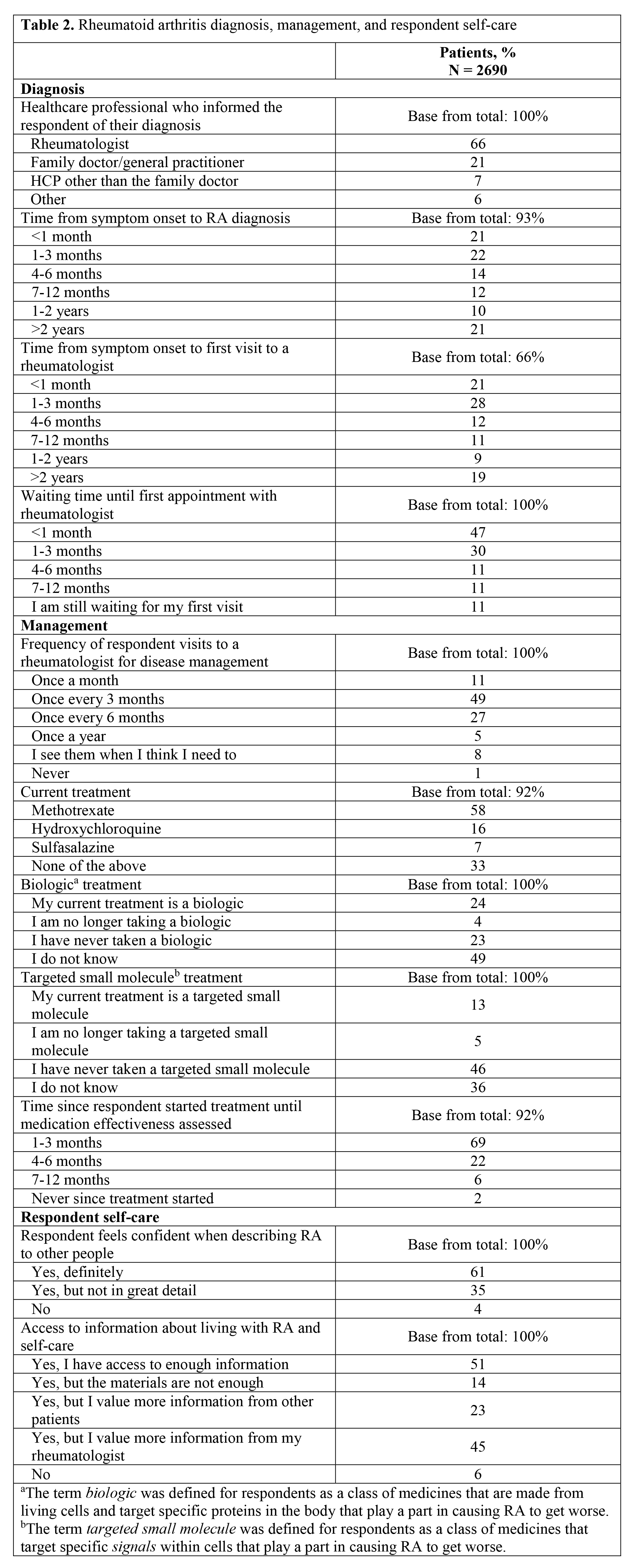 ---
Disclosure: C. L. Koehn, F. Hoffmann-La Roche Ltd, 9; K. Lendvoy, F. Hoffmann-La Roche Ltd, 9; Y. Ma, None; L. Li, None; A. Hoens, None; M. Souveton, F. Hoffmann-La Roche Ltd, 3; J. M. Esdaile, None.
To cite this abstract in AMA style:
Koehn CL, Lendvoy K, Ma Y, Li L, Hoens A, Souveton M, Esdaile JM. Patient Experiences of Rheumatoid Arthritis Models of Care: An International Survey [abstract].
Arthritis Rheumatol.
2017; 69 (suppl 10). https://acrabstracts.org/abstract/patient-experiences-of-rheumatoid-arthritis-models-of-care-an-international-survey/. Accessed November 24, 2020.
« Back to 2017 ACR/ARHP Annual Meeting
ACR Meeting Abstracts - https://acrabstracts.org/abstract/patient-experiences-of-rheumatoid-arthritis-models-of-care-an-international-survey/