Session Information
Session Type: Poster Session B
Session Time: 8:30AM-10:30AM
Background/Purpose: COVID 19 has forced the healthcare system to utilize telemedicine to provide dependable and timely care for patients with SLE. Telemedicine has been used in patient care for RA, gout and CTD including SLE. Data on the use of telemedicine in patients with SLE is limited. The purpose of this study is to evaluate patient and physician satisfaction with use of telemedicine for SLE. This understanding can be utilized to provide timely access to care, improve gaps in delivery of care and address healthcare disparities.
Methods: After IRB approval,we queried EMR to identify patients with SLE (ICD10 codes M32.0-M32.9, L93.0-L93.2) seen as video visits (CPT codes 99201-99205,99211-99215) with providers in our division (Physicians and PAs= 18). Patients 18 years or older were included from 3/17/2020. Satisfaction Surveys were distributed to both patients and physicians. Chart review was performed on patient responders. A Likert scale was used to collect responses.
Results: 171 patients got the Patient satisfaction survey. 39 patients completed the survey, response rate was 22.8%. Chart review was done on 36 patients. 76.9% used telemedicine for the first time to seek care for SLE. 65.7% strongly agreed with ease to set up phone/computer. 94.8% visits started on time. 76.9% strongly agreed with visit convenience. 79.4% strongly agreed with adequate time to discuss questions/concerns . 69.2% strongly agreed with being comfortable with provider taking medical decisions. 66.6% strongly agreed with the satisfaction of the quality of care they received. 76.9% strongly agreed with the comfort of discussing problems. 47.2% patients received their telemedicine visit within a week from calling for appointment. 66.6% patients strongly agreed to another telemedicine visit but only 23.3% preferred telemedicine over in person visit. With Provider Satisfaction survey, 18 of 20 responded. 44.4% had used telemedicine to provide any medical care prior to pandemic while 22.2% had used telemedicine to provide care for SLE prior to the pandemic. 50% agreed and 22.2% strongly agreed with ease to set up hardware and software. 100% agreed that visits start on time. 61% agreed and 33.3% strongly agreed that visit was convenient. 55.5% agreed while 16.6% strongly agreed with the quality of care they provided. 100% were willing to order diagnostic and laboratory tests, prescribe medications. 61.1% were able to do some physical exam. 38.8% disagreed with preference of telemedicine over in person visit, 38.8% were neutral and 11.1% agreed and the rest 11.1% strongly disagreed.
Conclusion: Our study shows that telemedicine has an overall favorable satisfaction for SLE care among patients and providers. Our results indicate that patients with complex disease and medications and the providers could utilize telemedicine with favorable overall satisfaction. Over 50% patients had seen their rheumatologist for more than 5 years which indicates that an established patient-provider relationship is favorable for telemedicine use. Despite the overall satisfaction, both patients and providers seem to prefer an in person care over telemedicine only care for SLE.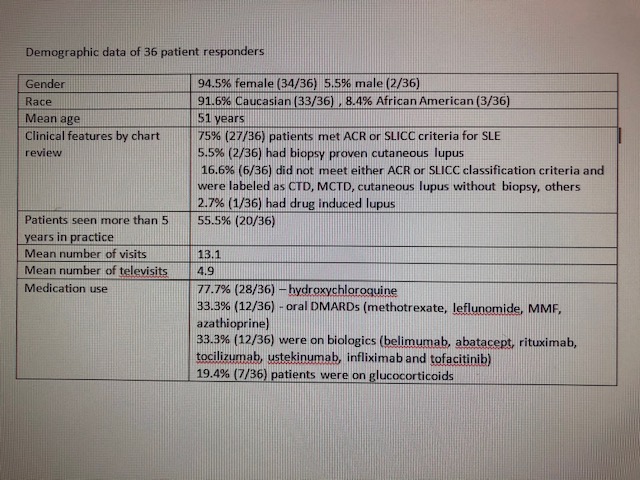 ---
Disclosures: T. Bichile, None; A. Bembic, None; S. Manzi, None; S. Manocha, None.
To cite this abstract in AMA style:
Bichile T, Bembic A, Manzi S, Manocha S. Patient and Physician Satisfaction with Telemedicine Utilization for Delivery of Care in Patients with SLE – A Single Centre Experience [abstract].
Arthritis Rheumatol.
2021; 73 (suppl 9). https://acrabstracts.org/abstract/patient-and-physician-satisfaction-with-telemedicine-utilization-for-delivery-of-care-in-patients-with-sle-a-single-centre-experience/. Accessed January 30, 2023.
« Back to ACR Convergence 2021
ACR Meeting Abstracts - https://acrabstracts.org/abstract/patient-and-physician-satisfaction-with-telemedicine-utilization-for-delivery-of-care-in-patients-with-sle-a-single-centre-experience/