Session Information
Session Type: ACR Concurrent Abstract Session
Session Time: 9:00AM-10:30AM
Background/Purpose: Peroxisome proliferator-activated receptors (PPARs) are nuclear receptors known to modulate fibrosis. The pan-PPAR agonist IVA337 recently demonstrated efficacy in prevention and treatment of experimental skin fibrosis (1). Our objective was to evaluate the antifibrotic effects of IVA337 in preclinical mouse models of pulmonary fibrosis and related pulmonary hypertension (PH).
Methods: IVA337 has been evaluated in the mouse model of bleomycin-induced pulmonary fibrosis and in Fra-2 transgenic mice, this latter being characterized by non-specific interstitial pneumonia and severe vascular remodeling of pulmonary arteries leading to PH. Mice received 2 doses of IVA337 (30 mg/kg or 100 mg/kg) or vehicle administered by daily oral gavage up to 4 weeks.
Results: Both 30 mg/kg and 100 mg/kg doses of IVA337 were well tolerated in all mouse models. IVA337 demonstrated at a dose of 100 mg/kg a marked protection from the development of lung fibrosis induced by bleomycin compared to mice receiving 30 mg/kg of IVA337 or vehicle. Indeed, IVA337 (100 mg/kg) strongly reduced by 61% and 28% tissue density on histological measurements and total lung hydroxyproline concentrations, respectively, as compared to vehicle. IVA337 at 100 mg/kg also significantly decreased col1, col3, fibronectin and a-smooth muscle actin mRNA levels in lesional lungs. In vitro in primary human lung fibroblasts, IVA337 inhibited in a dose-dependent manner TGFβ-mediated fibroblasts to myofibroblasts transition and PDGF-mediated proliferation. Similarly, Fra-2 transgenic mice treated with 100 mg/kg of IVA337 displayed reduced lung density (20% vs. vehicle) and significant increase of functional residual capacity (30% vs. vehicle) when assessed by chest micro-CT imaging. These results were emphasized by a 50% reduction of the Ascroft fibrosis score (Figure 1A) and by a 48% reduction of hydroxyproline concentrations upon IVA337 (100 mg/kg) compared to vehicle treated mice. Regarding vessel remodeling and related pulmonary hypertension, treatment with 100 mg/kg of IVA337 led to a substantial attenuation of right ventricular systolic pressure and right ventricular hypertrophy compared to mice receiving the vehicle (Figure 1B and 1C). Furthermore, IVA337 given at 100 mg/kg markedly reduced medial wall thickness (Figure 1D) and the number of muscularized distal pulmonary arteries.
Conclusion: We demonstrate that treatment with 100 mg/kg IVA337 prevents lung fibrosis in two complementary animal models and substantially attenuates PH in the Fra-2 mouse model. These findings confirm that the pan-PPAR agonist IVA337 is an appealing therapeutic candidate for systemic sclerosis both, for skin and key cardiovascular complications. Reference: 1/ Ruzehaji et al, Ann Rheum Dis 2016, in press. Figure 1: Effects of IVA 30 mg/kg and 100 mg/kg on pulmonary fibrosis (A) and related pulmonary hypertension (B-D) in the Fra-2 mouse model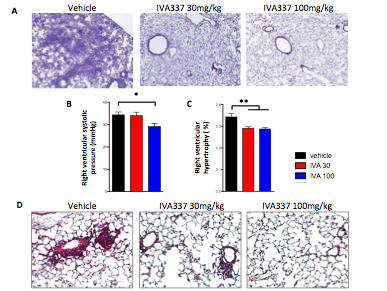 ---
Disclosure: J. Avouac, INVENTIVA, 9; I. Konstantinova, INVENTIVA, 3; C. Guignabert, None; S. Pezet, None; A. Cauvet, None; J. Sadoine, None; T. Guilbert, None; J. M. Luccarini, INVENTIVA, 3; J. L. Junien, INVENTIVA, 3; P. Broqua, INVENTIVA, 3; Y. Allanore, INVENTIVA, 2,INVENTIVA, 6.
To cite this abstract in AMA style:
Avouac J, Konstantinova I, Guignabert C, Pezet S, Cauvet A, Sadoine J, Guilbert T, Luccarini JM, Junien JL, Broqua P, Allanore Y. Pan-PPAR Agonist IVA337 Is Effective in the Prevention of Experimental Lung Fibrosis and Related Pulmonary Hypertension [abstract].
Arthritis Rheumatol.
2016; 68 (suppl 10). https://acrabstracts.org/abstract/pan-ppar-agonist-iva337-is-effective-in-the-prevention-of-experimental-lung-fibrosis-and-related-pulmonary-hypertension/. Accessed July 31, 2021.
« Back to 2016 ACR/ARHP Annual Meeting
ACR Meeting Abstracts - https://acrabstracts.org/abstract/pan-ppar-agonist-iva337-is-effective-in-the-prevention-of-experimental-lung-fibrosis-and-related-pulmonary-hypertension/