Session Information
Session Type: Abstract Submissions
Session Time: 5:30PM-7:00PM
JIA patients often require regular exercises to increase joint range of motion (ROM). Adherence is challenging; instruction by a physiotherapist (PT) / occupational therapist (OT) is often brief and can be done using standard sketch diagram reminders. Studies assessing the usefulness of video-based exercises among healthy adults and children, as well as adults with orthopaedic conditions show mixed results. These videos were found to be useful for self-reported knowledge, function and compliance. No studies were conducted among adults or youth with arthritis. Background/Purpose: To test the feasibility of bilingual home video exercises (video) in JIA, to describe adherence and accuracy of technique when using video vs sketch diagrams; Evaluate ROM improvement. Methods: 20 videos were developed for elbow & wrist & 30 videos for knee, ankle & subtalar ROM. Patients age 1-17.9 years with active joints were included if they received no prior media-based instruction. OT/PT demonstrated techniques then patients were randomized to password-protected videos (hospital website) or sketches. Therapists were blind to tool allocation. All joints in each patient were treated with same tool. Children ≤ 6 years did passive ROM & older patients did active assisted (active) exercises for next 35 days. Outcome measures: Ease of recruitment; Daily diary and validated questionnaires (CARQ/PARQ) for adherence; VAS for patient exercise accuracy vs ROM precision per OT/PT at study-end; ROM assessed by OT/PT using goniometry & metric measures pre & post-exercise. Results: 11 patients 3-17 years old (M4/F7) were enrolled, 2 withdrew since an extra visit required. 9 patients did 14 exercises: 5 video 9 sketches; 5 passive, 9 active; 3 upper & 11 lower limb. Exercise accuracy & adherence (daily diary) were better in the video group (Table 1). Median adherence to medication (maximum 5) on CARQ was 4.5 and PARQ was 5. Perceived adherence was considered higher by youth than parents and higher for participants who used the video from both parents and youth's perspectives. However, these differences were not statistically significant.
 Conclusion: Families enjoyed easy access to videos via our hospital website. Patients found videos more detailed & exercises easier to do than with sketches. Patients not meeting inclusion criteria expressed interest in video-guided exercises. Greater patient enrolment possible if final visit is combined with physicians' at 3 months. Feasibility enhanced if more exercise videos are created for remaining joints. Passive exercises for children ≤ 8 years could improve adherence since 6-8 year olds struggled with active assisted exercises. Alternatives include self-produced images from family-owned smart phones during OT/PT visits or purchasing licenced OT/PT video programs. Our videos may be preferred as these show proper techniques, and how to correct for errors.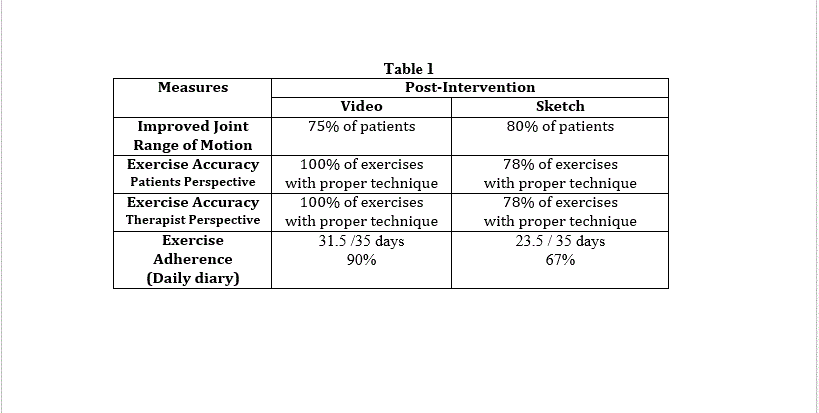 ---
Disclosure: C. LeBlanc, None; S. Laniel, None; M. Geoffrion, None; A. Sirois, None; S. Nene, None; S. Cloutier, None; Y. Gao, None; K. Toupin-April, None; S. Campillo, None; G. Chédeville, None; R. Scuccimarri, None.
To cite this abstract in AMA style:
LeBlanc C, Laniel S, Geoffrion M, Sirois A, Nene S, Cloutier S, Gao Y, Toupin-April K, Campillo S, Chédeville G, Scuccimarri R. Paediatric Arthritis Rehabilitation Exercise Study [abstract].
Arthritis Rheumatol.
2017; 69 (suppl 4). https://acrabstracts.org/abstract/paediatric-arthritis-rehabilitation-exercise-study/. Accessed June 2, 2023.
« Back to 2017 Pediatric Rheumatology Symposium
ACR Meeting Abstracts - https://acrabstracts.org/abstract/paediatric-arthritis-rehabilitation-exercise-study/