Session Information
Session Type: Poster Session C
Session Time: 8:30AM-10:30AM
Background/Purpose: The exaggerated inflammatory responses to the SARS-CoV-2 virus and the paucity of data on COVID-19 infection risk in systemic autoinflammatory disease (SAID) patients posed many unanswered questions, in addition to the profound overall impact of the pandemic.
The aim of this study is to determine if SAID patients had any changes in flare frequency or fevers during the COVID-19 pandemic, and to assess the outcome of SAID patients infected with the SARS-CoV-2 virus.
Methods: The CARRA Autoinflammatory Working Group collaborated with the Autoinflammatory Alliance to conduct an anonymous online survey which was distributed via social media and online autoinflammatory patient groups globally. Data collection was carried out from January 2021 through May 2021.
Results: A total of 647 surveys were completed. In those, 452 of the surveyed listed a specific SAID affecting them and/or their children. (Table 1)
Data for 593 patients showed that the frequency of flares (compared to pre-pandemic) were unchanged in 56% (n=334) of patients overall. The distribution of our data included 57% of patients from the United States, US territories and Canada and 70% of the international patients. Globally 54% of individuals reported that fevers during flares were either lower (n=31) or absent (n=58) since March 2020, and (n=31) found that their fevers were higher with flares. (Graphic 1) Most individuals were sheltering from work or school and 50% had no changes in their medication for SAID.
SARS-CoV-2 positivity occurred in 35 subjects. 20% (n=7) were asymptomatic, 40% (n=14) had mild infection, 31% (n=11) suffered with moderate illness at home and three (8%) were hospitalized in the regular ward. From the patients who contracted SARS-CoV-2, 31% (n=11) had a flare of their underlying SAID, either concurrently (20%, n=7) or after recovering from COVID-19 infection (11%; n=4). (Table 2) Ten (29%) SARS-CoV-2 positive patients reported lingering symptoms after resolution of acute COVID-19, such as headaches, fatigue, respiratory issues, myalgia and joint pain. Twenty patients reported physician-diagnosed presumed COVID-19, including a Neuro-Behçet's patient requiring intensive care (ICU). Of these, 60% (n=12) had persistent symptoms post-COVID. One case of Multisystem Inflammatory Syndrome in children (MIS-C) and one case of Multisystem Inflammatory Syndrome in adults (MIS-A) with macrophage activation syndrome (MAS) occurred in patients with physician-diagnosed presumed COVID-19.
Conclusion: These data reflect the largest known global cohort of SAID patients' experiences during the COVID-19 pandemic. Most patients had no change in flare frequency from their baseline SAID but many had a reduced intensity of their fevers during flares. The majority of SAID patients with COVID-19 infection reported mild to moderate illness with approximately a third who presented with an exacerbation of their baseline SAID with COVID-19 and lingering symptoms.
Table 1.jpeg"
Graphic 1.jpeg"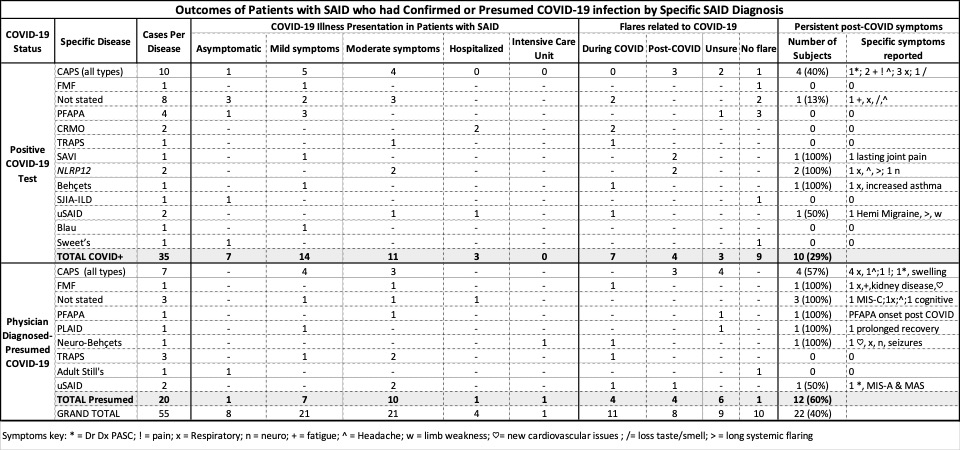 ---
Disclosures: S. Nazzar Romero, None; L. Moorthy, Bristol Myers Squibb, 12, Site PI of Observational Registry of Abatacept in Patients with Juvenile Idiopathic Arthritis. (No personal reimbursement); J. Tousseau, None; S. Lapidus, None; M. Correia Marques, None; L. Mansfield, None; M. Twilt, None; G. Schulert, Novartis, 6; M. Gutierrez, None; S. Angevare, None; F. Dedeoglu, Novartis, 2, UptoDate, 9; K. Durrant, None.
To cite this abstract in AMA style:
Nazzar Romero S, Moorthy L, Tousseau J, Lapidus S, Correia Marques M, Mansfield L, Twilt M, Schulert G, Gutierrez M, Angevare S, Dedeoglu F, Durrant K. Outcomes of COVID-19 Illness in Systemic Autoinflammatory Diseases and Changes in Flares During the COVID-19 Pandemic: An International Survey [abstract].
Arthritis Rheumatol.
2021; 73 (suppl 9). https://acrabstracts.org/abstract/outcomes-of-covid-19-illness-in-systemic-autoinflammatory-diseases-and-changes-in-flares-during-the-covid-19-pandemic-an-international-survey/. Accessed May 29, 2023.
« Back to ACR Convergence 2021
ACR Meeting Abstracts - https://acrabstracts.org/abstract/outcomes-of-covid-19-illness-in-systemic-autoinflammatory-diseases-and-changes-in-flares-during-the-covid-19-pandemic-an-international-survey/