Session Information
Session Type: Poster Session (Monday)
Session Time: 9:00AM-11:00AM
Background/Purpose: The nomenclature of "osteoarthritis" (OA) has been a source of confusion and likely misdiagnosis for centuries.  Prior to 1759, most patients with joint diseases were labeled as having gout.  It was then that the physician-anatomist, John Hunter, first documented the gross pathology of cartilage deterioration that would eventually be called OA. Other pundits variously referred to it by many different names. The goal of this research was to analyze the chronology and rationale for naming the conventional predecessors of OA.
Methods: Google Scholar (GS), a search engine that indexes the text of academic literature, measured the usage of the terms: OA, osteo-arthritis (O-A), arthritis deformans (AD), hypertrophic arthritis (HA), degenerative joint disease (DJD) and osteoarthrosis. The terminology prevalence was plotted on a graph for each decade after 1800 to create a timeline. The Google Ngram Viewer (GNV), an online search engine that charts printed word citations, enabled a comparative graphic display between the years 1500 and 2008. A comprehensive literature search of significant discoveries and insights during this period was performed to determine if there was associated joint inflammation.
Results: The peak use of "gout" between ~1760 and 1840 may have reflected an age of scientific enlightenment rather than true prevalence. A century after Hunter's discovery, Rudolf Virchow's introduction of AD in 1863 applied to a mix of now-recognized OA and RA. This confounding designation persisted in the literature, eventually being adopted by his student, Sir William Osler, in 1892 and Ralph Pemberton as late as 1929. Richard von Volkmann is often credited for first using hyphenated O-A for the degenerative process, but a computerized search of his 1865 writings failed to reveal any mention of the term. In 1869, O-A originally appeared in The Nomenclature of Diseases published by the Royal College of Physicians of London. The report, though it conflated O-A with RA, gained some traction with increased usage of O-A by the mid-1860s. In 1890, the influential physician Archibald Garrod still listed both O-A and AD as clinical varieties of RA.    In 1910, he completely reversed his position by announcing: "I am convinced that the malady called 'osteo-arthritis'… is wholly distinct from those already referred to…," thus using O-A as a recognizable separate entity for the first time in the medical literature.   In that same year, Joel Goldthwait and his group introduced with regularity the unhyphenated form of OA.  Despite these clarifications, AD, DJD and HA continued to prevail. "Osteoarthrosis" was prevalent, mainly in the British literature, from ~1960 to 2000 because of the inference that OA was noninflammatory.  By 1950, the term OA gained rising popularity and now reflects an inherent scientifically proven inflammatory component.
Conclusion: In the history of humanity, OA has been appropriately titled for only ~100 years. Reviewers of pre-20th century literature cannot be confident that O-A, as described then, was the actual disease known today. Optimistically, the validity of "itis" as a suffix in OA indicating inflammation will translate to improved management.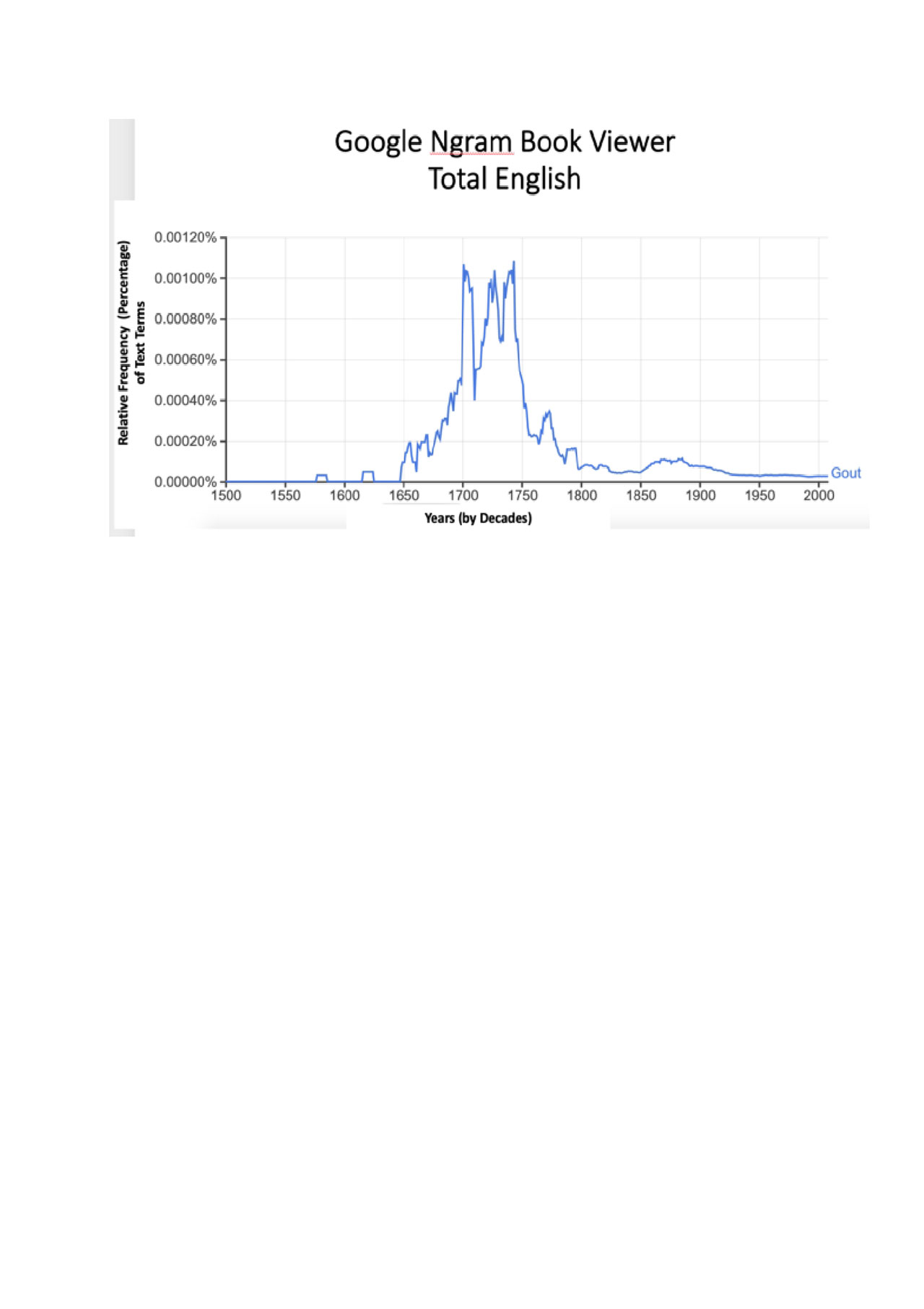 ACR Image 1 Google Ngram Viewer Gout 5-31-19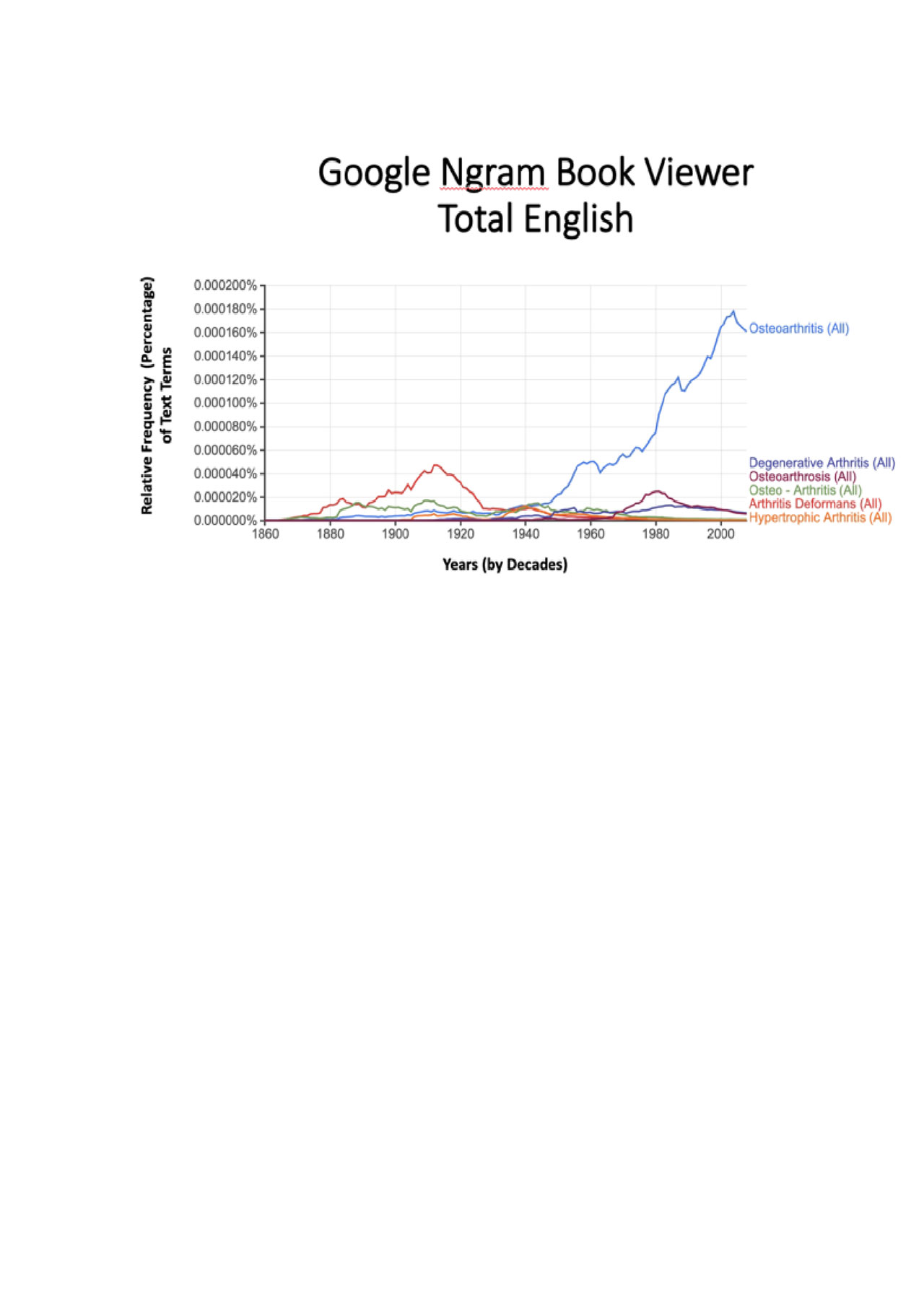 ACR Image 2 Abstract Google N-Gram.docx. 5-31-19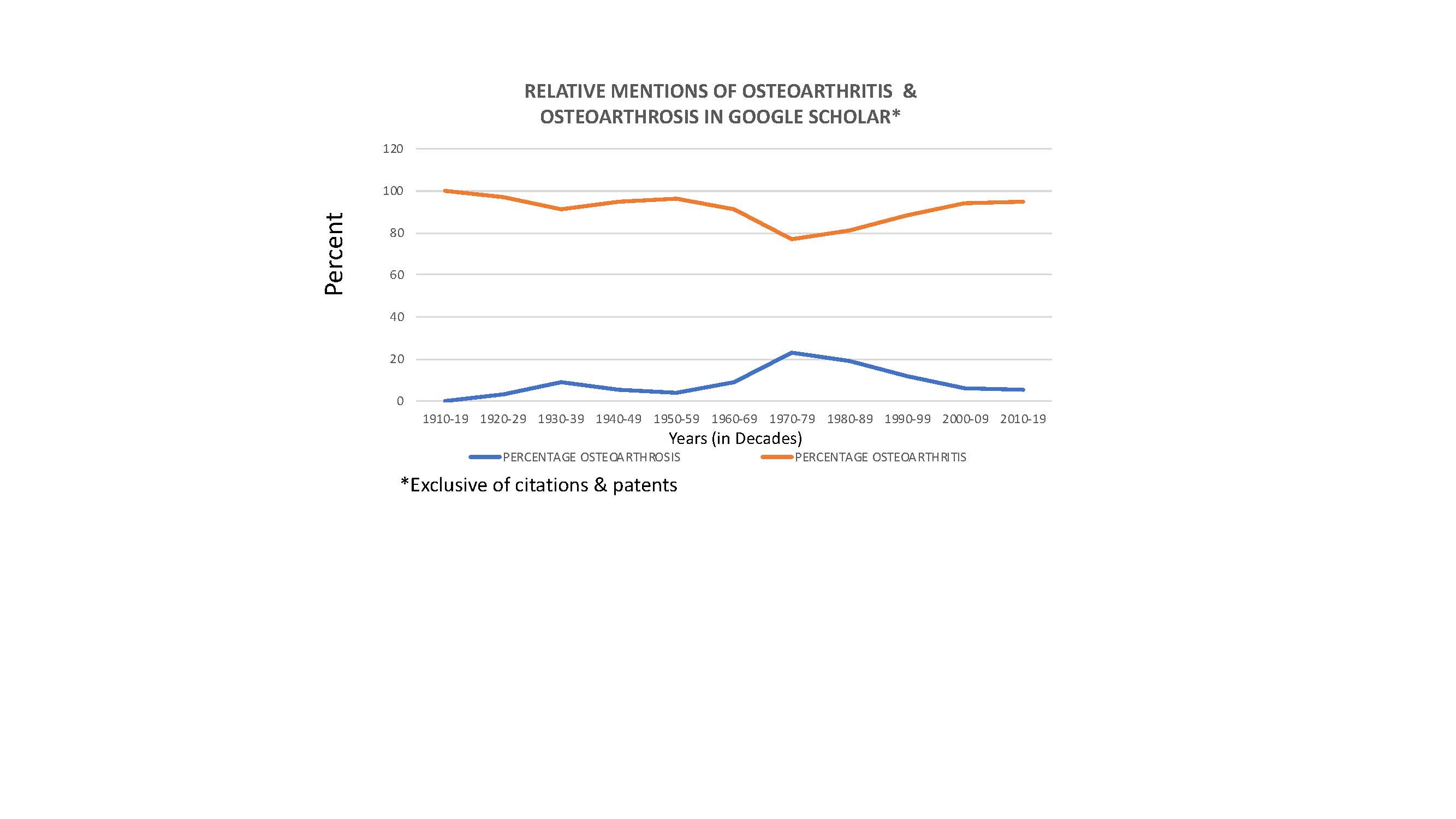 ACR Image 3 OA vs Osteoarthrosis Mentions 5-31-19
---
Disclosure: W. Katz, None.
To cite this abstract in AMA style:
Katz W. Osteoarthritis: What's in a Name? [abstract].
Arthritis Rheumatol.
2019; 71 (suppl 10). https://acrabstracts.org/abstract/osteoarthritis-whats-in-a-name/. Accessed December 4, 2022.
« Back to 2019 ACR/ARP Annual Meeting
ACR Meeting Abstracts - https://acrabstracts.org/abstract/osteoarthritis-whats-in-a-name/