Session Information
The 2020 Pediatric Rheumatology Symposium, originally scheduled for April 29 – May 2, was postponed due to COVID-19; therefore, abstracts were not presented as scheduled.
Session Type: ACR Abstract Session
Session Time: 6:00PM-7:00PM
Background/Purpose: Non-criteria antiphospholipid antibodies (NC-aPL) bind molecules such as phosphatidylethanolamine (PE), phosphatidylserine (PS), and prothrombin (Pt), but not the targets of routine antiphospholipid (aPL) testing (i.e., cardiolipin and beta 2 glycoprotein 1). In adults, the term "seronegative" antiphospholipid syndrome (APS) refers to patients with a history of thrombosis with negative conventional aPL testing, but with a positive lupus anticoagulant (LAC) and/or positive NC-aPL. The clinical significance of NC-aPL remains poorly characterized particularly in pediatric patients. The aims of this study were to review the clinical presentation, diagnostic evaluation, and response to therapy in pediatric patients with NC-aPL.
Methods: A retrospective chart review was conducted on 5 pediatric patients with positive NC-aPL at a single center. All data from the initial encounter with pediatric rheumatology until January 2020 were reviewed, ranging from 12-45 months.
Results: Data are summarized in Table 1. All 5 patients were females, aged 7-16 years. Presenting symptoms and signs varied, but all had neurologic and/or skin manifestations. Patient 1 had brain MRI evidence of an acute cerebellar stroke, basal ganglia white matter changes, and mitral valve abnormalities. Patients 2-4 presented with Raynaud's phenomenon and various symptoms from underlying autoimmune disorders but had no evidence of thrombosis. Patient 5 presented with superficial vasculitic skin lesions and Raynaud's phenomenon. All 5 patients were treated with hydroxychloroquine (HCQ). Anti-platelet drugs were used in patients deemed most at risk for thrombosis. Patient 1 had evolving brain MRI abnormalities while weaning corticosteroids (CS), and therefore rituximab (RTX) was added. Patient 2, who had SLE with nephritis, was treated with CS, mycophenolate mofetil (MMF), and RTX. In 1 of 2 patients treated with RTX, NC-aPL were no longer detectable even after B cell repopulation. In patient 3, treated with HCQ alone, NC-aPL were also undetectable after 4 months of therapy. Most notably, in patient 1, the chorea resolved and migraine headaches improved after RTX and she has had no further progression of brain MRI changes or mitral valve abnormalities.  
Conclusion: NC-aPL are not routinely tested in pediatric patients presenting with symptoms consistent with APS, even in the presence of a defined rheumatic disease. Among the patients in this series, patient 1 appears to have primary APS, while patients 2-4 have NC-aPL secondary to ANA-associated diseases with no history of thrombosis. Patient 5 had a persistently positive lupus anticoagulant but no evidence of deep vein or arterial thrombosis and thus did not meet criteria for APS. HCQ therapy was well tolerated by all 5 patients. Two patients received RTX, and in one case, resolution of symptoms after RTX coincided with normalization of NC-aPL titers. Prospective data are needed to understand the significance of NC-aPL, but these data suggest clinicians should consider testing NC-aPL in patients with features of APS but negative conventional aPL testing.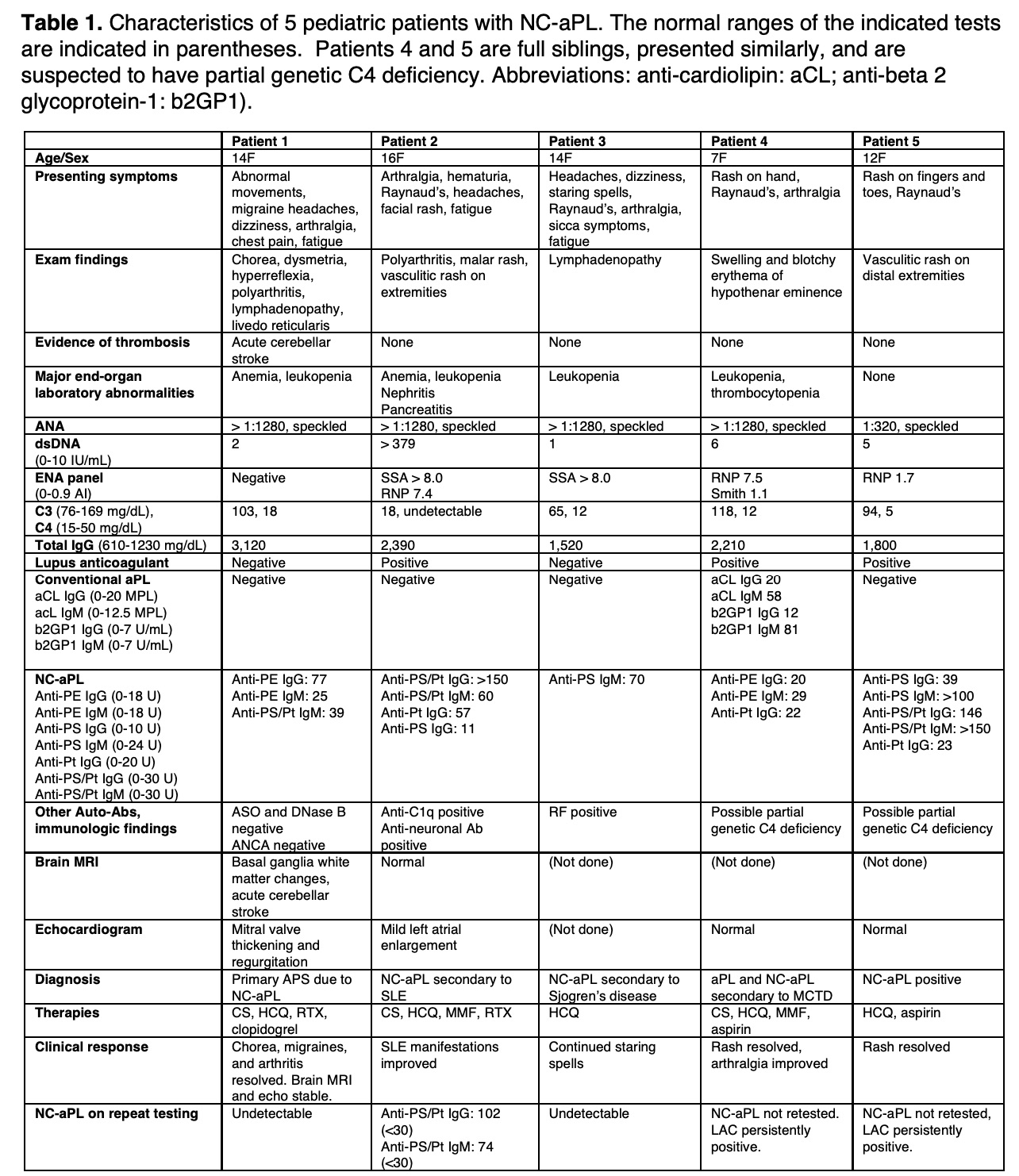 Table 1. Characteristics of 5 pediatric patients with NC_aPL. The normal ranges of the indicated tests are indicated in parentheses. Patients 4 and 5 are full siblings, presented similarly, and are suspected to have partial genetic C4 deficiency. Abbreviations: anti_cardiolipin: aCL; anti_beta 2 glycoprotein_1: b2GP1).
---
Disclosure: S. Mahmud, None; D. Bullock, None; C. Correll, None; P. Hobday, None; M. Riskalla, None; R. Vehe, None; B. Binstadt, None.
To cite this abstract in AMA style:
Mahmud S, Bullock D, Correll C, Hobday P, Riskalla M, Vehe R, Binstadt B. Non-criteria Antiphospholipid Antibodies Associated with Pediatric Rheumatic Disease: A Single-Center Case Series [abstract].
Arthritis Rheumatol.
2020; 72 (suppl 4). https://acrabstracts.org/abstract/non-criteria-antiphospholipid-antibodies-associated-with-pediatric-rheumatic-disease-a-single-center-case-series/. Accessed September 24, 2022.
« Back to 2020 Pediatric Rheumatology Symposium
ACR Meeting Abstracts - https://acrabstracts.org/abstract/non-criteria-antiphospholipid-antibodies-associated-with-pediatric-rheumatic-disease-a-single-center-case-series/