Session Information
Session Type: Poster Session B
Session Time: 9:00AM-10:30AM
Background/Purpose: Deucravacitinib is a selective inhibitor of tyrosine kinase 2 (TYK2) that has shown clinical efficacy in psoriasis, PsA, and SLE. Deucravacitinib is an allosteric inhibitor of TYK2 which minimizes non-specific activity against Janus kinases (JAK) 1/2/3. TYK2 mediates signaling of select inflammatory pathways compared to JAK1/2/3, which also control cytokines required for homeostasis. JAK inhibitors (JAKi) tofacitinib, baricitinib, and upadacitinib typically have changes in clinical laboratory parameters; decreased hemoglobin and leukocytes, including NK and neutrophils. Such lab parameter changes have not been observed in deucravacitinib trials. In vitro functional assays may improve understanding of clinical and pharmacodynamic changes better than basic signal transduction assays. Therefore, this study aimed to evaluate JAKi and deucravacitinib in functional assays for cytokine activity related to the JAKi profile.
Methods: Hematopoietic stem cells were cultured using MethoCult™ and MegaCult™ for erythroid and megakaryocyte progenitors, in the presence of deucravacitinib or JAKi and colony formations were enumerated. Peripheral blood mononuclear cells from normal healthy volunteers (NHV) were treated at indicated inhibitor concentration and duration with IL-2, IL-7, or IL-15 and evaluated by FACS for signaling and functional outputs. NHV monocytic dendritic cells (mDC) were compared for IFN-I inhibition by ELISA in the presence of inhibitors. Estimated whole blood potencies of inhibitors were determined by blood:plasma ratios and drug free fraction.
Results: In assays of JAK2 mediated hematopoiesis the half maximal inhibitory concentrations (IC50s) of deucravacitinib were greater than 5000 nM. However, JAKi inhibited with IC50s of 150 – 693 nM for erythroid, 181-647 nM for myeloid and 938-4368 nM for megakaryocyte colony formation (Table 1). Assessing cell signaling and cellular functions requiring the JAK1/JAK3 pair, deucravacitinib weakly inhibited IL-15 induced NK cell Signal Transducer and Activator of Transcription phosphorylation (pSTAT), cluster of differentiation 107a (CD107a) expression, or proliferation with IC50s of 936 nM, 916 nM and 711 nM, respectively. Conversely, JAKi were very potent (Table 2) in these assays with a range of IC50s of 17-41 nM for pSTAT, 21-34 nM for CD107a, and 24-31 nM for proliferation. IFNα mediated chemokine ligand 9 (CXCL9) and CXCL10 production through the JAK1/TYK2 pair was more potently inhibited by deucravacitinib (4 nM and 9 nM) than JAKi (7-54 nM and 60-375 nM) in mDC (Table 3).
Conclusion: Functional assays of target pathways may provide improved predictions of in vivo effects of drugs compared to more proximal signal transduction assays. In hematopoietic and functional cell models of JAK or TYK2 signaling, deucravacitinib was highly selective for TYK2 signaling pathways and did not inhibit JAK-dependent hematopoietic assays at clinically relevant concentrations. Conversely, JAKi blocked the JAK1/JAK3 pair-dependent cell signaling and functions and JAK2 pair-dependent colony formation. Deucravacitinib has high specificity and potency against TYK2, supporting further development in inflammatory disease.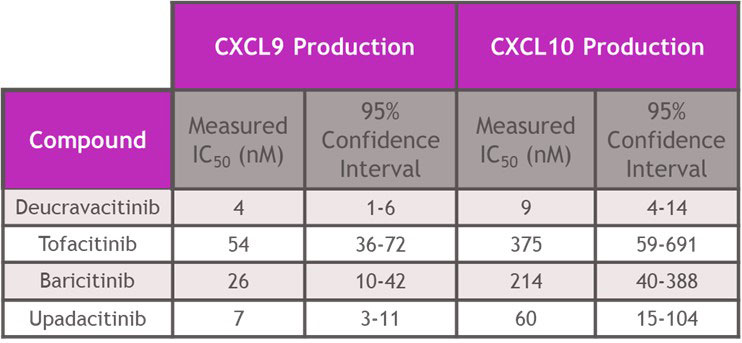 ---
Disclosures: B. Johnson, Bristol-Myers Squibb(BMS); J. Koenitzer, Bristol-Myers Squibb(BMS); P. Schafer, Bristol Myers Squibb; I. Catlett, Bristol Myers Squibb.
To cite this abstract in AMA style:
Johnson B, Koenitzer J, Schafer P, Catlett I. Non-Clinical Evaluations of Deucravacitinib and Janus Kinase Inhibitor Specificity in Inflammatory or Homeostatic Pathways [abstract].
Arthritis Rheumatol.
2022; 74 (suppl 9). https://acrabstracts.org/abstract/non-clinical-evaluations-of-deucravacitinib-and-janus-kinase-inhibitor-specificity-in-inflammatory-or-homeostatic-pathways/. Accessed March 28, 2023.
« Back to ACR Convergence 2022
ACR Meeting Abstracts - https://acrabstracts.org/abstract/non-clinical-evaluations-of-deucravacitinib-and-janus-kinase-inhibitor-specificity-in-inflammatory-or-homeostatic-pathways/